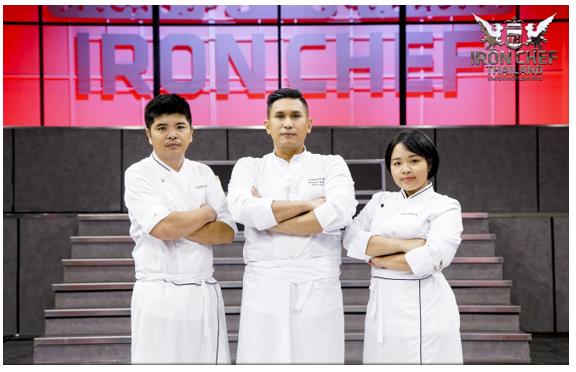 Pastry Chef Kritnakorn Rooplek or Chef Den from Carlton Hotel Bangkok Sukhumvit won the Iron Chef Thailand Competition in the dessert category.
Ripe mango, young coconut, lemon and manila tamarind were respectively the secret ingredients for the first four dishes. For the fifth dish, the secret ingredient (Bitter Gourd) was only presented in the last 15 minutes of the competition.
With the standard 60 minutes preparation time for 5 dishes, Chef Den created the following desserts

Mango Choux with Rice Pudding, an inspiration from Thailand's Mango Sticky Rice with a touch of Choux from France
Light Coconut Panna Cotta was the perfect union between Tuxedo Coffee and Young Coconut. This dish presented an array of tastes and textures, with crispiness from Japanese Ground Roasted Rice, softness from Young Coconut and the aroma of coffee from Tuxedo Espresso Bar's signature coffee beans. Served with Palm Sugar syrup

Lime Cremeux with Filo Dough and Lime Sunkist Confit was an innovative take on the Lime Tart. Chef Den reconstructed the menu to highlight lime cream served with crispy filo dough. The Sunkist candy added a mellow note with a soft hint of sour. A refreshing creation
Manila Tamarind Japanese Green Tea Cheese Cake A very challenging ingredient as the Manila Tamarind has a light and mild taste. Chef Den masterfully deployed the green tea and cream cheese to embolden the taste of the tamarind. A biscuit made from Manila Tamarind acted as the base of this cake. The tamarind and grated lemon zest crowned the top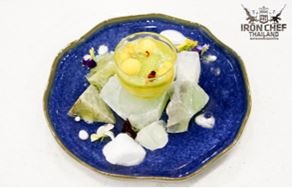 Bitter Gourd Granita took inspiration from the Taiwan Bitter Gourd juice. Dry ice was blended with bitter gourd, ripe mangoes and green apples. Topped with fresh ripe mangoes to neutralize the bitterness of the bitter gourd, whilst refreshing green apples provided a sour notes Presented as a bingsu.
After a blind tasting session with the judging panel, Chef Den was unveiled as the Iron Chef Winning Challenger Chef.
Chef Den is a gifted and experienced Pastry Chef with an extraordinary knowledge of classic and contemporary patisserie, artisan breads, chocolates and desserts. At Carlton Hotel Bangkok Sukhumvit, his creations can be seen notably atTuxedo Espresso Bar. His croissants are also recently listed as among the top croissants in the city. Chef Den is now the second Iron Chef in the hotel's culinary team.
For more information or to make reservations, please contact 02 090 7888 or email catering@carltonhotel.co.th