Bangkok – March 8, 2022 –CBRE Thailand donates old desk calendars for producing Braille instructional materials for the blind. In the eighth year of this CSR initiative, a total of 400 calendars were collected by CBRE employees based at Bangkok and Phuket, and also by CBRE clients, and then donated to the Foundation for the Blind in Thailand under the Patronage of H.M. the Queen Mother and the Association of Physically Handicapped of Phuket. The donation in Bangkok was presented by Ms. Artitaya Kasemlawan (right), Head of Residential Sales – Project, CBRE Thailand. The initiative is part of CBRE's long-term commitment to social responsibility and environmental sustainability.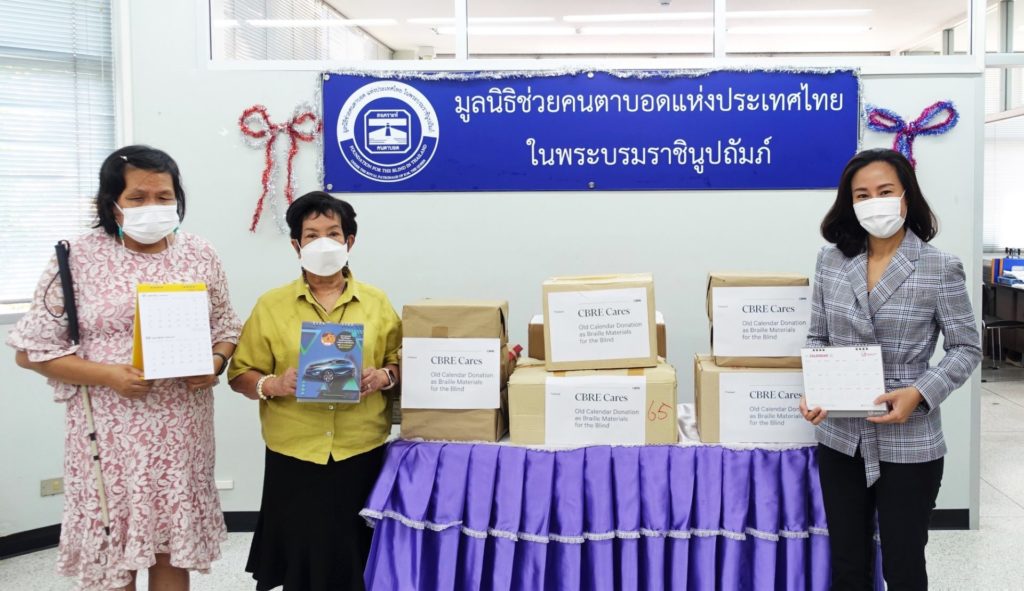 Follow us on
Facebook: CBRE Thailand                                        LINE: @cbrethailand and @cbreland
LinkedIn: CBRE Thailand                                         YouTube: CBRE Thailand
Twitter: CBRE Thailand                                           Spotify: CBRE Thailand
Instagram: CBRE Residential Thailand
About CBRE Group, Inc.
CBRE Group, Inc. (NYSE: CBRE), a Fortune 500 and S&P 500 company headquartered in Dallas, is the world's largest commercial real estate services and investment firm (based on 2021 revenue). The company has more than 105,000 employees (excluding Turner & Townsend employees) serving clients in more than 100 countries. CBRE established an office in Bangkok in 1988, followed by its Phuket office in 2004. CBRE serves a diverse range of clients with an integrated suite of services, including property sales and leasing; investment management; appraisal and valuation; strategic research and consulting property management; facilities, transaction and project management. Please visit our website at www.cbre.co.th.