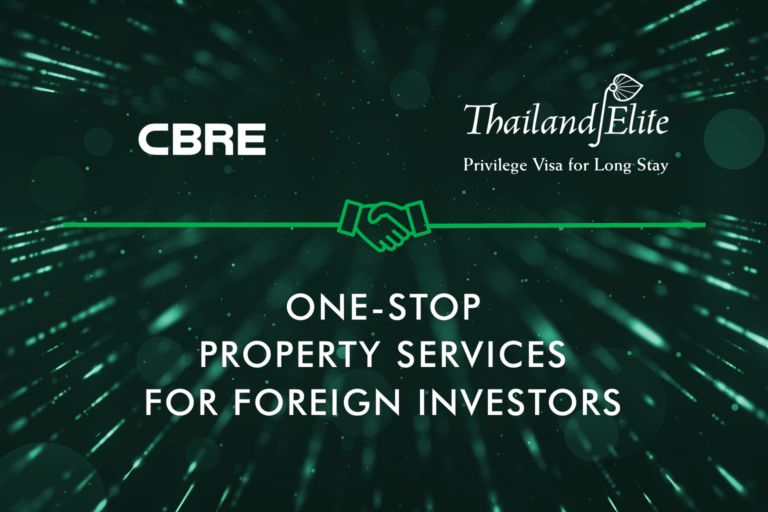 CBRE, the world's leading international property consultant firm which has been operating in Thailand for more than 33 years, announces a new business partnership with Thailand Elite Card. This is to help promote and stimulate the domestic economy by providing professional advice on investment opportunities and comprehensive transaction services to foreign investors in the Thai real estate market.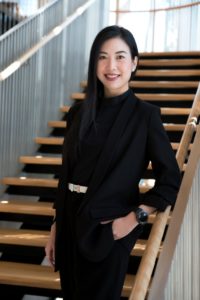 Ms. Charinya Youngprapakorn, Head of Advisory & Transaction Services – Residential Project Marketing, CBRE Thailand, revealed that CBRE Thailand had signed a memorandum of understanding with Thailand Privilege Card Co., Ltd. (TPC) to extend its integrated, one-stop services to Thailand Elite members and stimulate foreign investment in Thailand's real estate market. CBRE aims to broaden its client base through this business partnership. Thailand Privilege Card is an organisation with top-tier clients from China, Japan, the United Kingdom and the United States of America. Some of their members are interested in investing in Thai real estate, but lack the knowledge about the market's rules and regulations and reliable market information that can help them in making the right decision.
CBRE is set to offer one-stop consulting services to foreign investors including representing them in buying, selling, leasing all types of properties as well as providing investment consultancy, market research and valuation and advisory services of international standards. In this partnership, CBRE will also provide guidance on buying and investing in residential projects, resort homes and other types of properties that meet the investment needs of each Thailand Elite member. Residential leasing services are also offered for clients who purchase residential properties in Bangkok.
"CBRE experts are well equipped with extensive knowledge of property investment in Thailand, in-depth market data from CBRE Research, and over 33 years of experience in the market. On top of these, we have a large selection of premium properties in Bangkok and resort destinations which can be matched with client's needs whether for investment, vacation home or retirement home purposes. CBRE is delighted to be Thailand Elite's business partner to expand our international standard services to new client groups which started on May 1, 2021," Ms. Charinya added.
Mr. Somchai Sungsawang, President of Thailand Privilege Card Co., Ltd., commented, "This partnership is another important step forward for Thailand Privilege Card as it will help expand our range of services for Thailand Elite members which currently number over 13,600 members worldwide, especially in real estate investment. In addition, it will boost the domestic economy and enhance Thailand's image as one of the most investable and attractive living locations.  We have chosen CBRE as our partner in real estate consultancy for our members because of CBRE's rich experience, world-class reputation, and leadership position as sales representative for numerous residential properties priced at over 10 million baht. This could also contribute to the targeted increase in the number of our members for this year."
Although the current COVID-19 situation in Thailand has not eased, CBRE believes that when the situation returns to a controllable state coupled with effective vaccination drive and the country's reopening in the second half of this year, tourists will start to come back to Thailand and the real estate market will gain interest from foreign investors again, especially in the high-end market which usually bounces back faster than other segments. CBRE has been preparing a marketing strategy and building an integrated platform to accommodate the return of high-purchasing-power foreign investors.
CBRE is confident that, in the long run, Thailand's potential and the government's effective and continuous investment incentives will be key elements that will stimulate the economy and bring back more foreign investors to Thailand within this year.
About Thailand Elite
Thailand Privilege Card Co., Ltd., the operator of the Thailand Elite Membership Card programme, running on an Exclusive Membership model. The Company is a government-owned enterprise. It has been approved by the Thai cabinet to conduct its business since 29 July 2013 as represented by the Ministry of Tourism and Sports with the Tourism Authority of Thailand (TAT) being its sole shareholder with a registered capital of 1,000 million baht.
Follow us on
Facebook: CBRE Thailand
Twitter: CBRE Thailand
Instagram: CBRE Residential Thailand
LINE: @cbrethailand  and @cbreland
LinkedIn: CBRE Thailand                                 
YouTube: CBRE Thailand