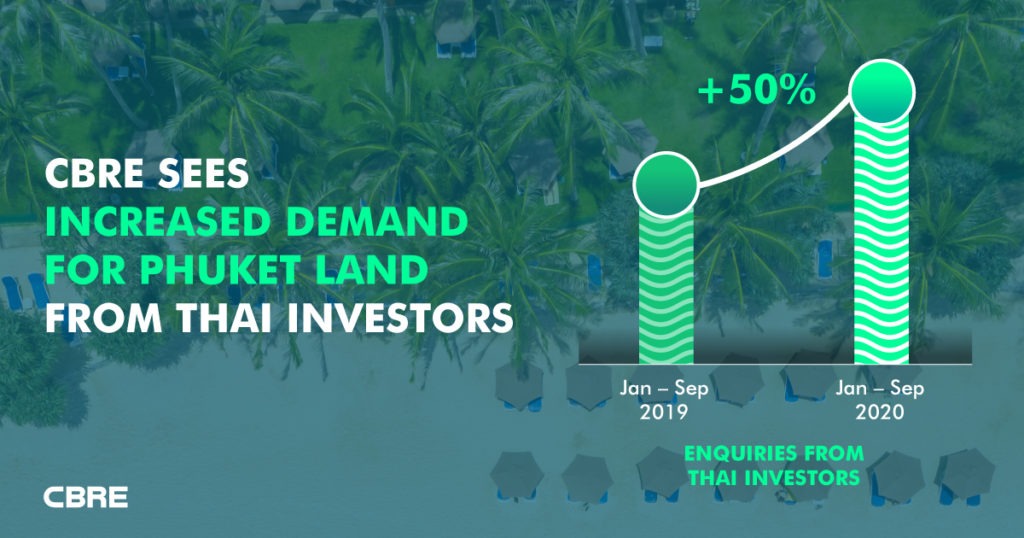 Bangkok – October 7, 2020 – In the past nine months of 2020, Phuket has weathered both the economic storm and the business impact from the loss of foreign tourists caused by the virus outbreak. Although its desirable land supply remains scarce, CBRE, a leading international property consultant, has discovered a noticeable increase in demand from domestic investors and individual buyers.
Ms. Prakaipeth Meechoosarn, Head ofCapital Markets – Investment and Resort Land at CBRE Phuket, revealed, "In the past, the Phuket real estate market has attracted more foreign investors than Thais as a region's leading resort destination. However, due to the travel restrictions, more local players are now eyeing Phuket land as potential investment and asset, especially if it has an attractive price tag."
While the government has launched a Special Tourist Visa (STV) plan since 1 October 2020 for limited tourism aimed at high-end and long-stay tourists as part of an effort to reopen its doors to tourism and rebuild the island's economy, foreign investors are not in a rush to purchase land in Phuket, apart from buyers who are well-acquainted with the region.
On the other hand, records from CBRE's Investment and Resort Land team in Phuket show that land enquiries from local buyers in the first nine months in 2020 increased by 50%, compared to the same period last year. 62% of the enquiries are from local developers mainly seeking plots for new development or private buyers looking for land to build vacation homes.
"In terms of supply, Phuket land that fits the conventional requirements for development such as beachfront and ocean view is still low in amount. However, more land plots have become available in the market. As the current situation is a buyer market, landowners are more open to price negotiations and willing to consider options," Ms. Prakaipeth added.
Despite the sluggish economy, the increased domestic demand signifies that Phuket is now given a new opportunity to impress its Thai investors.
"In the buyer-market phase, Phuket land is a good option for investment as more land is offered at reasonable prices. The market has not been this attractive since the pre-COVID-19 days. However, investors and buyers may have less time for decision-making for high potential plots due to the shortage of available supply," Ms. Prakaipeth concluded.