Bangkok – December 7, 2022 – CBRE Thailand, the leading international property consultant, has announced two senior appointments of Ms. Chotika Tungsirisurp as Head of Research and Consulting and Ms. Phatsareephak Srikanchananon as Head of Property Management, starting December 1, 2022. Both leaders rejoining CBRE are based in Bangkok.
.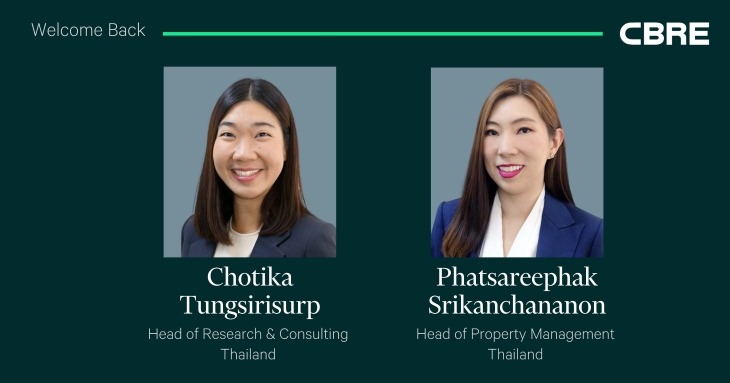 .
Ms. Chotika will oversee a team of researchers and analysts and lead the publication of CBRE reports containing analysis, insights and trends across various real estate sectors in Thailand, drawing on her over ten years of experience in the real estate market. Prior to rejoining the company, she started her career with CBRE in 2012 and later worked with a number of leading developers.
Ms. Phatsareephak, a well-versed expert in real estate and property management with diverse property management experience, will be responsible for leading the property management and sustainability teams in Bangkok and Phuket, as well as developing growth strategies for Thailand. She will also focus on enhancing client service standards and operational excellence for both residential and commercial real estate. She rejoins CBRE after managing many prestigious residential projects in Bangkok in the past five years.
"I am delighted to welcome back both Ms. Chotika and Ms. Phatsareephak and I feel confident that they will be invaluable additions to their respective teams and CBRE Thailand. Each of them is an expert with wide-ranging experience and will help CBRE boost dynamic growth and expand our market-leading position in real estate services. Most importantly, they will create opportunities for our clients to realize potential in their real estate," stated Ms. Roongrat Veeraparkkaroon, Managing Director of CBRE Thailand.