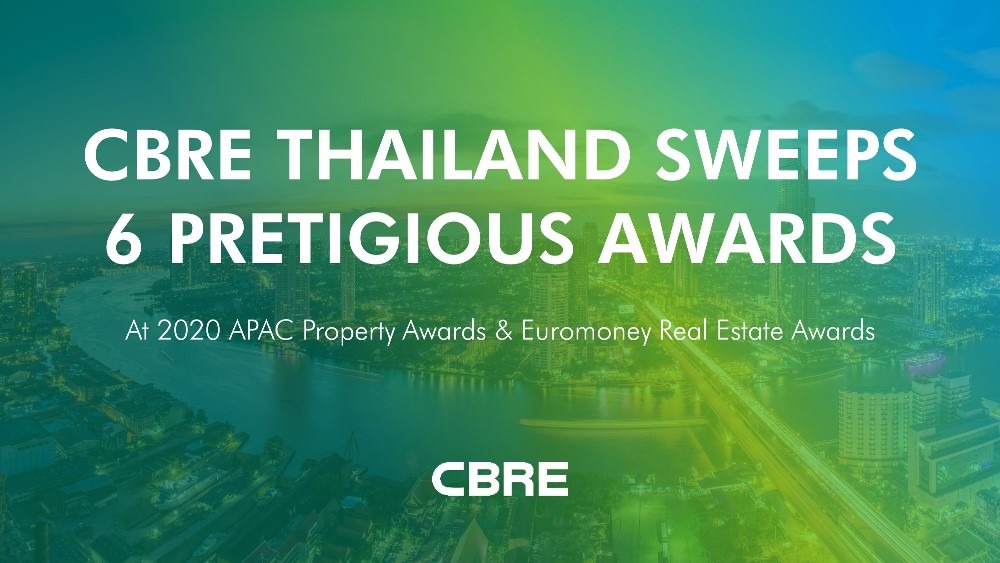 CBRE Thailand has recently won a total of six prestigious awards at the 2020 Asia Pacific Property Awards and Euromoney Real Estate Awards as well as being nominated for a regional award.
CBRE Thailand has been named Best Property Agency/Consultancy, Best Real Estate Agency Single Office and Best Real Estate Agency Website from Asia Pacific Property Awards 2020. CBRE in the Asia Pacific also garnered with 15 awards in total this year.
In addition, CBRE Thailand was recognised as Best Overall Agency, Best Agency – Letting/Sales and Best Research at the annual Euromoney Real Estate Awards 2020 which represents a diverse mix of accolades voted for by investors, occupiers and other industry participants. Worldwide, CBRE has won 55 awards.
"These awards celebrate the achievement by companies operating in all sectors of the property industry. They attest to the commitment of the CBRE team to providing world-class advice and solutions for our clients. We also recognise that winning these awards would not have been possible without the trust and support of our respected clients and business partners," said Ms. Aliwassa Pathnadabutr, Managing Director of CBRE Thailand.
For more information on the Asia Pacific Property Awards, please visit https://propertyawards.net/. For more information on the Euromoney Real Estate Awards, please visit www.euromoney.com.
Follow us on
Facebook: CBRE Thailand
Twitter: CBRE Thailand
Instagram: CBRE Residential Thailand
LINE: @cbrethailand

LinkedIn: CBRE Thailand