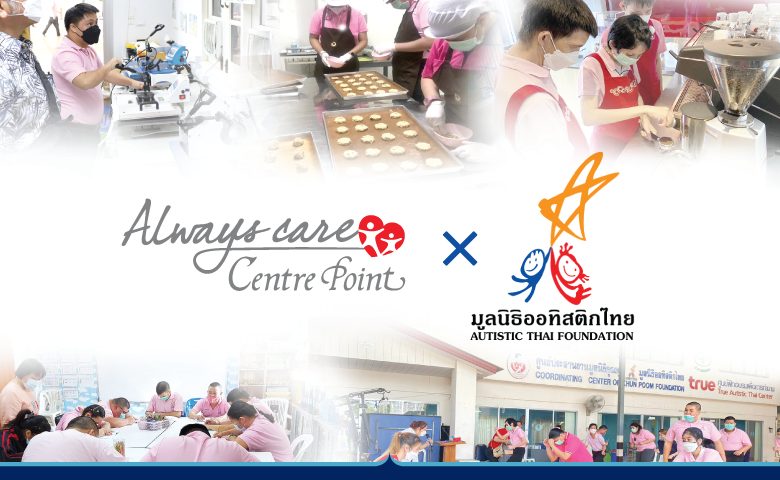 Centre Point Hotels Group is collaborating with the Autistic Thai Foundation, in recognition of World Autism Awareness Day on 2 April 2023, to launch the "Centre Point Always Care – Charitable Booking Campaign", which offers guests the opportunity to give their support to Thailand's autistic community without incurring any extra expense, as Centre Point Hotels will donate 1% of revenue from all room bookings made during 1 – 30 April 2023, for a stay anytime from 1 April 2023 onwards.
Designed to be of greatest benefit to autistic persons in Thailand, the "Centre Point Always Care – Charitable Bookings Campaign", the donation comes solely from the hotel group's revenue, inspiring guests to participate by making their reservations during the campaign. The donation will go directly to the Autistic Thai Foundation, where it will be used for building proper public awareness of autism and supporting development programs and activities that promote Thailand's autistic community.
Participating Centre Point Hotels include:
1. Centre Point Hotel Chidlom
2. Centre Point Hotel Pratunam
3. Centre Point Hotel Silom
4. Centre Point Hotel Sukhumvit 10
5. Centre Point Serviced Apartment Thong-Lo
6. Centre Point Prime Hotel Pattaya
7. Centre Point Hotel Terminal21 Korat
The Autistic Thai Foundation is certified by the Department of Empowerment of Persons with Disabilities (DEP), under the Ministry of Social Development and Human Security, which works to develop the quality of life of people with autism in Thailand. The foundation coordinates with private organizations and businesses to provide vocational training, information and other initiatives that autistic persons' integration into society.
The "Centre Point Always Care – Charitable Bookings Campaign", led by Mr. Nuntakorn Chang, Corporate Director of Marketing and Communications of Centre Point Hotels Group, is the latest campaign launched under the Centre Point Hotels Group's Corporate Social Responsibility initiative, "Centre Point Always Care".

Explorer more details, please visit https://www.centrepoint.com/csr/charitable-booking-campaign
About "Centre Point Always Care"
Centre Point Hotels' approach of "Centre Point Always Care" holds that no matter is to be ignored, however great or small, where the hotel group can make a difference to people and the earth. The hotel group is engaged in providing training and upskilling opportunities for people which can improve their quality of life; and also in taking a concerned and active role in activities to conserve our natural environment.