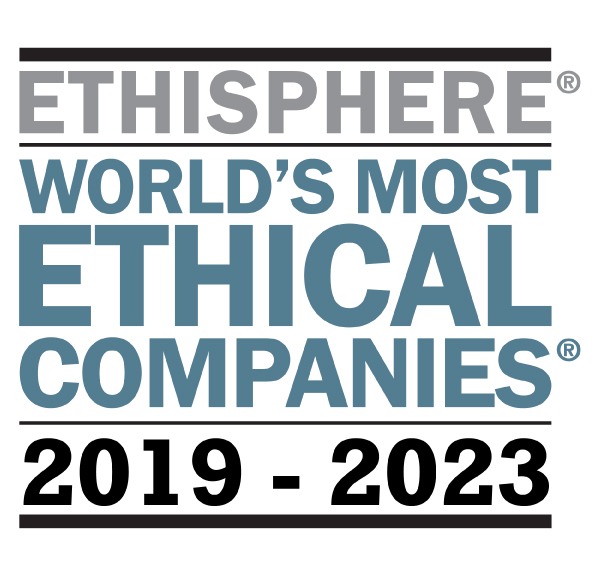 13 March 2023, NEW YORK – DTGO has been recognized by Ethisphere, a global leader in defining and advancing the standards of ethical business practices, as one of the 2023 World's Most Ethical Companies.
DTGO is the first business in Thailand to be selected for 5 straight years, since 2019, and is among only 6 Asian honorees this year. In 2023, 135 honorees were recognized spanning 19 countries and 46 industries.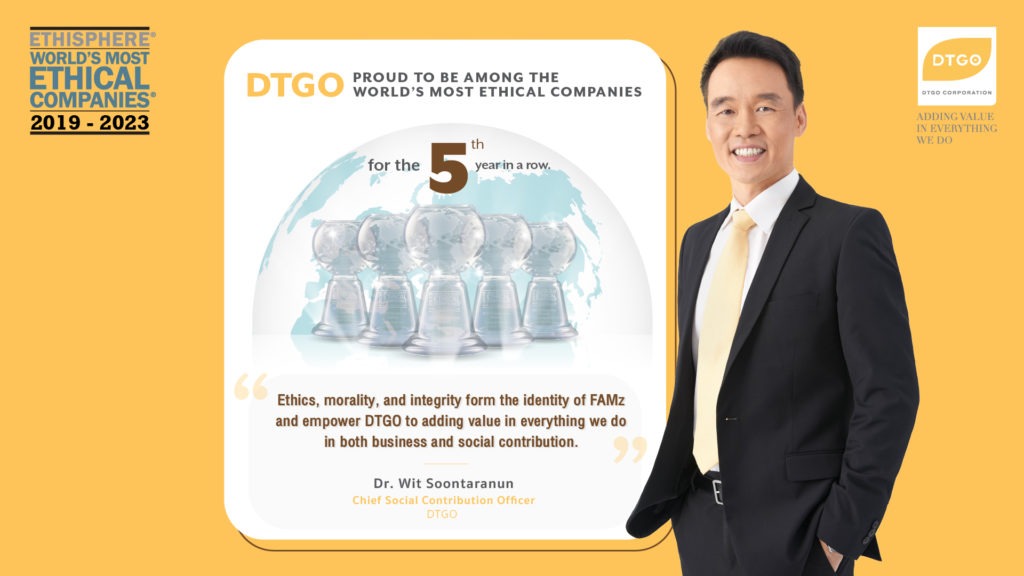 Dr. Wit Soontaranun, DTGO's Chief Social Contribution Officer, said: "All DTGO is thrilled to again pass the rigorous assessment of the World's Most Ethical Companies and help put Thailand on this prestigious global list.
"DTGO operates under a concept of business-social integration to conduct business and societal activities in parallel. Two percent of our topline revenue is dedicated to projects to benefit the world. This approach has enabled us to overcome challenges well.
"DTGO has continued to expand its businesses, including MQDC, a leading property developer, with the successful development of 'The Forestias', a themed district and global template that has won many national and international awards. MQDC has stepped into the metaverse with MQDC IDYLLIAS, connecting the real and virtual worlds in all dimensions to bring sustainable happiness to all life. During the COVID-19 pandemic, MQDC's Research & Innovation for Sustainability Center (RISC) developed a negative pressure emergency room (ER) with 100% fresh air to reduce infection risks for Light of Heart Field Hospital, another important step in innovation and research for quality of life.
"The group also enhances education, improving English teaching and learning at border patrol police schools in Phayao and Nan provinces through non-profits such as Buddharaksa Foundation, among its business and societal efforts," said Dr. Wit Soontaranun.
"Ethics matters. Organizations that commit to business integrity through robust programs and practices not only elevate standards and expectations for all, but also have better long-term performance," said Ethisphere CEO, Erica Salmon Byrne. "We continue to be inspired by the World's Most Ethical Companies honorees and their dedication to making real impact for their stakeholders and displaying exemplary values-based leadership. Congratulations to DTGO for earning a place in the World's Most Ethical Companies community."
"Ethics, morality, and integrity form the identity of 'FAMZ' (the group's term for its members) and empower DTGO in 'Adding Value in Everything We Do', both in business and social contribution," said Dr. Wit Soontaranun.
DTGO is committed to combining business and societal contribution through non-profits including Buddharaksa Foundation for education, Blue Carbon Society for the environment, and Dhanin Tawee Chearavanont Foundation for public health.
Methodology & Scoring
Grounded in Ethisphere's proprietary Ethics Quotient®, the World's Most Ethical Companies assessment process includes more than 200 questions on culture, environmental and social practices, ethics and compliance activities, governance, diversity, and initiatives that support a strong value chain. The process serves as an operating framework to capture and codify the leading practices of organizations across industries and around the globe.
Honorees
To view the full list of this year's honorees, please visit the World's Most Ethical Companies website, at https://worldsmostethicalcompanies.com/honorees.