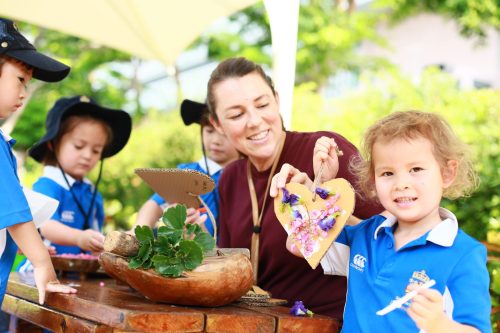 A formative time in every child's life, the Early Years at Shrewsbury creates the building blocks for successful, life-long learning. But where does this passion for discovery and the enthusiasm to enquire come from? The answer lies in the environment that children learn. At Shrewsbury International School Bangkok, Riverside, the space to create, investigate, explore and enjoy is like no other. Pair this with a dedicated and carefully selected teaching staff who foster every child's learning type, and you have the ingredients for the best possible start to a journey of learning.
The Early Years curriculum at Shrewsbury Riverside follows the British Early Years Foundation Stage Framework, which places a strong emphasis on learning and development across both the Prime and Specific Areas of Learning and Development and on developing and encouraging key learning skills and positive attitudes towards learning. These are known as the 'Characteristics of Effective Learning', which the children will build upon throughout their educational journey. These include perseverance, critical and creative thinking skills – all of which are vital for success.
Recently, Shrewsbury has supplemented and enhanced their curriculum further by incorporating Forest School education into their Early Years programme. Forest School education, which is highly popular in the UK and across Europe, encourages children to learn through nature across the curriculum. In line with our child-centred method to learning (inspired by leading Early Years practices such as the Reggio Emilia and HighScope approach), the Forest School curriculum encourages children to be leaders in their own learning and to follow that which interests them, raises questions and captures their attention. This opens a world of opportunities for learning and development to take place. Forest School is a classroom without walls, where spontaneity is in abundance, and learning goals are achieved in an exciting, organic and holistic way. 
Head of Early Years 1 at Riverside and an experienced Early Years practitioner, Ms Leanne Dix, says the Forest school theory and methodology aligns perfectly with the overall Early Years philosophy at Shrewsbury, which is that young children learn, develop and master skills best when they are in charge of their own learning.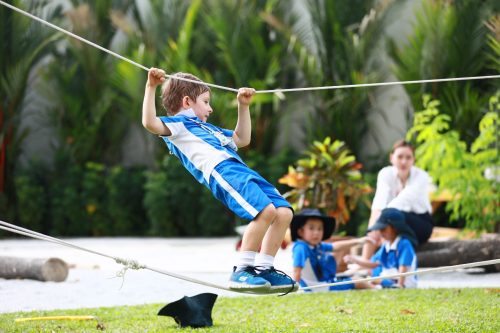 "Once children show initial interest in something, we use that information as a hook. Suppose a child likes climbing a tree, for example. In that case, we can encourage that activity to support the development of gross motor skills, language development and risk-taking. We can even use mathematics to talk about how tall or thick the tree is – the possibilities are endless," she explains.
Bangkok is a thriving metropolis and may not initially seem compatible with 'Forest Learning'. However, this is one of the areas where Shrewsbury sets itself apart from other schools in the city. A brand new 2,063 sqm Early Years garden, also known as the Orchard and Forest School Learning Base, was opened in August 2020 and is like an oasis in the city. It provides all of the requirements to facilitate our students' initiative and curiosity. Here, classes look after the environment by feeding the birds, inspecting and interacting with insects, growing plants and building dens to shelter from the sun and rain, and laughing and playing within. The Shrewsbury gardening team also plays a vital role in the daily harvest of natural materials, such as leaves, flowers, twigs, and sticks from around the school's grounds. Doing this adds provision for the children to explore and play with. Right now, more trees are being planted for future classes to care for.
Forest School and its associated curriculum is backed by world-leading educational researchers and has become highly popular in schools across Europe and Australasia. 'Nature connection' has been linked to a range of wellbeing and pro-environmental outcomes. Shrewsbury Riverside recognised this at a very early stage. The ethos is that the youngest students' future emotional, social, physical and intellectual development is best served following the same methodology. A number of Early Years team members, including teaching assistants, have been trained in the Forest School approach and are now knowledge-sharing with their colleagues so that all the team can facilitate these unique learning experiences. 
"The Forest School Learning Base in the EY garden and the curriculum we teach is loved by our children and welcomed by our parents. Our children love to spend time in the natural environment, engaging in the many unexpected learning opportunities that nature readily provides. Many of our parents comment on how much their child loves attending Forest School and are so happy that their children have the opportunity to connect with and play in nature regularly. Our prospective parents who visit the school also comment on our natural learning space and are keen to learn more about the Forest School curriculum." Ms Dix insists.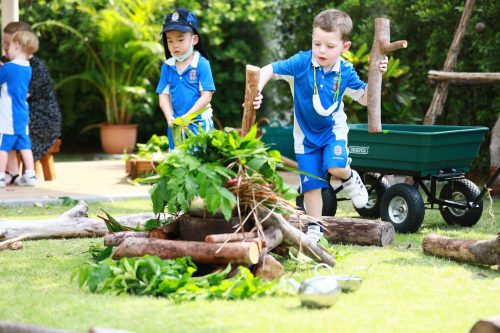 The Forest School sessions have carefully planned elements which include the regular teaching of how to stay safe in nature. The children practise the Forest School rules, such as staying within a boundary, carrying long sticks carefully, avoiding putting things in their mouths, and reporting any concerns to a teacher. Many of the things that catch the children's attention and wonder also get brought back into the classroom for further exploration and discussion. 
"Children communicate what they learn in hundreds of ways, so it is our job to create hundreds of different opportunities for young children to express their ideas, understanding and interests. We may follow the British curriculum and the goals, but we move way beyond that curriculum and how we get there is not dictated to us. If we feel that students will learn best in a certain way – we will do that." Ms Dix explains.
The skills learnt at Early Years at Shrewsbury, Riverside are wide-ranging and are intended to start a journey that incorporates the natural world and its wonders. The aim is to do more than support the next generation to become environmentally aware and responsible. It is to instill a deep love and connection for the outdoors and the natural world and an unwavering determination to preserve it for their own children and generations after that. That is one of the reasons why Early Years at Shrewsbury is a learning experience like no other.
To learn more about Early Years at Shrewsbury; you can book a meeting with the Admissions Team by emailing admissions@shrewsbury.ac.th or visit the website https://bit.ly/2QYeMfr