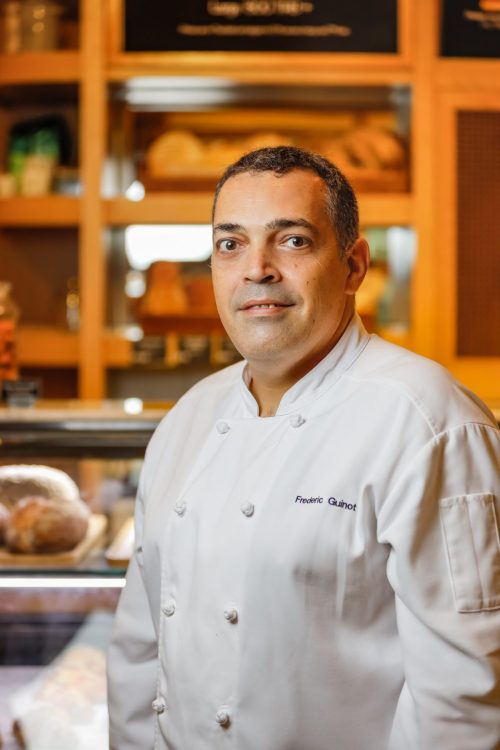 Grand Hyatt Erawan Bangkok is pleased to welcome Chef Frederic Guinot as the hotel's new Executive Pastry Chef.  Chef Frederic brings a wealth of experience to the role.  He has spent years working in many Hyatt hotels across Europe and Asia.  Prior to joining Grand Hyatt Erawan Bangkok, he worked as Pastry Chef at Park Hyatt Saigon in Vietnam.
"Moving to Bangkok has been amazing," Chef Frederic said.  "Every day I learn more about the culture, the flavors, the ingredients and the people here.  Thailand is one of the most attractive countries in the world."
Chef Frederic first discovered his passion for baking while helping his grandmother to prepare savory pies, and spending time with his father cooking at home.  He also studied in France for two years at a pastry school where he successfully received the certificate of Patissier Chocolatier Glacier Confiseur.  He earned all the basic knowledge, from cleaning equipment to making all the classic doughs, creams, cakes, chocolates, ice creams, candies and more.  In addition, His work experience in many countries helped him discover new techniques using local ingredients.
Chef Frederic's journey with Hyatt started in 1995 when he joined Hyatt Regency Dubai as Assistant Pastry Chef. In 1998, he moved to Park Hyatt Buenos Aires, Argentina as Pastry Chef.  In 2000, Chef Frederic relocated to Germany, where he joined Maritim Hotel Ulm as Pastry Chef.  Chef Frederic re-joined the Hyatt family in 2001 as Pastry Chef when he received the opportunity to be a part of a pre-opening team. He has worked in various Hyatt properties including Hyatt Regency La Manga Hotel (currently known as La Manga Club Hotel Principe Felipe in Spain), Hyatt Regency Belgrade in Serbia, Villa Magna Park Hyatt Madrid (currently known as Villa Magna in Spain), Park Hyatt Istanbul – Macka Palas in Turkey, Ararat Park Hyatt Moscow, and Hyatt Regency Sochi in Russia.
"I am so excited to gain more experience at Grand Hyatt Erawan Bangkok," he said.  "It is an honor to join one of the world's best-known classic and luxury hotels in such a beautiful and cultured city.  I am here to provide uniquely delectable experiences and even more lasting memoriefor Grand Hyatt Erawan Bangkok guests."
Chef Frederic will be overseeing all pastry operations, including Erawan Bakery and events catering.  He will be showcasing his vast knowledge with the best-quality ingredients and exciting presentation.  He plans to create a variety of flavorful desserts as well as more plant-based and healthy dishes with touches of local flavor
"Currently the trend is the croissant; in the future I believe classic pastries like mille-feuille will be the thing that people think of."  Chef Frederic will add a fresh spark of inspiration to the pastry team at Grand Hyatt Erawan Bangkok.  "Currently, the pink pomelo cake (light, fresh and low in sweetness) is the dessert at Erawan Bakery that I am the most proud of.  It is simple but truly delicious."
About Grand Hyatt
Around the world, Grand Hyatt hotels bring travel dreams to life by celebrating the iconic in small details and magnificent moments. Located at the crossroads of local culture and global business within major gateway cities and resort destinations, each Grand Hyatt hotel is uniquely designed to be a captivating destination within a destination. Grand Hyatt hotels deliver welcoming and elevated service, first-class accommodations and an abundance of options within a multicultural backdrop of dramatic architecture and bold and vibrant design. Grand Hyatt properties boast inventive restaurants, luxury spas, fitness centers, and business and meeting facilities. For additional information or to make a reservation, please visit grandhyatt.com. Follow @GrandHyatt on Facebook and Instagram, and tag photos with #GrandHyatt.