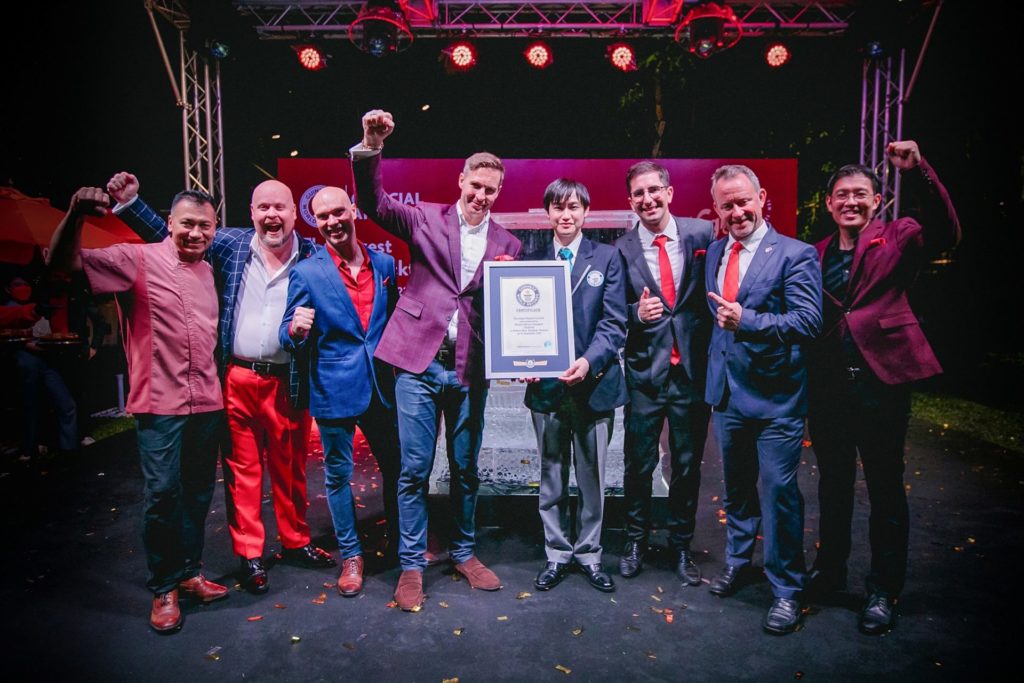 BANGKOK, 13 September 2022 – Kicking off Negroni Week in Thailand, Kimpton Maa-Lai Bangkok in Langsuan, the first property under IHG Hotels & Resorts' luxury boutique brand, Kimpton Hotels and Restaurants, in South East Asia, yesterday announced its title as the newly crowned creator of the largest negroni cocktail at a ceremony attended by a GUINNESS WORLD RECORDS adjudicator.
Clocking in at a breathtaking/remarkable 633.65 litres – 129.65 litres more than the previous record-holder – the record-breaking classic Italian cocktail is composed of one part each of gin, Campari and Rosso Vermouth, then garnished with orange peel. On 12 September, bar staff combined an equal part of Bulldog London Dry Gin, Campari bitters and Cinzano 1757 Rosso Vermouth in a specially built acrylic container surrounded by ice. Measuring 1.4 x 1.7 metres, it was displayed at the hotel's outdoor garden, Urban Oasis.
At the outdoor stage, attendees watched with bated breath as the last measures of spirits were poured in and declared to be the largest Negroni cocktail by a GUINNESS WORLD RECORDS adjudicator, Kazuyoshi Kirimura. At this, the crowd erupted into cheers.
"We're thrilled to have kicked off the 10th Anniversary of Negroni Week in Thailand with a bang. At Kimpton Maa-Lai Bangkok, creating memorable Kimpton Moments that unite has always been at the core of what we do, and it was truly wonderful to see Urban Oasis and Bar.Yard bustling with revellers from all around Thailand who have gathered to mark this milestone with us. As a team who champions heartfelt, human connections, we are proud to have brought about an unforgettable experience and reason to celebrate," said Patrick Both, Area General Manager, Luxury & Lifestyle, Thailand.
Commenting on the title award, Bars & Beverage Manager, Stanislav Andruskevic said: "Kimpton Maa-Lai Bangkok's vibrant beverage programme is bold and inventive by nature, which lets our bartenders push the boundaries of craft cocktail creation. The Largest Negroni Cocktail is just a taster of what we achieve in Ms.Jigger, CRAFT and Bar.Yard on the daily, and we're excited to unveil the special Negroni cocktails we'll be serving up for the rest of Negroni Week."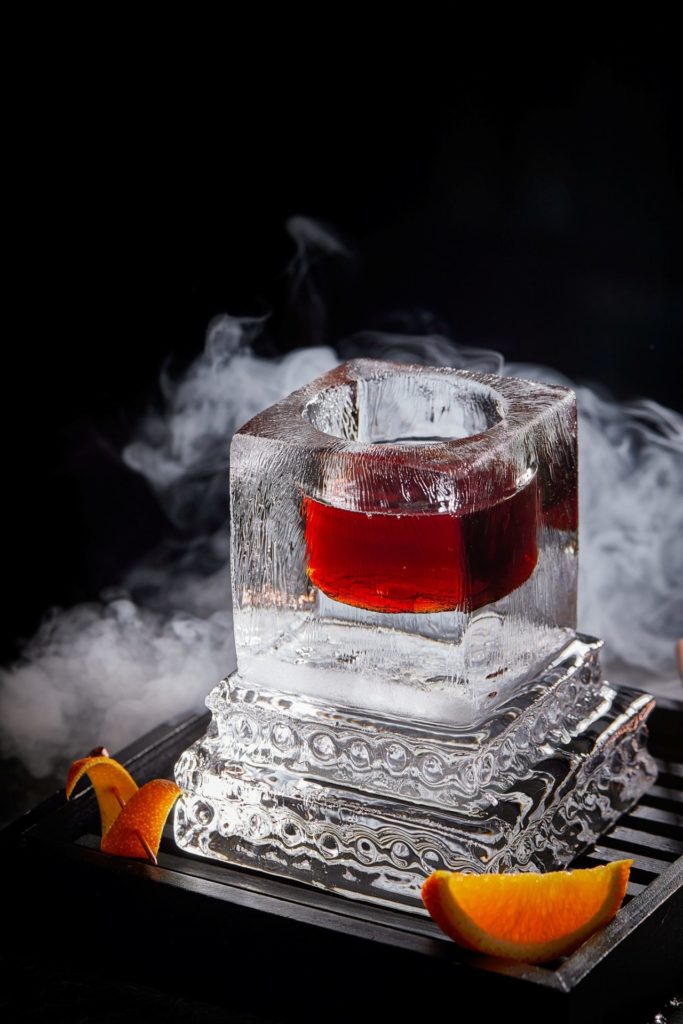 Following the adjudication, revellers headed to Bar.Yard, the hotel's tropical rooftop sky bar on the 40th floor for a celebratory of Negroni Week's 10th Anniversary and a taste of the record-breaking Negroni.  
Negroni-lovers hoping to savour the cocktail after the event will be able to enjoy it as a limited-time drink at Ms.Jigger, a cocktail bar and Italian restaurant at Kimpton Maa-Lai Bangkok. The Ice Negroni (THB 750++/USD 20++) will be served in a glass made entirely of ice and which is a 1:10 replica of the giant container used in the official attempt. Limited servings are available per day.
In the spirit of Negroni Week, which brings restaurants and bars around the world to mix classic Negronis and Negroni variations for a great cause, a portion of proceeds from the event's ticket sales and Negroni cocktail sales throughout the week will be donated to Slow Food International, a global grassroots movement of local communities and activists across more than 160 countries seeking to change the world through food and beverage. This donation will support the organisation's goals of ensuring that all people can access and enjoy food that is good for them, good for those who grow it and good for the planet. 
Following this fortuitous start to Negroni Week, cocktail connoisseurs in Bangkok can look forward to special Negroni cocktails created by Bars & Beverage Manager, Stanislav Andruskevic on the menus of Ms.Jigger, CRAFT, and Bar.Yard, the hotel's other dining establishments for one week only from 12 – 18 September 2022. Highlights include the Maa-Lai Highball (THB 440++/USD 12++) that juices up the classic Negroni cocktail with refreshing citrus notes from lemon sparkling water, pink grapefruit juice and edible pomelo perfume, and a dash of sweet longan cordial, as well as the Negroni Spritz (THB 440++/USD 12++), a playful cross between a Negroni and Campari Spritz but with a local twist of passion fruit, Thai tea cordial, and Lod Chong Nam Kathi syrup (pandan, coconut milk, and palm sugar flavours). Negroni-based desserts will also be available at CRAFT, the hotel's lobby lounge. Finally, Ms.Jigger will also host Symphony Loo, Campari Group's Regional Brand Ambassador for Southeast Asia and Supawit "Palm" Muttarattana, Group Bar Director of Watermelon Group and Winner of Campari Bartender Competition 2019 for guest shifts in the same week.
For the full programme of Negroni Week at Kimpton Maa-Lai Bangkok, please visit: https://www.kimptonmaalaibangkok.com/hotel-overview/hotel-events/negroni-week/