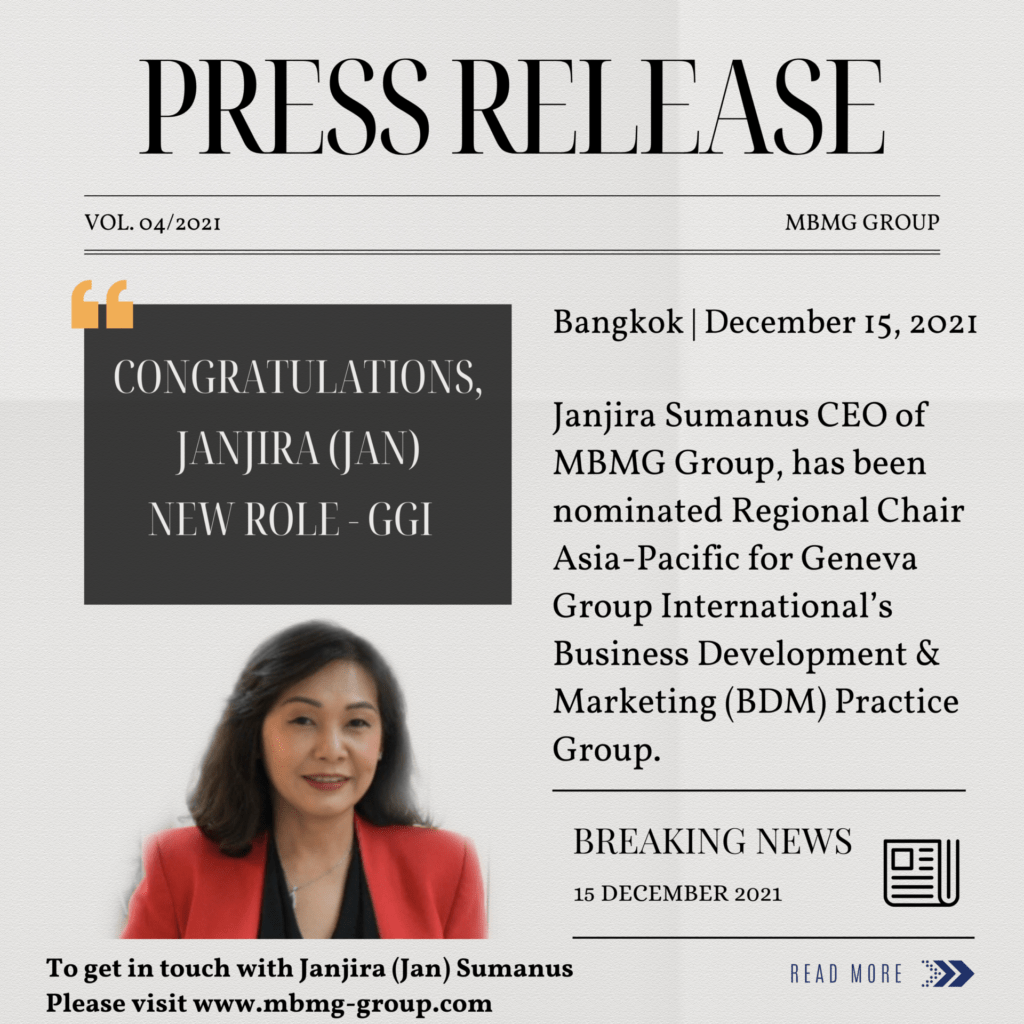 Bangkok | December 8, 2021 Janjira Sumanus CEO of MBMG Group, has been nominated Regional Chair Asia-Pacific for Geneva Group International's Business Development & Marketing (BDM) Practice Group.
Geneva Group International (GGI) is a global alliance of independent, professional services firms. It's well-established and experienced accounting, law and consulting firms that are committed to providing clients with specialist solutions for their international business requirements.
To achieve this, businesses need access to professional and approachable experts in each country. GGI brings together international, independent consulting companies and their talented specialists across all major countries and fields of practice within 126 countries.
Through GGI Practice Groups, these professionals can engage in dialogue, connections, and implement best practices alongside colleagues from around the world. The BDM Practice Group aims to generate business opportunities within GGI, deliver new marketing and business development ideas for member firms, and bring members the strategic thinking, resources, and enhance their businesses in highly competitive fields as well as increase brand awareness of GGI in members' countries.
"Our firm is honored to have Jan represent us to GGI's global audience," said Paul Gambles, Co-founder & Managing Partner "We are pleased with her new role and look forward to the opportunity collaboration and sharing of knowledge on this region. Congratulations, Jan!"
Discover more about GGI | Global Alliance, visit www.ggi.com.
To get in touch with Janjira (Jan) Sumanus please visit https://mbmg-group.com/about-us
About MBMG Group:
Recognized as "Asia's foremost professional advisory practice" MBMG Group comprises consistently award-winning professional research and advisory practices that provide seamless advice to individuals, corporations, family offices and institutional clients. 

Founded in Asia in 1996, we have grown steadily and now offer different business practices with services ranging from Investment Advisory, Corporate Advisory, Tax Advisory, Family Office, Accounting & Audit Services, Legal Services, Insurance Services, Estate Planning and Property Solutions.
Facilitating clients worldwide, our highly qualified specialists offer an unsurpassed level of service, combining the worldwide reach of GGI's presence in 126 countries with our own strong local and global experience and expertise.
You can connect with MBMG Group via our Facebook, Twitter, YouTube, and LinkedIn pages. You can also sign up to receive MBMG Flash, MBMG 's monthly newsletter covering a diverse selection of Corporate and Investment thought insight content.