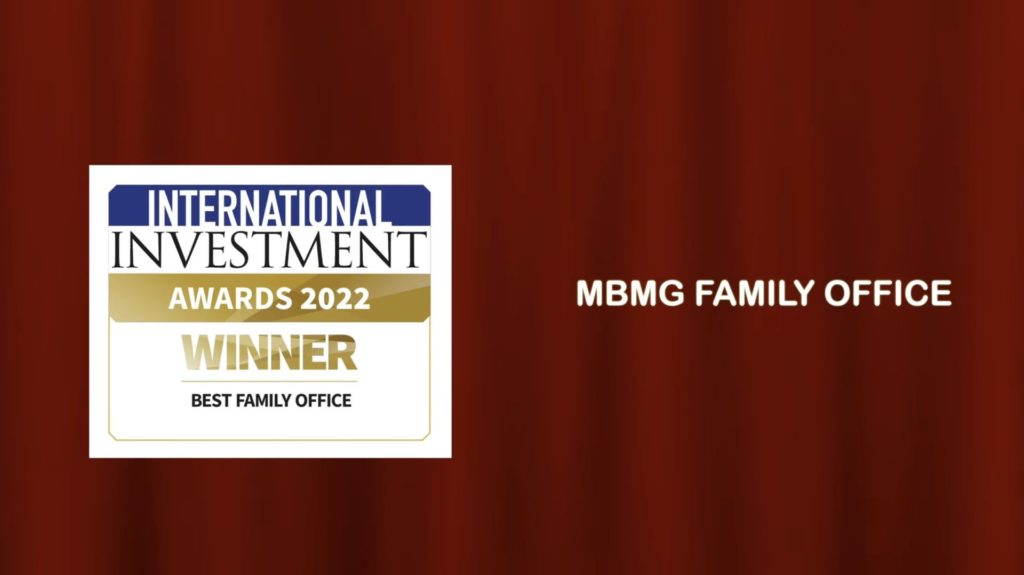 MBMG Family Office, the nexus of investment, insurance, legal, audit, accounting, business, tax and technology services provided by Thailand-based MBMG Group and its affiliated businesses and entities, was, for the second year running, honored as 'Best Family Office' at the highly prestigious, International Investment Awards 2022, retaining the award that it achieved last year, having previously been selected as the 'Highly Commendable' runners-up in the same category, in 2020.
The accolade was announced in London, yesterday at the globally broadcasted 23rd annual awards ceremony of International Investment, the leading international investment profession publication. An independent panel of judges described MBMG Family Office as "…. consistent and capable. Simply an excellent family office."
The International Investment awards cover the full range of international investment businesses, products and services. These include technology-based investment platforms that discretionary wealth managers embrace as part of the new approach to investment advice (and which form a key part of MBMG Investment Advisory's unique database of products and services) as well the continued recognition of legacy products and services from more traditional commission or brokerage approaches to international investment advice, along with a greater focus on issues including diversity and ESG (Environmental, Social and Governance) in investing.
The awards reflect the primacy of American financial services businesses as well as the historic dominance of the UK and its offshore centres, such as the Channel Islands, especially in relation to such legacy products and services, and many EU member states, but also highlight the truly global nature of the modern international investment sector with nominees and awards winners from Canada, Eastern Europe, MENA, Asia, Africa and South America. MBMG Family Office was the only Thai business honoured at the awards.
In an age where there is an ever increasing number of highly questionable awards dependent upon commercial considerations, it should be noted that MBMG Family Office, MBMG Group, affiliates, and all related entities of the Group, have not in any way sponsored or provided any financial benefits of any kind to Incisive Media (the owner of International Investment Awards) or its related entities, affiliates or individuals, have no plans to do so in the foreseeable future, and consider that the award has been conferred entirely on merit.
What is a Family Office?
Important needs that a family office might require can include:
Co-ordinating family strategy.
Providing legal structuring advice and implementation.
Tax planning and compliance.
Estate, succession, legacy and inheritance planning.
Philanthropic, social and community involvement.
Consolidated valuations, risk evaluation and investment advice suitable protection across the family's assets.
A family's values and vision, even more than the sum of its accumulated wealth, define its legacy.
A family office aims to integrate these values into all aspects of a family's planning and arrangements, helping to express that vision through a cohesive impact that survives through the generations.
MBMG Family Office:
Many of MBMG Family Office's clients might be regarded as smaller family offices, with cash flows, businesses and investments at generally lower levels than might be the province of the family office.
We take the view that it is best to have a structure and a vision as early in the process as possible and then to develop and refine this over time.
While, all aspects of strategy and planning are important, MBMG Family Office is perhaps best known for the consistent performance of its advisory investment portfolios, each specifically tailored to that client's needs.
🏆The International Investment Awards🏆
The International Investment Awards are now in their 23rdnd year and are the longest running event of their kind.
There are 30 categories covering the full spectrum of the international investment profession.
Awards such as 'Best Family Office' are determined by an independent panel of expert judges, using a strict methodology published by International Investment, although some award categories also reflect the votes of the publication's readers.
About MBMG Group:
was established in 1996 as Thailand's first broad-based provider and turnkey corporate professional services from the startup of a business and throughout its growth and development while the Hua Hin branch was established almost 10 years ago to serve the growing needs of SME businesses and individuals in that area.
The Group also provides insurance brokerage, a family office and tax consultancy and a Thai SEC-licensed Investment Advisory. MBMG Group is a member of GGI the largest global multidisciplinary alliance of independent accounting, audit, law, and consulting firms.
For more information:
Email: info@mbmg-investment.com
Website : https://mbmg-group.com
Tel: +66 2665 2537 (Khun Jureemas)