The JLL Human Performance Indicator (HPI) finds that high performance lies in the perfect mix of flexible work and outstanding offices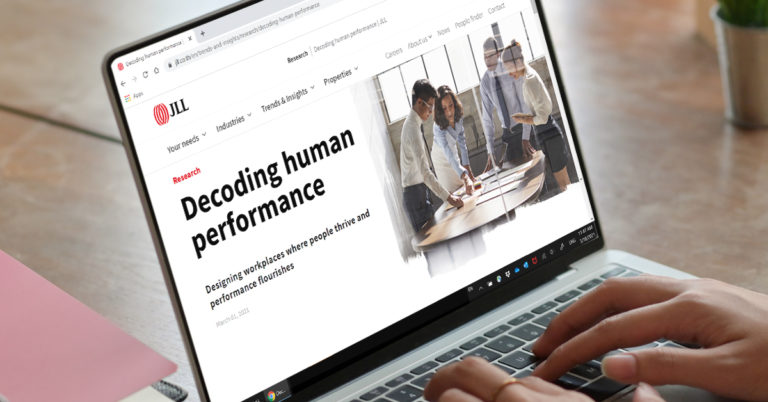 JLL (NYSE: JLL) has unveiled the Human Performance Indicator (HPI), a new formula that gives a comprehensive view of how different aspects of the workplace such as spaces, technology and culture combine to elevate human performance.
The Asia Pacific HPI results, based on a study of 1,500 employees in five countries across the region, found that 'High Performers' – meaning those that have access to high impact work environment – thrive in a hybrid work model enabled by a wide range of sophisticated spaces, technology tools and work practices.
Seven in 10 High Performers practise flexible work, including flexible hours and work-from-home, in comparison to only 34% of Low Performers. Low performers are those who felt that they did not have access to a work environment with collaborative spaces, sophisticated technology or an inclusive culture.
Technology workers (53%) and young professionals aged 25 to 34 (37%) make up the majority of High Performers. As much as High Performers were champions of flexible work, they felt that the office was a critical factor to performance. At least eight in 10 (84%) of them said they missed the office during lockdown as it allowed them access to a range of spaces and technologies for productivity and collaboration.
"The expectations of work today have changed because of the pandemic. Work is no longer where you go, but what you do," says James Taylor, Head of Corporate Solutions Research, JLL Asia Pacific. "It is becoming clearer that organisations must find ways to enable employees to conduct work effectively and maximise their performance for business success. There is no single way to do so, and our research shows that the new formula for performance is one that incorporates the pivotal role of physical offices, combined with corporate culture and workplace technologies."
Surveyed employees provided scores on the availability and impact of their workspaces, technology tools and cultural aspects. Using the scores, a final HPI was calculated. The HPI score can vary between 0-100 and helps identify working environment and conditions that improve the performance of employees.
The research found that only one-third of Asia Pacific workplaces have an environment that elevates employee performance. One way to improve performance is by increasing access to a wider range of sophisticated workplaces and technologies — the HPI found that the more varied and innovative the spaces and technologies provided, the higher the workplace satisfaction of employees.
Acting and thriving as a social hub will be key to the success of the office in the future: 96% of High Performers highlighted that they have access to spaces that promote informal interactions among colleagues such as outdoor terraces, game rooms and on-site coffee shops and baristas. Working remotely can feel very isolating and technology has not been able to fully compensate for the lack of personal contact. This need for a cohesive community is where the physical office can make all the difference. Availability of social spaces creates stronger social bonds among colleagues, which positively influence their collective performance.
"As organisations embrace the future of work, employers should be looking to bring out the best performance in employees. This could be allowing them the flexibility to work in the way that suits them best, designing the ideal setting for creativity and innovation, creating a human work environment that promotes open and caring relationships, and cultivating a sense of community with common purpose and vision. The workplace of the future will need to be employee-centric and offer fulfilment, freedom and choice," adds Kamya Miglani, Director, Corporate Solutions Research, JLL Asia Pacific. 
In Thailand JLL is in the process of creating a new high-performance designed workplace at The PARQ, a prime office development by TCC Assets, managed by Frasers Property.
"We are excited to be creating a new way of working that we believe will empower our team to perform to their best. This new office environment will incorporate the findings from the studies conducted across Asia Pacific, including workplace technology, quiet zones to concentrate, recharge areas and collaboration space. This significant investment will empower our people to work more efficiently for the task at hand," says Michael Glancy, Country Head of JLL in Thailand.
Download the 'Decoding Human Performance' report.
About JLL
JLL (NYSE: JLL) is a leading professional services firm that specializes in real estate and investment management. Our vision is to reimagine the world of real estate, creating rewarding opportunities and amazing spaces where people can achieve their ambitions. In doing so, we will build a better tomorrow for our clients, our people and our communities. JLL is a Fortune 500 company with nearly 300 corporate offices, operations in over 80 countries. JLL is the brand name, and a registered trademark, of Jones Lang LaSalle Incorporated.
In Thailand, JLL is the largest international property services firm with 1,600 employees.