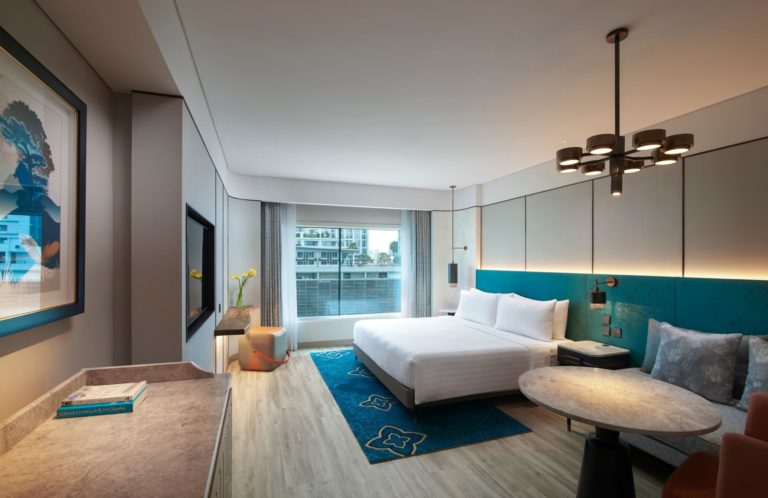 Following months of refurbishment, Amari Watergate Bangkok is unveiling its latest collection of premier rooms and suites with contemporary interiors inspired by life and culture along Khlong Saen Saeb, the city's central canal with its vibrant interchange pier located just steps from its main entrance.
From the updated interpretations of the lai kranok ancient lotus pattern woven into the rugs and imprinted into the wall panels, custom lighting fixtures inspired by classic street lamps that dot the canalside promenades to framed wall art depicting the old town landmarks a short stroll from the westernmost pier of the waterway, these rooms and suites offer subtle reminders of the hotel's unique central Bangkok location at the crossroads of tradition and modernity.
The hotel stands tall amidst Bangkok's fashion, shopping and culinary district, and these influences are reflected in the illuminated open-access clothes rail commonly seen in the boutiques nearby and specially-commissioned 'sticky rice basket' footstools.
All guest bathrooms have also been completely remodelled with double vanities, enlarged walk-in rainshower and backlit mirrors.
With added motifs based on the iconic Lai Kranok patterns and pops of vibrance that reflect an unforgettable Thai energy to the spaces, the refurbishment aims to take 564 guestrooms and suites, as well as the entirety of the meeting rooms on the 5th and 7th floor, through a renovation promoting heritage reimagined.
Inspired by its rich history and a melting pot of communities, the City of Angels offers a unique contemporary culture unlike any other – and Amari aims to translate that energy into a unique hotel experience through design and unparalleled service. Keeping up with the exciting growth of Bangkok and the culture of modern Thainess, Amari Watergate Bangkok sets off on a journey of rediscovering its roots and translating them into stylish new room designs ,a resort- style pool and landscaped terrace on the eight floor which completely renovated and smart meeting spaces for the contemporary business traveller to experience from April 2021.
Brighten Your World and be among the first to experience these new rooms and suites at Amari Watergate Bangkok, which officially opens on the 1st April 2021.
Keep in touch with Amari Watergate Bangkok and Amari hotels across Asia by following us on Facebook, the Amari Blog and www.amari.com. We look forward to welcoming you and brightening your day.