After a full year under COVID-19-induced financial pressure with limited significant improvement in the economy, CBRE, a leading international property consultant, found mounting supplies arriving in Bangkok office market as tenants consider space contraction and the average occupancy rate for the Bangkok hotel market reaching a challenging level in the first quarter of 2021.
Office
Bangkok office market continues to push through the storm as tenants consider contraction in space to reduce rental expenses and implement work-from-home policies for some business units.

According to CBRE Research, the total supply of Bangkok office space in the first quarter of 2021 increased by 25,000 square metres to 9.26 million square metres from the completion of WHA Tower in the Bangna-Trad area, which a part of this will be for WHA own use. This has increased the supply in the Bangna-Trad area by 13% Y-o-Y while the overall occupancy rate in this area stood at 80.4% in Q1 2021.

Despite new demand for office space from some growing industries, CBRE Research found that the net take-up for the first quarter of 2021 was recorded at negative 23,521 square metres, largely from Grade B CBD (Central Business District) office buildings as some tenants had relocated to Non-CBD locations where rents are lower in addition to the contraction in space. However, the Grade A Non-CBD office building submarket remained strong, being the only submarket that recorded a positive net take-up in this quarter. As a result, the average overall occupancy rate dropped by 0.5% Q-o-Q to 90.1% from 90.6% in the previous quarter.

"Within a 3-year time period from now, CBRE expects to see over 1.3 million square metres of new office space being completed in Bangkok. Historically, it took around 10 years, from 2010 to 2020, for the office supply to increase by 1 million square metres. This will create downward pressure to both the occupancy rates and rental rates in the Bangkok office market. In addition, CBRE expects to see flat growth in rental rate across the Bangkok office market except for newer Grade A buildings with occupancy of over 90% where rent could still grow," said Ms. Roongrat Veeraparkkaroon, Head of Advisory & Transaction Services – Office, CBRE Thailand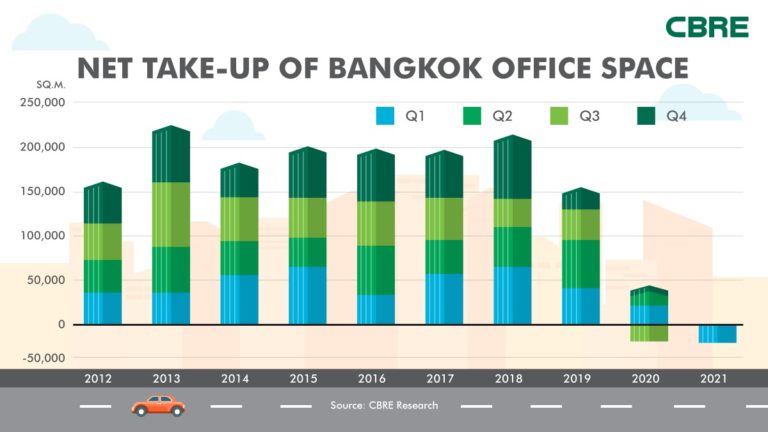 Hotel

The international tourist arrivals for the first quarter recorded only 20,172 arrivals, significantly lower than Q1 2020 which had 6.7 million arrivals since there was no help from the months of January and February like last year. This will prove to be another challenging year for the hotel market across Thailand. The Bank of Thailand has also reduced the international tourist arrivals from the 5.5 million earlier this year to 3 million arrivals.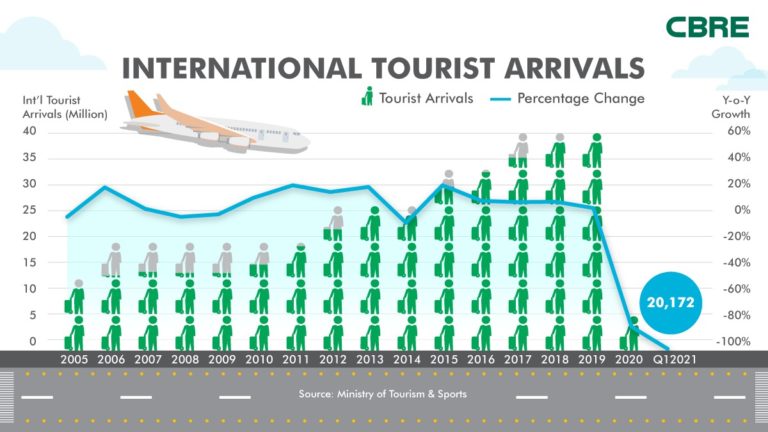 "With limited tourists, the average occupancy rate for Bangkok dropped to 19.9% in Q1 2021 from 54.7% in the same period last year, recovering to 22.1% in March 2021. The average daily rate (ADR) in Bangkok also reduced from THB 3,209 in Q1 2020 to THB 2,106 as hotels refocus to target domestic demand and offer various promotions to regain occupancy. However, with the third wave of Covid-19 that came in April 2021, the performance of the Bangkok hotel market in the next quarter is anticipated to be depressed," stated Mr. Atakawee Choosang, Head of Capital Markets – CBRE Hotels, Thailand
As the COVID-19 situation lingers, many new hotels have decided to delay their opening plans with only one new hotel opening in Q1 2021, increasing the Bangkok hotel supply by 141 keys to 51,239 keys.
Follow us on
Facebook: CBRE Thailand

Twitter: CBRE Thailand
Instagram: CBRE Residential Thailand
LINE: @cbrethailand  and @cbreland

LinkedIn: CBRE Thailand                                       
YouTube: CBRE Thailand