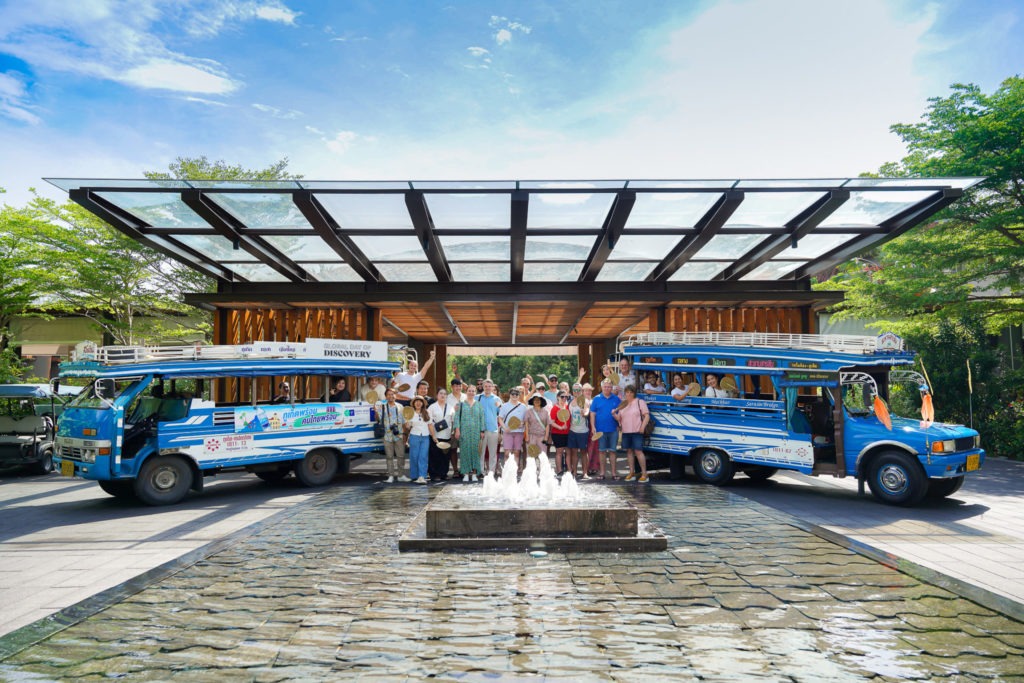 Phuket, Thailand – May 22, 2023 – Rooted in discovery and the spirit of the neighborhood, Renaissance Hotels – part of Marriott Bonvoy's extraordinary portfolio of 30 hotel brands – celebrated its annual Global Day of Discovery on May 18, 2023. A day when all 170+ Renaissance properties around the world, including Renaissance Phuket Resort & Spa together as a collective drumbeat, put on elevated experiences – underscoring how the brand delivers unexpected discoveries beyond the convention of travel.
To celebrate Global Day of Discovery's 9th anniversary, Renaissance Hotels is featuring unscripted adventures that place the brand's revamped Evenings at Renaissance program in the spotlight. With the hotel and travel industry back in full swing, guests traveling both for business and leisure are looking for authentic local experiences.
"We are excited that Renaissance Phuket Resort & Spa has again joined the annual Global Day of Discovery celebrations with other Renaissance Hotels across the globe, after pausing for three years," said Mr. Brad Edman, Multi-Property Vice President – Southern Thailand, and General Manager at Renaissance Phuket Resort & Spa. "Today's travelers crave a genuine connection with the locale, and as part of Renaissance Hotels that takes pride in being the cultural hub of our community, we are committed to captivate our neighborhood with moments that give our guests something a little bit unexpected every step along their journey."
On May 18, 2023, guests and locals visiting Renaissance Phuket Resort & Spa joined in the celebration with intriguing Navigator-led neighborhood tour with unexpected discoveries in Mai Khao, Phuket. While the beach is famous for swimming and relaxation, the hotel's locale ensures a real sense of discovery and experiences not to be missed for their spontaneous guests. Mai Khao Beach is the longest and most beautiful beach in Phuket, and known for its stunning national park setting. It is also a home to the Leatherback Sea Turtle's and Jakkajun's – a local Mole Crab. Furthermore, Mai Khao village and its friendly, smiling people provide a heritage of agriculture and fishing.
The tour started by a journey in the colorful, wooden Phuket traditional 'Po-Thong' minibuses from the resort to nearby Baan Ar Jor – the 87 years old museum home. The next stop was at Pak Lin Harn Farm of Bann Mai Khao – a small district community enterprises group where they grow local vegetable known as 'Pak Lin Harn' – the starfish-shaped vegetable that is used in authentic Southern Thai dishes. On the way back to the resort, guests also experienced the unique and traditional way of catching Mole Crabs on Mai Khao beach by the local fishermen. The night concluded with 'Evenings at Renaissance' and scrumptious food from the multi-award-winning resort's signature Thai restaurant 'Takieng'.
For more information and latest news, visit www.renaissancephuket.com and stay connected with Renaissance Phuket Resort & Spa on Facebook and Instagram. To learn more about Renaissance Hotels and its Evenings at Renaissance program, please visit www.renhotels.com.