86% of Shrewsbury's graduating class of 2021 – 121 students – achieved A-Level grades of A* or A
5 students enrol to Oxbridge, 2 to Ivy League, 1 to Stanford
15 to study medicine
70% to attend universities in UK or US (45% to a UK university/25% to a US university)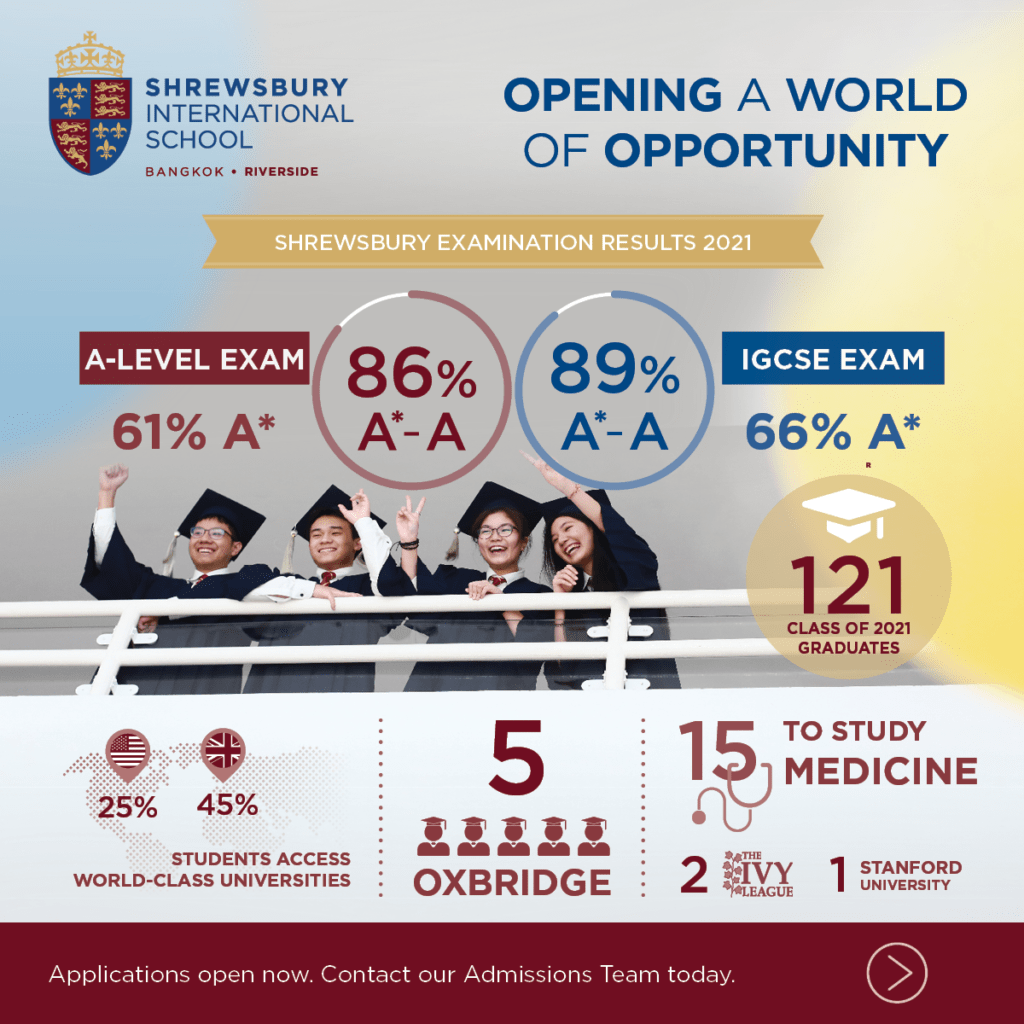 Shrewsbury International School Bangkok, Riverside has once again affirmed its position as Thailand's most successful school for securing places at top universities worldwide and its long-established reputation for outstanding academic results is unparalleled.
From across a cohort of 121 Year 13 students, 86% successfully achieved A* or A grades, with 61% achieving an A*, the highest award possible. These A-Level figures are impressive enough, but when compared to average results which put A* achievement at 19% across the UK the world of possibility which now awaits Shrewsbury's graduating class of 2021 is wonderfully clear'. The school's academic success includes a record 30 students who sat Further Maths A-Level, gaining 27 A* and 3 A grades. Economics, Physics and Chemistry were also popular subjects taken this year, with A* or A grade attainment at 79%, 71% and 69% respectively.
Chris Seal, Principal of Shrewsbury is delighted with the results achieved by graduates, stating it is a reflection of their hard work and dedication through a challenging time
"The Shrewsbury community is enormously proud of the achievements of our students. Most importantly, these results ensure a pathway to the top universities in the world and we know our students will flourish in their new environments" he said.
A-Level results in isolation tell only a tiny part of the story. Since March, Shrewsbury's award- winning Higher Education (HE) Department has been working directly with global universities to finalise student offers and enrollments. This year, students Pin and Teddy enroll at Ivy League establishments, with students Lucy, Petra, Prompt (who now joins the top 1% worldwide to study medicine at Cambridge University), Thien and Tuang accepting places at Oxbridge, making Shrewsbury the leading school in Thailand for top-tier university placements.
Operating in partnership with students, the HE team has enviable access to a well-established network of leading universities, offering an exemplary university application and support service. Their work, coupled with consistently impressive A-Level results, means that this year 95% of graduates are enrolled at their first choice university and the destinations are truly impressive: Cambridge, Durham, LSE, Oxford, UCL, Imperial, Warwick – in fact 42% of students are enrolled at UK universities. 26% are also enrolled at top US universities, including Cornell, Stanford and the University of Pennsylvania and 17% of students will attend a Top 20 University (THE 2021 Rankings).
Mr Dominic Mochan, who takes over from Jo Fretwell as Shrewsbury's newly appointed Director of Higher Education, commended Jo's legacy and the hard work of the HE team.
"Jo and her team have created the best higher education department in Bangkok and one which I am proud to join. With the combined talents of Angela Dunnham, Rachael Walker and Terri Overton, students have access to a wealth of specialist knowledge surrounding global university enrolments. It's no surprise that in 2021, 95% of Shrewsbury's students were successfully enrolled in their first choice university and I look forward to continuing this success", he enthused.
With current Year 12 and 13 students about to set foot in Shrewsbury's brand new ฿1.1 Billion, 17,000sqm learning and innovation complex, the culmination of a two year renewal and upgrade plan, the future looks even more promising.
If you are interested in finding out more about Shrewsbury International School Bangkok, Riverside and their continued exam success leading to the world's best universities, read more here.