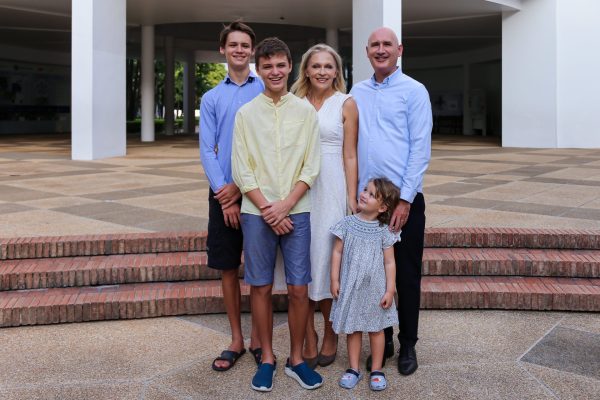 With Mr Rob Millar's appointment to the position of Principal at Shrewsbury International School Bangkok, Riverside starting in 2022, we thought it would be interesting to find a little more about the man who will be taking the top job. Mr Millar's experience both in and out of the classroom puts him in the ideal position to move Shrewsbury Riverside forward, especially as the school continues to evolve over the next few years; not just with exciting new facilities opening this August, but with a whole campus redevelopment to 2025. Mr Millar's appointment is a testament to a career based on hard work and dedication at several schools in many different roles – Read on and get to know Mr Rob Millar a little better.
Born in Wimbledon, London, Mr Millar attended an all-boys comprehensive school, Rutlish High School, where he was well-known for giving everything a go. Aside from excellent GCSE and A level results, he was a keen singer, basketballer and even attempted fencing as a hobby, although by his own admission, he wasn't very good!
From Rutlish, he was accepted into Fitzwilliam College at the University of Cambridge, a place he describes as warm and welcoming from the moment he attended his first interview. He met the Master of the College at interview, who was a biologist, and was persuaded to study biological sciences even though he had last studied it in Year 9.
"I was fortunate to be able to study a whole range of subjects from cell biology to pathology with some incredible people, many of whom are still close friends today. Over 3 brilliant years I went from colouring in GCSE level pictures of the heart with my friends in the college library to running a Neuroscience research project on colour vision in my final year. It was a rapid learning curve but I really enjoyed every moment"
Upon graduating from Cambridge with First Class Honours in 1995, Mr Millar spotted an advertisement for a postgraduate Masters degree in Neuroscience at Oxford University. He promptly jumped at the opportunity to apply.
"I didn't want to be a doctor, even though my mum wanted me to give it a shot! I am not very good with blood or needles, so it just wouldn't have been the right fit. I wanted to study the brain, though, and this course was so in-depth, it used all my scientific knowledge and gave me the opportunity to work with some world-class researchers. It was truly fascinating."
As described, the areas Mr Millar studied were complex and intriguing. From delving into what is known as 'Mach Bands' – which look at how the brain processes visual contrast – to discovering whether dyslexia is related to the way that your eyes move, Mr Millar was able to form a love for the sciences, and a deep understanding which would be an asset in the classroom.
After completing his Masters degree, he discovered that his true passion was in the love of learning and imparting knowledge to others. The ideal profession for him was most appropriately teaching. Mr Millar enrolled at New College at Oxford University and proceeded to take his PGCE in teaching Secondary Science. He remembers this time fondly, not least because this is where he met his future wife, Ms Emma Noake, herself a History teacher at Shrewsbury.
"I was fortunate to have not only been on the same course as her, but we also got to go to the same placement school as well. A while later, we got married, so retrospectively, I feel I have made some pretty good decisions!"
Rob recollects one particular placement for work experience at a specialist unit attached to Lord Williams School in Oxfordshire which worked with students who had autistic spectrum disorder.
"The techniques and skills I learnt there were based on positive psychology and underpinned a lot of how I would teach afterwards. I think it is important to have an understanding of how all students are able to achieve amazing things given the right support, opportunity and guidance as you can bring that experience to your classes."
After graduating from Oxford a second time in 1997, Mr Millar got a teaching job in Croydon, South London, but only worked there for two years as he wanted to be closer to Emma, who was working near Oxford at the time. Mr Millar ended up getting a job as a science teacher back at Lord Williams School where he had trained. After 4 years living in Oxford the pair then travelled to Portsmouth in the South of England where he worked as the Head of Social Sciences in a comprehensive school called Bayhouse, which used to be the house Queen Victoria would stay in before she went on holiday to the Isle of Wight!
"I broadened my teaching experience way outside the sciences at Bayhouse School. I taught a new range of subjects, from Philosophy to Sociology, and was able to develop my understanding of the whole curriculum and what was required to be successful at a high level. However, after 7 years in Portsmouth both our boys had been born, and Emma and I both harboured a desire to head abroad to teach – it was then or never."
After seeing a position vacant for a Senior Academic Coordinator at Shrewsbury International School Bangkok, Riverside in 2010 – Rob caught a train to meet former Principal, Mr Stephen Holyroyd at Shrewsbury, UK. He was successful, and the Millars were heading to Thailand.
"I had travelled to Southeast Asia before, but not Thailand, so everything was brand new to us. It was the job that piqued my interest, but we have all come to love Bangkok, and it is our second home – we have already been here over ten years."
From here, Mr Millar's rise to the role of Principal has been more steady than meteoric. He has gained the necessary skills to move from Senior Academic Coordinator to Assistant Principal and then to Vice Principal in 2018.  By August 2022 he will be Principal of the Riverside campus. His dedication, attention to detail and ability to bring the best out of staff members is a key reason why the Board of Governors encouraged Mr Millar to apply.
"I was pleasantly surprised. It wasn't something I was planning for at this point and time. I feel humbled and flattered that the Governors approached and then appointed me. Leading a school was something I considered but perhaps not so suddenly! From here, I want to continue the success of the school. I want a continuation of the last four years – especially with respect to the new developments and facilities in the Senior School."
Mr Millar speaks glowingly of current Principal, Mr Chris Seal for his leadership over the last four years and is very pleased that he has an extended handover period so he can learn as much as possible before he takes over the role in earnest.
"Mr Seal is passionate about what makes a great school, and he sets the bar high and expects his staff to be equally aspirational. His pastoral knowledge is absolutely brilliant. He is honest, upfront and supportive of your ideas. I have learnt an enormous amount from him during our time together. I know this will be the same next year and I hope this theme will continue when he moves on to Tanglin Trust in Singapore."
Mr Seal is reciprocal in his praise for his successor, and is confident that Mr Millar is the right person for the job, given his understanding of the school's inner workings and his relationship with staff, students, and their families.
"Rob has been a quite superb Head of Senior School over the last three years.  Humane and child-centred, he has stepped into all the student matters that come with that job with aplomb.  His traditional strengths in the teaching and learning space align closely with the history and direction of the school and his leadership in this area provides huge reassurance to our aspirational community.  I have come to rely on Rob's towering intellect across a range of situations and his capacity to think differently from others will be an asset in his tenure as Principal.  Determined, resilient and affable – I am proud of all he has developed into in our work together. "
In the meantime, Mr Millar will continue to support the Senior Leadership Team and students in his role as Head of the Senior School. He is intent on continuing the theme of evaluation and improvement as the school moves towards the future.
"Shrewsbury, Riverside and indeed the world is constantly changing – you only need to look at the last couple of years to see proof of that. Therefore we must adapt in order for our students to flourish, and give them the skills to be adaptable too. I want students to be hopeful about the future – I think this is what our role as educators should be."
To find out more about Shrewsbury Riverside and to apply, please visit https://bit.ly/3beTUHq  or contact our admissions team today admissions@shrewsbury.ac.th.