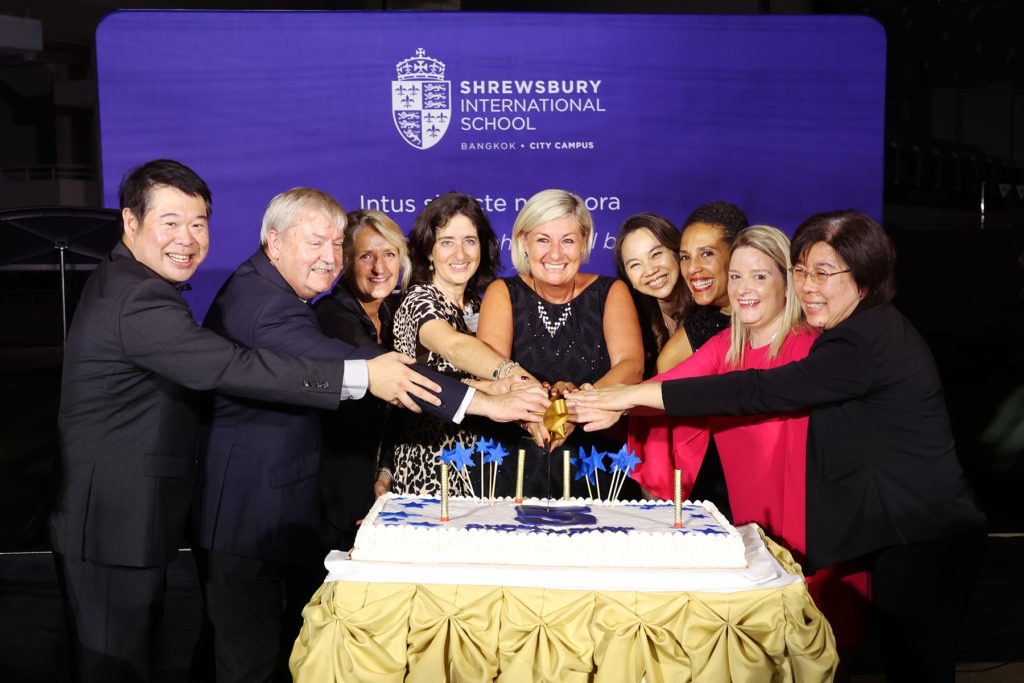 Shrewsbury International School City Campus (Sukhumvit-Rama 9) celebrates its 5th anniversary with an art auction from student artworks; the total bids raised are worth over 300,000 THB and the proceeds are going to charity.
2nd November 2022 – Bangkok: Shrewsbury International School Bangkok City Campus held a grand event called the "Sparkling Star Art Auction" at the school campus in the Sukhumvit-Rama 9 area to commemorate the campus's 5th anniversary. More than 450 distinguished guests attended the event, including students, parents, and teachers, as well as Mr Chali Sophonpanich, the school's founder, School Boards of Governors from Thailand and Shrewsbury UK, and many VIP guests including Mr Chadchart Sittipunt, Bangkok Governor.
To mark this special occasion, Shrewsbury City Campus also hosted an Individual Art Competition for each student to showcase their artwork under the theme '5th Anniversary' as well as the art auction that was the highlight of the night in which students in each year group created Process Art (a form of art that focuses on the process of thinking and expressing emotions) to be auctioned off. Students did an amazing job where they have learned so much about teamwork, collaboration, and creativity. The total amount raised at the art auction was over 300,000 THB and the most expensive piece sold was worth 60,000 THB. Proceeds will be donated to charity organisations namely UNICEF Thailand, SOS Scholars of Sustenance Foundation Thailand, and Second Chance Bangkok.
"It was an absolutely spectacular evening and a beautiful way to celebrate our 5 years in operation at Shrewsbury City Campus. With this art auction, we came together to celebrate our children's achievement as well as raising funds for local charities," said Ms Amanda Dennison, Principal of Shrewsbury City Campus. "We have grown into a beautiful community and our mission as educators is to support and nurture children to reach their full potential, in a safe, caring and kind environment. Our students, teachers, and parents play an important role in ensuring the success of Shrewsbury City Campus; our numbers of students enrolled will soon be reaching the campus's capacity of 670!"
Mr Chadchart Sittipunt, Bangkok Governor said while enjoying the children's artworks at the event, "Today's art auction at Shrewsbury City Campus serves many purposes, including showcasing the creativity of the children and their ability to produce creative work, as well as raising money for charities that will help those in need. I think this kind of event is a great idea and could be expanded to other parts of Bangkok."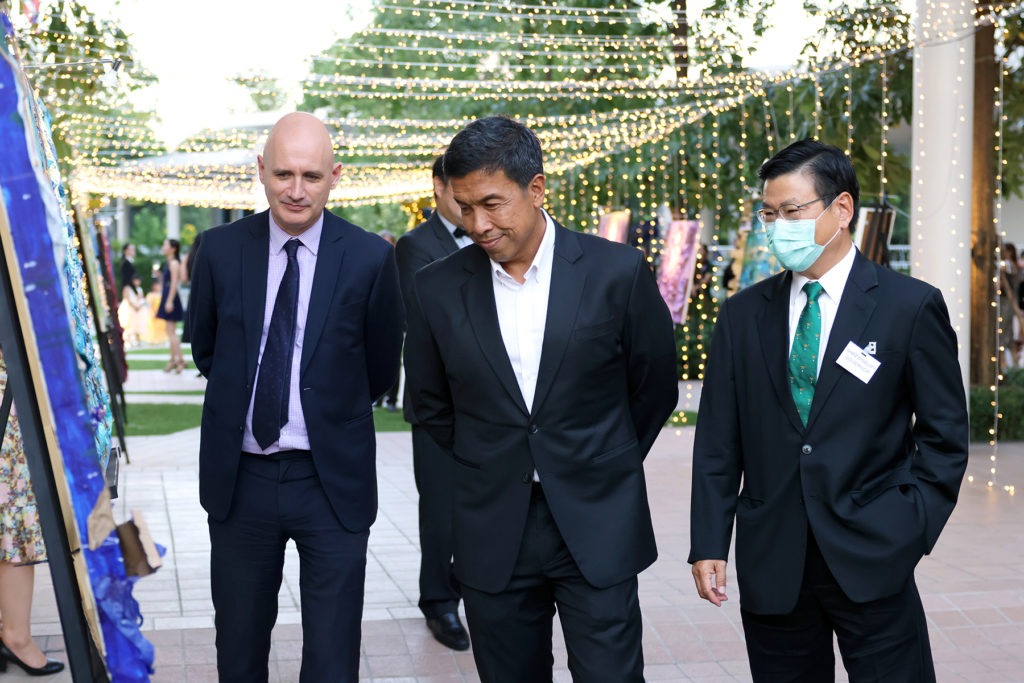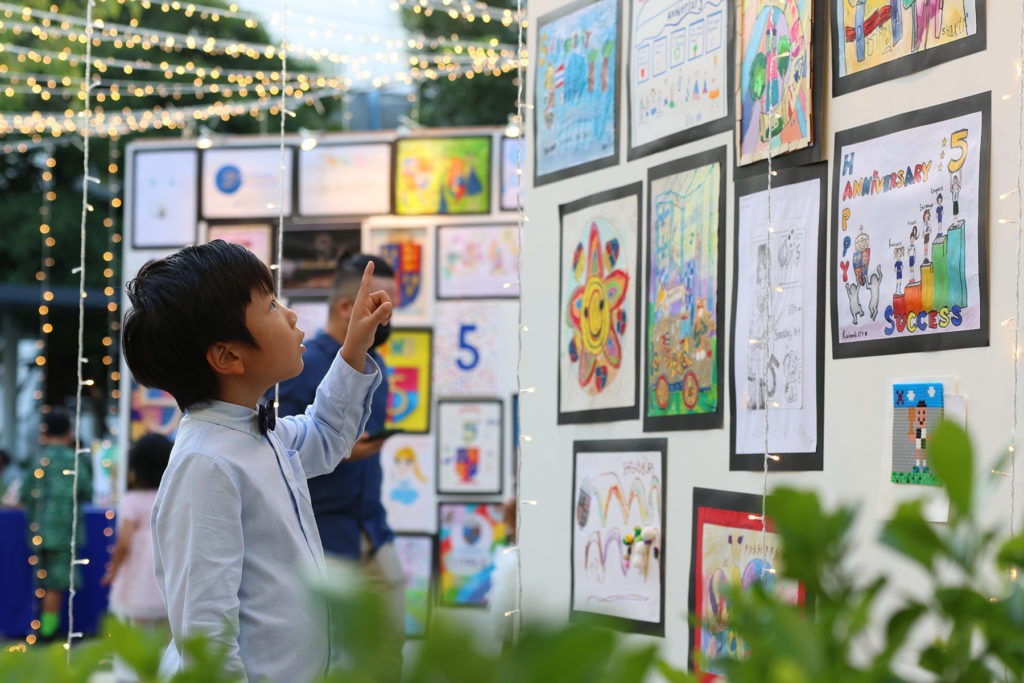 Shrewsbury International School Bangkok is one of Thailand's leading international schools and one of the best in Asia. Shrewsbury International School Bangkok is the first Shrewsbury UK to open a branch in Asia, which has been operating for nearly 20 years in Sathorn-Charoenkrung areas. Shrewsbury City Campus in Sukhumvit-Rama 9 areas was built in 2017 to support the growing number of students and demands from parents who wish to send their children to a very premium international school such as Shrewsbury. Shrewsbury City Campus is a primary school that specialises in establishing the foundation for successful learning. It is open to students aged 2 to 11 or from Nursery to Year 6, following the British National Curriculum. Students who graduate from Shrewsbury City Campus in Year 6 have a guaranteed place at Shrewsbury Riverside in Year 7, where they will be prepared until the age of 18 before entering universities. Shrewsbury Riverside has an excellent track record for its exam results and is one of the top schools to enter world's top universities in the UK, US, Europe, Asia and Oceania.
For more information about the school, please contact
Ms Chloe Chudaporn (Associate Marketing Manager (PR & Media) at Shrewsbury City Campus) call 02-203-1222 ext. 1303 or email chudaporn.a@shrewsbury.ac.th
Instagram: https://www.instagram.com/shbcitycampus
Facebook: https://www.facebook.com/SHBcitycampus
Website: https://www.shrewsbury.ac.th/city