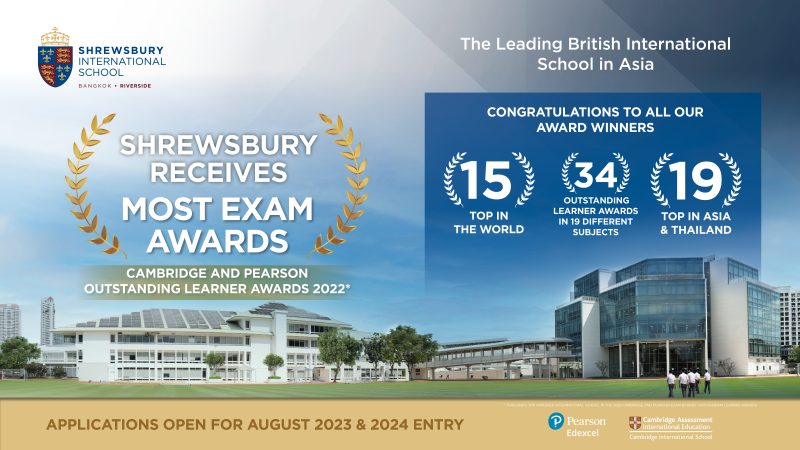 Following the recent announcement of the Cambridge Assessment International Exam Board's annual Outstanding Learner Awards, which yielded 20 accolades for Shrewsbury students, we are proud to now announce that a further 14 students have been named winners in the Pearson Edexcel exam board's Outstanding Pearson Learner Awards list. The awards are presented to the highest individual scorers across Thailand, Asia and the World, in the Boards' annual exam series.
.
In the Pearson awards, Shrewsbury students take 1 in 3 of all awards presented in Thailand, twice as many as any other school, and including 7 of the 10 Top in the World scores awarded to students in across the country. Across both the Pearson and Cambridge award series, a total of 15 Top in the World awards go to Shrewsbury students this year with 34 awards total in 19 different subjects. The awards provide a further boost in another very successful year for Shrewsbury, in which 59% of the 1,300 IGCSE exams taken by Shrewsbury students scored the top A* / 8+ grade, and 65% of the 391 A levels taken scored A/A* grade. The awards continue Shrewsbury's unrivalled legacy in the award series, which now includes over 280 awards from Cambridge since 2003, and over 70 awards from Pearson, now in just their third award season. "I'm really delighted for our students, and their parents and teachers. These awards not only represent incredible personal achievement, but also reflect the highest quality of teaching and learning that happens every day in every department at Shrewsbury.
.
Taking the Pearson and Cambridge awards together, there are awards for every science subject, all five language subjects, Mathematics, English literature, Art, Design, Computing, Psychology, Economics, Drama, Music… It is another proud moment for a school which, as we move into our third decade, continues to focus on delivering even better experiences and outcomes for our students, every day." Mr Millar continues, "In many ways, our job as a school is to prepare students for their lives beyond school; to equip them with the qualifications they need to access university courses of their choice, and the skills to thrive there. Amongst the 14 Pearson award winners are five Class of 2022 graduates, whose range of undergraduate courses exemplify the opportunies offered by Shrewsbury education. Amy has just started her History and Politics course at Oxford, Anna at UCL (English Literature), Minmin at Barnard (Liberal Arts), Ton Palm at Georgia Tech (Engineering), Put at Warwick (Computer Science). They join CIE winning graduates who are now studying at Princeton, Warwick, RISD and Parsons School of Design. These are students who have aimed high, earned their place at top rate universities, and are now pursuing wide-ranging passions that were sparked here at Shrewsbury".
.
CONGRATULATIONS TO ALL OF OUR AWARD WINNERS FOR 2022:
TOP IN THE WORLD
Cambridge:
– Biology IGCSE, Ariya (Munn) Taechamahaphan
– Biology IGCSE, Pawarut (Pran) Viphanphong
– Chemistry IGCSE, Ariya (Munn) Taechamahaphan
– Design & Technology IGCSE, Massimo (Maxi) Roncarati
– Physics IGCSE, Chayapa (Momo) Ariyaviriyanant
– Literature in English IGCSE, Munin Jitsajjapong
– Literature in English IGCSE, Pornwarin (Bai-Fern) Boondoungprasert
– Literature in English IGCSE, Torfun (Tori) Chittmittrapap
Pearson Edexcel:
– Design & Technology A level, Miryn (Minmin) Viriyaprapaikit (Barnard College)
– Drama & Theatre A level, Amy Seal (University of Oxford)
– Drama & Theatre A level, Anna Pringle (UCL)
– Japanese GCSE, Amy Vorasatit
– Mandarin/Cantonese GCSE, Waroonrat (Rainy) Wongmatakul
– Mathematics IGCSE, Chayakul (Matt) Chanthawarang
– Spanish GCSE, Aashika (Aash) Suresh
TOP IN ASIA
Pearson Edexcel:
– French GCSE, Alessandro Loudon
TOP IN THAILAND
Cambridge:
– Art & Design A Level, Pandao Ashley (Prow) Panichapat (Parsons School of Design)
– Physics A level, Patipat (Put) Ruangkanchanasetr (University of Warwick)
– Psychology A level, Nada (Neat) Rodanant (Rhode Island School of Design)
– Economics A level, Pongsapak (Por) Waiwitlikhit (Princeton University)
– Biology AS Level, Sirawan (Dee) Lertvareevej
– Economics AS Level, Wiracha (View) Veerakachen
– Computer Science AS Level, Anecha (Raemon) Leenahwattana
– Biology IGCSE, Posatorn (Pack) Punpermjaroenkij
– Computer Science IGCSE, Aashika (Aash) Suresh
– Co-ordinated Sciences IGCSE, Parinada (Prim) Limphaiboon
– First Language Thai IGCSE, Prapapat (Praow) Ruangkanchanasetr
– Best Across 8 in Thailand, Cambridge IGCSE, Torfun (Tori) Chittmittrapap
Pearson Edexcel:
– Further Mathematics A level, Patipat (Put) Ruangkanchanasetr (University of Warwick)
– Further Mathematics A level, Pichaya (Ton Palm) Limprayoon (Georgia Tech)
– Mathematics A level, Varisapong (Lyeng) Techavachara
– Further Pure Mathematics IGCSE, Ariya (Munn) Taechamahaphan
– Music GCSE Natsha (Nahm-Ob) Kruatrachue
– Psychology GCSE, Pornwarin (Bai-Fern) Boondoungprasert