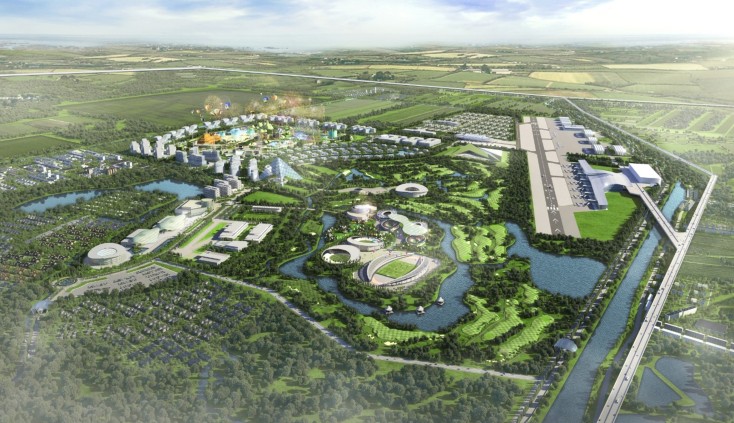 .
Project Owner: Best Ocean Golf Club Co.,Ltd.
Architects: SV Architects and Associates
Location: Samut Sakhon, Thailand
Services: Architecture, Planning (on-going)
Get ready to witness the birth of a brand-new airport master-planning project that is set to revolutionize the way we think about airport design. Introducing the Mahachai Airport, nestled in the heart of the beautiful Luxe City in Samut Sakhon, Thailand.
Spread across an enormous land plot of 8,300,000 sq.m. (5,200 Rai), this project aims to expand the Best Ocean's Airport, as well as develop a luxury residences. But that's not all – this airport city will also boast a Sport Complex, Commercial Center, Education Center, Residences, Business Center, Hotel, and even a Wonderland Water Park! The public zone area alone covers a whopping 45% of the total area!
SV Architects and Associates are thrilled to be a part of this exciting project as the master planners, with our expertise in architecture and planning. Our goal is to create an airport city that not only serves its purpose but is also a hub of entertainment and leisure. We believe that this airport city will be a game-changer in the world of airport design, and we are excited to be at the forefront of this change.
So, what are you waiting for? Stay tuned for more updates as we bring this project to life, and get ready to experience a new kind of airport-residences – one that is not just a means of transportation, but a destination in itself. Welcome to the Mahachai Airport City – where travel meets luxury and entertainment!
#SVArchitects #SV #SVaanda #SVarchitectsandassociates
#Design #Architecture #Transportation #Urban #Interior #innovation #sustainability
More Information:
Website: https://sv-arch.com
E-mail: info@sv-arch.com
Phone: (+66) 02-162-0838
Post by Thinley Dhendup