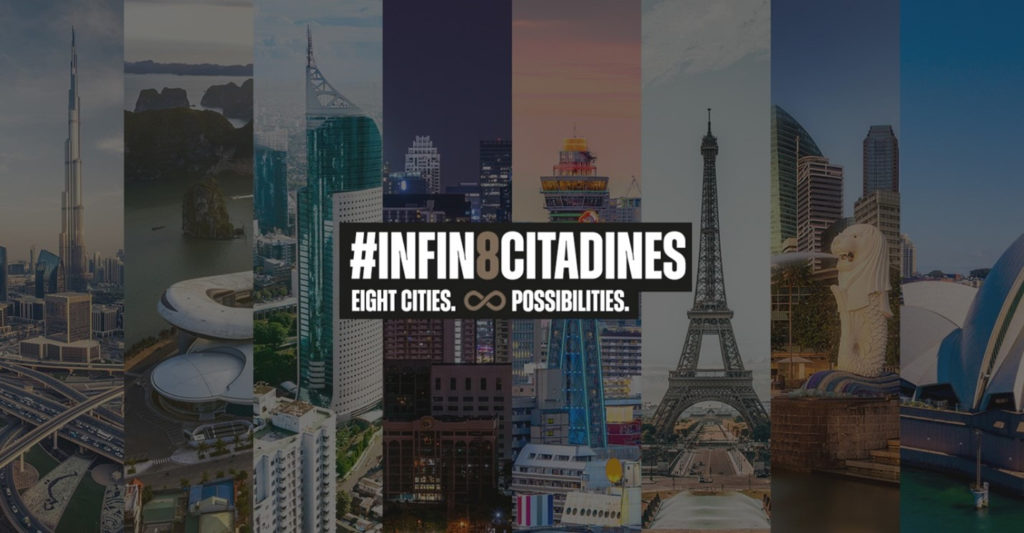 The group's fastest growing brand with over 180 properties to date introduces new signature programmes and celebrates opening of Citadines flagship property in Singapore
CapitaLand Investment Limited's (CLI) wholly owned lodging business unit, The Ascott Limited (Ascott), unveils the refresh of its fastest growing brand, Citadines, with 80 properties under development across 56 cities. Ascott acquired the Citadines chain in Europe in 2004. It has since tripled its portfolio with 104 properties in operation, including its latest flagship property, Citadines Raffles Place Singapore, in the heart of the city's financial district.

Every city is unique. Citadines, which means 'city dwellers' in French, strikes a chord with travellers who seek quality city living. With the tagline 'For the Love of Cities', Citadines offers travellers the comfort of a serviced residence and the flexibility of a hotel. The refreshed brand is anchored upon the commitment to provide guests with the best of city living while inspiring them

to live, work and play in infinite ways. With a sharpened brand purpose, guests can still look forward to the reliability that comes with the familiarity of the Citadines hospitality, while at the same time collect enjoyable memories of their stays as they immerse themselves in the different personalities of each and every city where Citadines is present in. The refreshed Citadines brand seeks to consistently curate unique experiences and service offerings that best meet the needs of its guests.
Ms Tan Bee Leng, Ascott's Managing Director for Brand & Marketing, said: "Citadines is an important brand in Ascott's portfolio and we look to aggressively expand its footprint in key cities around the world. We have always believed in the market potential of aparthotel living. Supported by its design versatility, favourable guest demographics and resilient market fundamentals, the growth of the brand has been exponential. Over the past few years, the serviced apartment business has transformed. We have likewise pivoted our offerings towards a hybrid model that would not only allow us to offer the option of both hotel rooms and serviced residences, but also a robust programme that better caters to the lifestyle needs of our guests.

With the buoyant growth in both corporate and leisure travel across key markets, we are excited to bolster our expansion plans for Citadines. Especially as travel resumes, it is timely for us to embark on a brand refresh for this fastest growing brand. With the trajectory we're seeing, we are confident to continue growing Citadines, which has one of the most extensive global footprints amongst aparthotel brands, to deliver value for both our guests and owners."

Presenting Citadines' brand signatures

As part of the refreshed brand and its ambition to promote a well-balanced lifestyle, 'activ∞', will be a key brand signature across all Citadines properties. A curation of amenities and programmes to jumpstart city living, activ∞ will ensure guests can live, work and play seamlessly within the property and around the city. This includes resident events that are specially designed to activate the infinite possibilities of city living, fitness amenities and programmes that encourage an active lifestyle.

Another signature programme is 'For the Love of Coffee', a collaboration with local communities to deliver unique coffee-related Citadines experiences to guests, wherever they are in the world. Through the universal language of coffee, Citadines aims to bring guests together, enabling a truly shared, immersive experience in every city.

For the Love of Coffee will be a key feature in Citadines properties across the world. For example, Citadines Grand Central Sri Racha in Thailand launched an extensive line-up of activities during International Coffee Week last year, in partnership with Italian coffee company, illy, through a series of workshops, staff engagement programmes and complimentary coffee for guests.
Citadines properties around the world will also be launching a series of coffee activation activities over the month of October this year, in support of #CitadinesLovesCoffee.

Other brand signature initiatives include the café check-in experience at Citadines Raffles Place Singapore, where guests will be greeted by an integrated reception incorporating the relaxing vibes of a café as they step into the lobby. At Citadines Bay City Manila in the Philippines, the social lounge has been revamped into a coffee bar, where guests can interact and chat over a cup of coffee.

Convertible features are also another brand signature that allows for the transformation of rooms and property spaces to suit the daily work and lifestyle needs of guests. At Citadines Raffles Place Singapore, guests seeking to prepare their meals or host a private meeting in a more social environment may take advantage of the residents' kitchen, a private dining space which doubles up for both meetings and intimate dining events. A shared workspace at the lobby is fitted with varying seating arrangements including communal tables as well as barstools at high tables to ensure that different working styles are met.

Citadines associates, known as 'Citazens', will undergo barista training and double-up as baristas, in addition to providing guests with the best hacks to navigate city living. This programme has since been successfully rolled-out at Citadines Sudirman Jakarta, and will be further expanded to other Citadines properties.

With the unveiling of the refreshed Citadines brand, guests can expect to experience the full suite of key brand signatures as properties progressively roll out all initiatives across regions including the Americas, Asia Pacific, Europe and the Middle East by 2025.

A brand film titled 'For The Love of Cities', will roll out on various digital and social channels as part of the Citadines brand refresh. The film illustrates how each city offers its own unique sights, sounds and experiences. It highlights Citadines' commitment to deliver on the best of city living, with every service offering catered to satisfy its guests in infinite ways. A regional TikTok campaign will kick off on 27 September 2022 across eight markets: Australia, France, Indonesia, Japan, Philippines, Singapore, the United Arab Emirates and Vietnam.