Shrewsbury International School Bangkok, Riverside's class of 2022 are celebrating an impressive set of A-Levels and IGCSE examination results. 120 students undertook the English language-based qualification exams, namely Advanced Levels (in Year 13) and International General Certificate of Secondary Education (in Year 11), that are prerequisites to tertiary education, especially in the UK.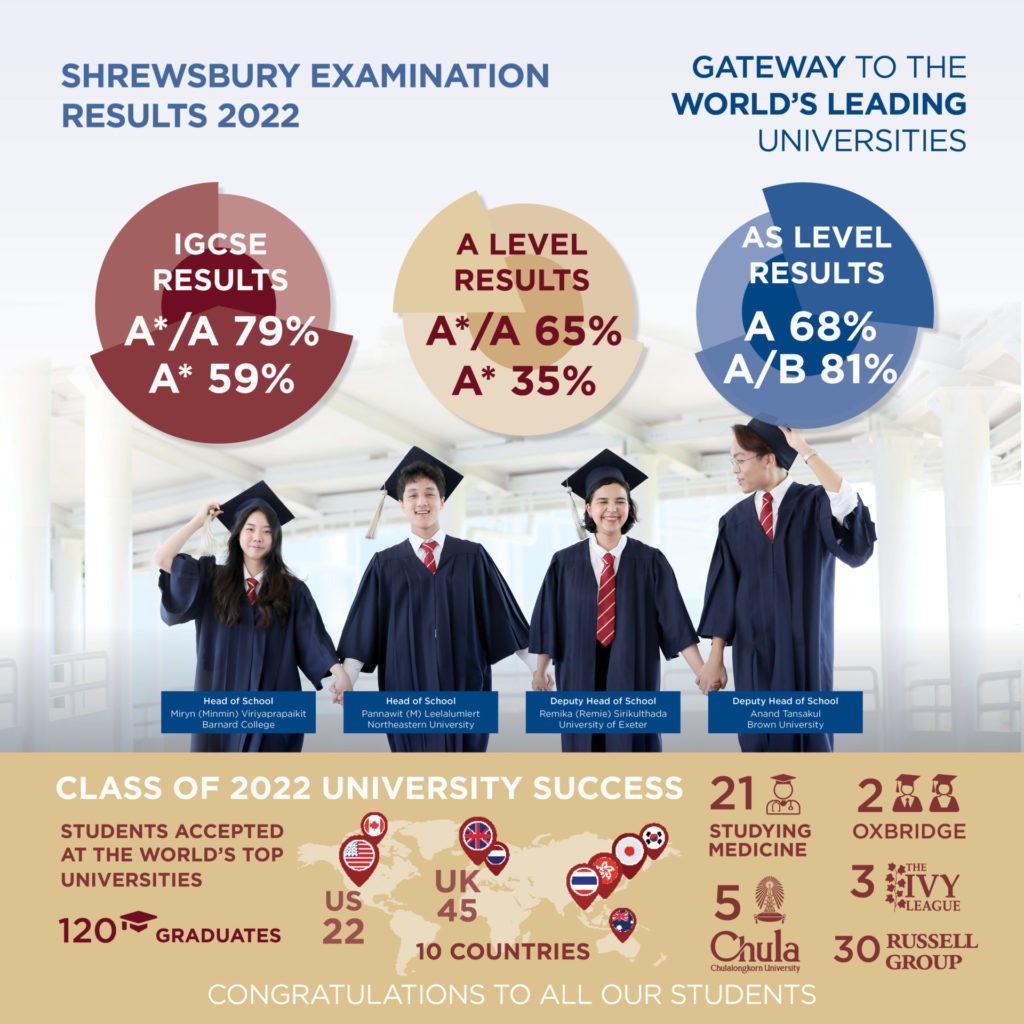 65% of the 390 exams taken attained A* or A grades while 35% of the exams taken were awarded the highest A* grade. Individually, over one third of all students achieved straight A*/A grades, with 22 students scoring at least 3A*s and 14 students achieving straight A* grades. Over half of the students received 1A* or more.
Amongst these outstanding achievers were two of the cohort's Oxbridge-bound students: Amy Seal, who received 3A* and 1A grade for Drama, History, Psychology and English Literature and has confirmed her placement in the prestigious University of Oxford's History and Politics course, and Tee Lee, who received 3A* in Maths, Chemistry and Biology and has been accepted in the competitive Medicine programme at the University of Cambridge.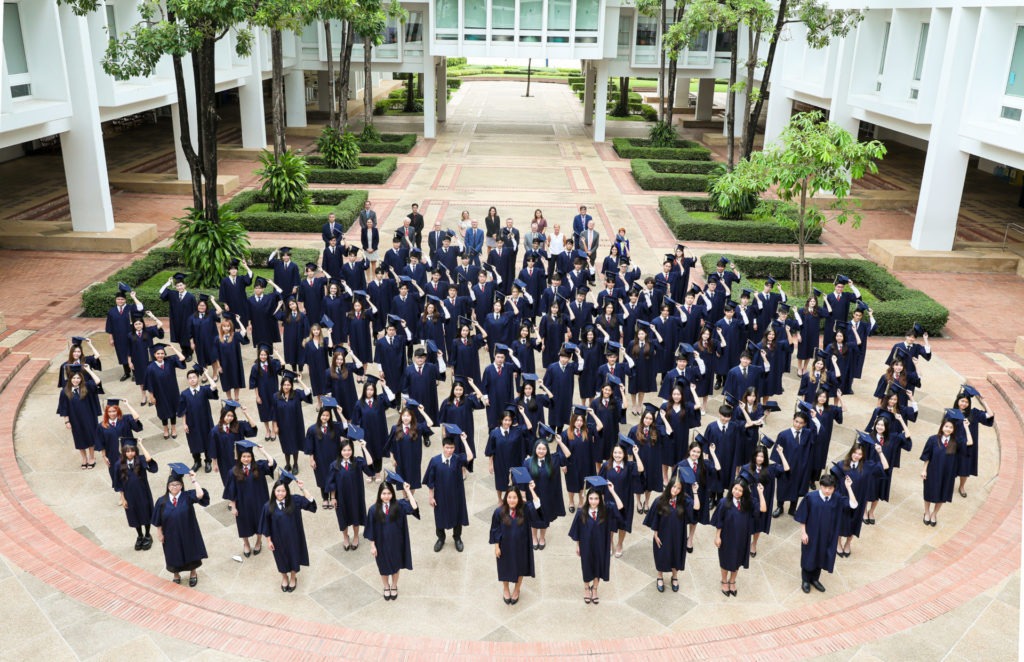 In terms of US colleges, the class of 2022 also had successes with Ivy League destinations. Pongsapak "Por" Waiwitlikhit, who has been accepted in Princeton University's Liberal Arts and Science course, achieved 4A* grades for Maths, Further Maths, Psychology and Economics. Pattriya "Sarah" Chinvattanachot, who also achieved 4A* grades for Maths, Further Maths, Geography and Economics, will take up Liberal Arts and Sciences at the University of Pennsylvania. Meanwhile, Anand Tansakul, with 2A* in Business and Art and A in Economics, is headed to Brown University to study Liberal Arts and Sciences for his undergraduate course as well.
The school's Year 11 students also achieved excellent IGCSE examination results with 79% A*/A and 59% A*. 44% of the cohort achieved 7 or more A* equivalents and 22% of the cohort achieved 10 or more A* equivalents.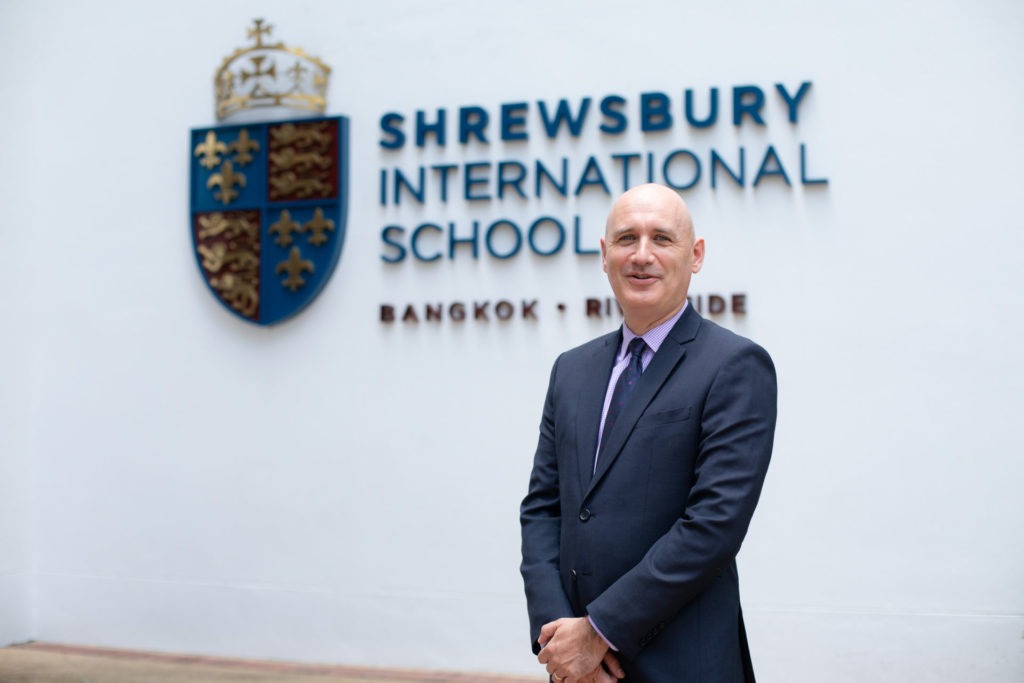 Shrewsbury Riverside Principal Mr Robert Millar has glowing praise for our students' achievements: "This is a wonderful set of results made even more remarkable by the resilience and strength of character our students have shown through the disruptions and challenges of the pandemic. With a quarter of this cohort having been in the school for 15 years the headline statistics showcase the quality of the academic experience in Shrewsbury from Early Years all the way through to graduation in Year 13."
"However long our students' journey with us may be, they are not just brilliant scholars but have also excelled in all of the opportunities outside of the classroom at Shrewsbury, whether on the stage, sports field, art studio or on a mountain summit. We are so proud of them, their achievements and the maturity and perspective they have developed in their time with us. Our Shrewsbury graduates are going on to access a remarkable range of courses in some of the world's best universities and I have no doubt will thrive and flourish in those environments as well," adds Mr Millar.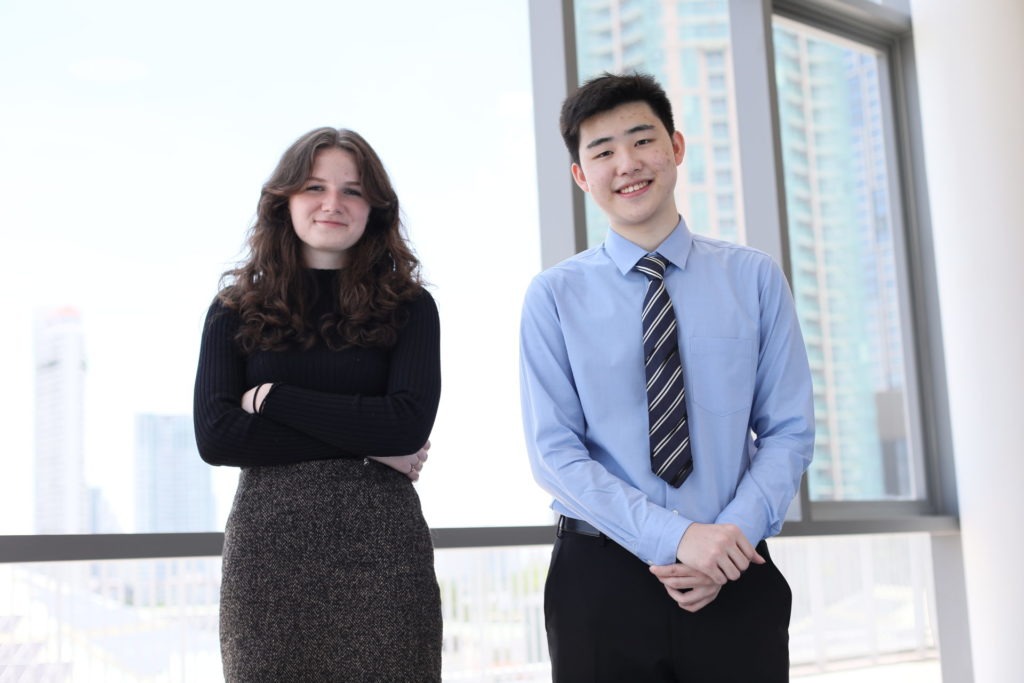 Amy and Tee share how their Sixth Form experience prepared them for their higher education journey, which typically takes many years of preparation and rigorous study. "We have a team of very capable people and teachers who are there to support us," says Tee. "When I did my Extended Project Qualification (EPQ, an A-level standard standalone qualification), my advisor Mr Millar built his own research on my topic so he could support me through the process. It is that kind of teacher that's present at Shrewsbury that helps us to learn more, especially with something as difficult as the EPQ." Amy adds: "Shrewsbury is amazing in terms of academic rigour. It has an atmosphere that encourages innovation and intellectualism. My teachers gave me loads of good advice throughout the whole process that were so helpful, but they also reminded us to take care of ourselves."
With the hard-earned academic successes they achieved at Shrewsbury Riverside, our students are able to confirm their places at leading universities around the globe. Director of Higher Education Mr Dominic Mochan shares: "After such a challenging time for this year group, I was thrilled to see so many students attain places at top institutions across the world. Out of 120 graduates, half are bound for the UK, 20% are going to the USA while 20% will be attending universities in Thailand. Alongside the successes at Oxbridge and Ivy League schools, we also have pupils going to interesting destinations such as Hungary, Ireland and Switzerland. Continuing a trend that Shrewsbury students have had over the years, one out of six students will be going into programmes in Medicine and other branches such as Dentistry and Veterinary Science. These impressive exam results are just rewards for the incredible effort that the group has put in over the last two years of their A-Level courses."
Applications are open for the 2023-2024 school year. To book a school tour, contact Admissions HERE