VERSO International School is pleased to announce and introduce the VERSO International Advisory Board, comprising distinguished, inspiring and innovative educators, entrepreneurs and thought leaders.
As a school founded on the principles of design thinking, VERSO is completely unique in terms of how it was conceived and designed.
Working in partnership with IDEO, one of the world's leading design and innovation firms based in San Francisco, VERSO is juxtaposed at the cutting edge of school design and educational innovation. 
As the world becomes increasingly disrupted, there will be a constant need to question the rapidly changing conditions that continue to impact schools. Learning to be adaptive, agile and creative has never been so important for our young people, as it is today.
With this in mind, the VERSO International Advisory Board was formed to draw on the expertise and experience of an international group of highly respected professionals, who have accepted VERSO's invitation.
Acting as our "trusted confidantes", they will play a vital role in guiding the school's strategic direction, in helping to raise the visibility of VERSO as an education innovation hub, and in providing insights and intelligence on issues related to the world of education and school, to our leadership team, our academic staff, our investors and Board of Directors. 
The VERSO International Advisory Board is under the direction of the Founding Head of School, Cameron Fox and chaired by Dr Richard Hames, an Australian entrepreneur, strategic futurist, mentor and author who lives in Thailand. A parent at VERSO, Dr Hames was intrigued by the school's vision and educational concepts which aligned with his own claims that education must be reimagined in order to remain a positive influence on a world facing such an uncertain future.
"I am so excited to work with this remarkable collective of talented and passionate thinkers knowing that we share a common vision for the urgent redesign of our educational systems and schools," said Cameron.
"We started our journey with a bold ambition to redesign what school could be. I'm confident that with the combined wisdom and guidance of the Advisory Board, we will accomplish our goal to give students a unique and innovative educational experience. We want VERSO to inspire a new generation of schools," added Cameron.
VERSO welcomed its founding families in August 2020 and currently offers classes from Early Years 2 to Grade 9, and will add Grade 10 the next academic year.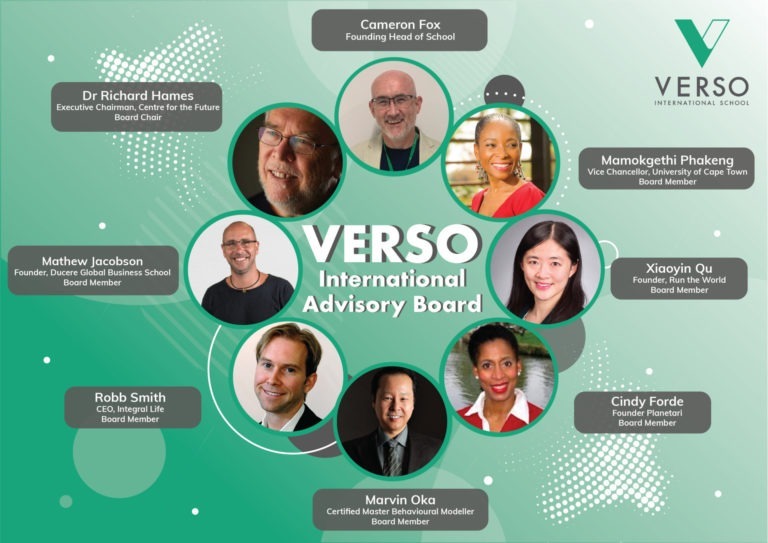 VERSO International Advisory Board
Chairman
Dr Richard Hames is considered to be among the world's most influential intellectuals and foresight practitioners. An Australian citizen, educated in Europe and domiciled in Thailand, Richard has been honored with numerous awards. He is the Executive Chairman of the Centre for the Future, Managing Partner of HamesMcGregor + Partners, and Chairman of the Asian Foresight Institute. He is also a Fellow of the World Academy of Art & Science. Richard is a member of various advisory boards and has been a personal mentor to Presidents, Heads of State, and some of the world's most innovative CEOs. He is the author of several books, the latest being Heresies: Essays on the Future of Humanity    
www.richardhames.com
Professor Mamokgethi Phakeng is recognized as one of the most influential women in Africa. She is a professor of mathematics education and currently the Vice Chancellor of the University of Cape Town, South Africa. Formerly the Vice Principal of research and innovation at the University of South Africa, she has been invited to over 30 talks at international conferences and is a visiting professor in universities around the world. She is the founder of the Adopt-a-learner Foundation (www.adopt-a-learner.com), a non-profit organization that started in 2004 and provides financial and educational support to students from township and rural areas to acquire higher education qualifications.
http://mamokgethi.com
Mathew Jacobson is an entrepreneur, philanthropist and founder of Ducere Global Business School, an Australian online education provider that partners with established universities and innovative organizations, businesses and global leaders. Mat is disrupting the higher education landscape, creating some of the industry's most innovative educational platforms and projects. As a thought leader on innovation within education and a regular media contributor on topics of business, innovation and entrepreneurship, Mat has hosted and spoken at numerous academic and business events. He also founded the Ducere Foundation to deliver educational programs across 12 African countries.https://www.linkedin.com/in/mathewjacobson/  https://www.ducere.edu.au/
Xiaoyin Qu is a Chinese-American entrepreneur and the founder of the Run the World platform, a digital event platform. She was previously head of music products and experiences for Facebook and Product Manager for Instagram. While in college, she co-founded Stoooges Education, an education counseling company in China, generating over $300K revenue within 2 years. She is also an active and well-published product writer and tech influencer and is currently working on her new upcoming book. https://www.runtheworld.today/ https://www.linkedin.com/in/xiaoyinqu/
Cindy Forde is the founder and CEO of Planetari, a globally scalable, multi-disciplinary, multimedia education platform that empowers children to be the innovators and entrepreneurs who build a better world. She lives in Cambridge, UK and works globally with leaders across sectors in education, communication and sustainability. Prior to founding Planetari, she led the Cambridge Science Centre as CEO and the Blue Marine Foundation as Managing Director.
https://www.linkedin.com/in/cindy-forde-10668911/
http://planetari.world/
Robb Smith is a serial entrepreneur, leader and social innovator who coined the term the Transformation Age. As CEO of Integral Life, he advises entrepreneurs, executives and thought leaders on leading-edge innovation and applications of integral philosophy. He was also the founder and CEO of Chrysallis, the world's most comprehensive personal and professional development app. Robb is a graduate of University of Nevada and was named in Nevada Top 20 under 40 lists in three different decades. In 2012 he was nominated for the TED Prize and gave a TEDx talk in 2013 on The Transformational Life.  http://www.robbsmith.com/bio
Marvin Oka is a pioneer in the field of Neuro-Linguistic Programming and behavioural modelling and the co-author of mBraining.He is a highly sought after international consultant and speaker, specializing in an innovative and groundbreaking field known as 'Behavioural Modelling'. This exciting field examines various forms of human talent, ability and expertise, and then seeks to create models and methods to replicate these forms of superior performance in others. Born in Honolulu, Hawaii and now living in Australia, he is only one of five people in the world to be recognized by his peers with the rare title of 'Certified Master Behavioural Modeller'. https://www.behaviouralmodelling.com/