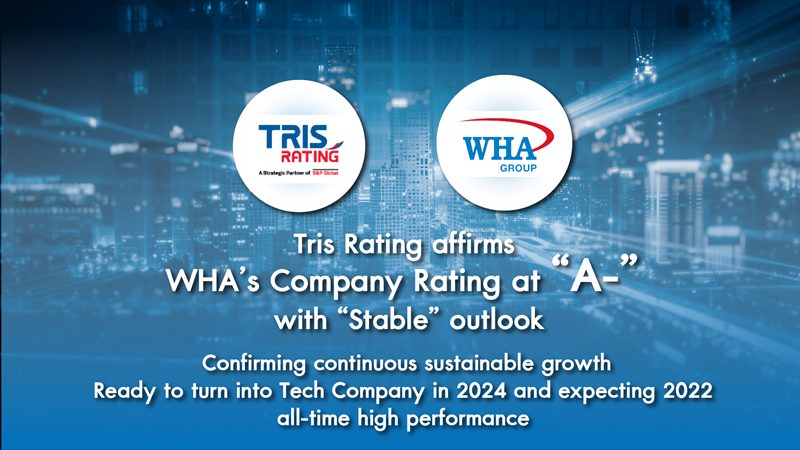 Bangkok – TRIS Rating affirms WHA Corporation Public Company Limited or WHA Group ("the Company") company rating at "A-" with "stable" outlook, reflecting the Company's continuous sustainable growth. In a Thai economic environment marked by a series of positive recovery signals and a promising investment outlook, the Company delivered solid growth across its four business hubs – Logistics, Industrial Development, Utilities and Power, Digital Platform while targeting to become a tech company by 2024.
Ms. Jareeporn Jarukornsakul, Chairman and Group CEO of WHA Corporation PCL., said that TRIS Rating recently announced the Company rating of WHA Corporation at "A-", with a 'Stable' outlook, reflecting continuous sustainable growth and strength of our 4 business hubs. Furthermore, this company rating has shown the Company's financial discipline and liquidity, together with the flexibility and efficiency in financial management as well as the capability to access funding through various sources, including asset monetization to REITs, capital market, and financial institution, thereby supporting the continuous and future growth of the Company's businesses.
The Company's Group CEO added that the Logistics business has an impressive performance in the first half with delivered area of 194,300 sq.m., comprising of 98,200 sq.m. of new projects and new contracts plus 96,100 sq.m. of short-term contracts. The COVID-19 pandemic and resulting impact on consumer behaviors resulted in an increase in demand for short-term warehouse rentals especially from consumer goods, e-commerce, express delivery and 3PL. For the remaining of 2022, new logistics projects representing over 51,000 sq.m. will be delivered. In addition, 2 new mega logistics projects and the expansion phase of WHA Mega Logistics Center Theparak KM. 21 will be launched, altogether totaling over 420,000 sq.m.
Therefore, the outlook is promising with the launch of new high-value logistics properties and office solutions. Logistics business continues to actively focus on providing smart and innovative value-added services to its customers including via collaboration with startups. Logistics business is expected to achieve stellar year 2022.
For the Industrial Estate business, the Company is the leader in IE developer in Thailand while expanding in Vietnam on a national basis. 1H2022 land sales reached 513 rai in both Thailand and Vietnam. Thus, the Company revised the land sales target to 1,650 rai.
In September, the Company signed a 600-rai landmark deal at WHA Rayong 36 Industrial Estate, its largest transaction in 20 years, with leading Chinese electric vehicle manufacturer BYD, with operations expected to start in 2024 and an annual capacity of 150,000 electric passenger cars. More importantly, it confirms the Company's role as a key player for the formation of Thailand's automotive cluster in the EEC throughout the past 20 years.
In addition, construction of the 573-rai expansion phase of WHA Eastern Seaboard Industrial Estate 4 (WHA ESIE 4) will be completed this Q4 2022, while construction of WHA Industrial Estate Rayong (WHA IER) is expected to start this October.
In Vietnam, following the success of its project in Nghe An Province, the Company continues its strategy of industrial expansion in select key provinces. WHA Industrial Zone 1 – Nghe An 900-rai Phase 1 is now fully completed. Seventy-six per cent of Phase 1 is leased to customers whose activities span across sectors such as automotive parts, food processing, solar energy, building materials and electronics with the largest recorded FDI investment in Nghe An Province of USD 500 million. With anticipated high demand for industrial land, the Company is accelerating the development of the subsequent phases with construction of Phase 2 (2,215 rai) underway.
In addition, the Company is currently planning and in the approval process of one industrial zone in Thanh Hoa Province (5,625 rai including expansion). Thanh Hoa is Vietnam's 3rd largest populated province in Vietnam and benefits from a strategic location with proximity to Hanoi and Lach Huyen deep seaport. 'WHA Smart Technology Industrial Zone – Thanh Hoa' located nearby the province's main city, is poised to capture demand from high value technology investors and expand Vietnam's 'Northern Technology Corridor'.
In Central Vietnam, the Company has recently signed a MoU for a third project in Quang Nam Province of (2,500 rai). 'WHA Smart Eco Industrial Zone – Quang Nam' will also be strategically situated at the heart of the Central region including proximity with Danang and Quang Ngai Province. The future industrial zone is well-suited to welcome clean and high-tech manufacturing industries in the automotive, mechanical, electrical, electronics, telecommunication, medical, and logistics sectors.
For Utilities business, the Company continues to expand products and solutions focusing on value-added water products, such as premium clarified water and demineralized water. In Thailand, during 1H2022, the Company increased its water supply and wastewater management volume, as well as value-added water supply volume, by 10% and 19% YoY, to 62.3 million m3 and 2.5 million m3 respectively. The Company has recently completed a new water treatment plant and wastewater treatment facility in WHA Rayong 36 Industrial Estate, with a total capacity of 3.3 million m3/year. In terms of value-added products, a premium clarified water project for new Small Power Producers (SPPs) has also been completed with a total capacity of 1.4 million m3/year, while a demineralization plant in Asia Industrial Estate, with a capacity of 1 million m3/year, is nearly finished. Additionally, The Company secured water demands from heavy-consuming customers including power plants, healthcare, solar panel, and EV automotive companies.
In Vietnam, where the Company has 3 water projects in operation, the Utilities business recorded a significant growth of 22% YoY in 1H2022, to 12.8 million m3 due to an increase in customers base and water supply coverage area
In the Power business, the Company continues to broaden its portfolio mainly with the development of renewable energy, especially solar power. As of 1H2022, a total of 62 equity MW of solar rooftops are in operations while another 64 MW is under construction. In addition, 15 new solar projects were signed in 1H2022 with industrial users, representing a total capacity of 34 MW.
With a capacity of 19.4 MW, one of the largest solar rooftop projects in ASEAN, for Prinx Chengshan Tire (Thailand), is expected to be delivered by the end of this year. Altogether, the cumulative signed Power Purchase Agreements (PPAs) of solar rooftop portfolio is expected to reach 150 MW by the end of this year.
The Company is growing its Utilities and Power businesses inside and outside its industrial estates, both in Thailand and Vietnam. It is also enlarging its power portfolio and developing innovative renewable energy solutions, in particular in the solar energy business.
As part of its strategy focusing on smart and innovative digital solutions, the Company has been co-developing, with PTT and Sertis, the Renewable Energy Exchange ("RENEX") platform, a Peer-to-Peer Energy Trading system using Blockchain technology. The project is being launched with first-wave participation from 54 leading customers within WHA's industrial estates. It is currently under final preparation for commercial trading starting within this year. Once successfully implemented, the project will elevate Thailand's energy industry to the next level by reducing energy cost for the industrial sector and boosting clean energy consumption.
For Digital Platform, the Company is empowering its businesses by building the digital infrastructure and implementing digital technologies. The Company also launched its first innovative product with an aim to enhance accessibility to adequate healthcare services and solutions.
By the end of 2022, underground fiber optic (FTTx) will be available throughout 11 WHA's industrial estates in Thailand. The Company will also provide telecom tower for a wireless telecom network inside WHA's industrial estates for Thai telecom operators to install necessary devices for receiving and broadcasting network frequencies including 3G, 4G and 5G. In addition, 2 data centers were successfully monetized in 1H2022, generating a profit of THB 345 million. To date, WHA Group still holds 15% equity in Tier IV SUPERNAP data center.
In the Digital Platform business, the Company is currently driving the implementation of several digital innovations and technologies across all business hubs. The Company is rolling out its own digital solutions. As a first step in the healthcare sector, it launched WHAbit application that aims to enhance accessibility to adequate healthcare services including telemedicine service. The Company is also collaborating with Samitivej Hospital to promote and develop digital healthcare.
WHA Group targets to become a tech company by 2024. As such, the Company formulated a roadmap that includes transforming operations, boosting workplace innovations, turning into a Data-Driven organization and building digital-ready culture in the organization. As of now, the Company has implemented a series of projects to strengthen its digital foundations as well as enhance the digital capabilities and innovation skill sets of WHA's employees. It is also exploring technologies to develop new business models with the plan to launch Meta W, the 1st Industrial Metaverse designed to enhance customers' experience and strengthen the Group's businesses in the digital era.
WHA digital transformation roadmap will pave the way for its long-term success, towards net zero target and upcoming status as a tech company. More than ever, the Company looks forward to the future with confidence and optimism. Backed by its strong fundamentals accumulated over the past 30 years, today's new technologies and innovations open a wealth of new opportunities that the Company determined to seize for the benefit of all its stakeholders, including customers, employees, shareholders, business partners and, ultimately, the entire Thai society at large.