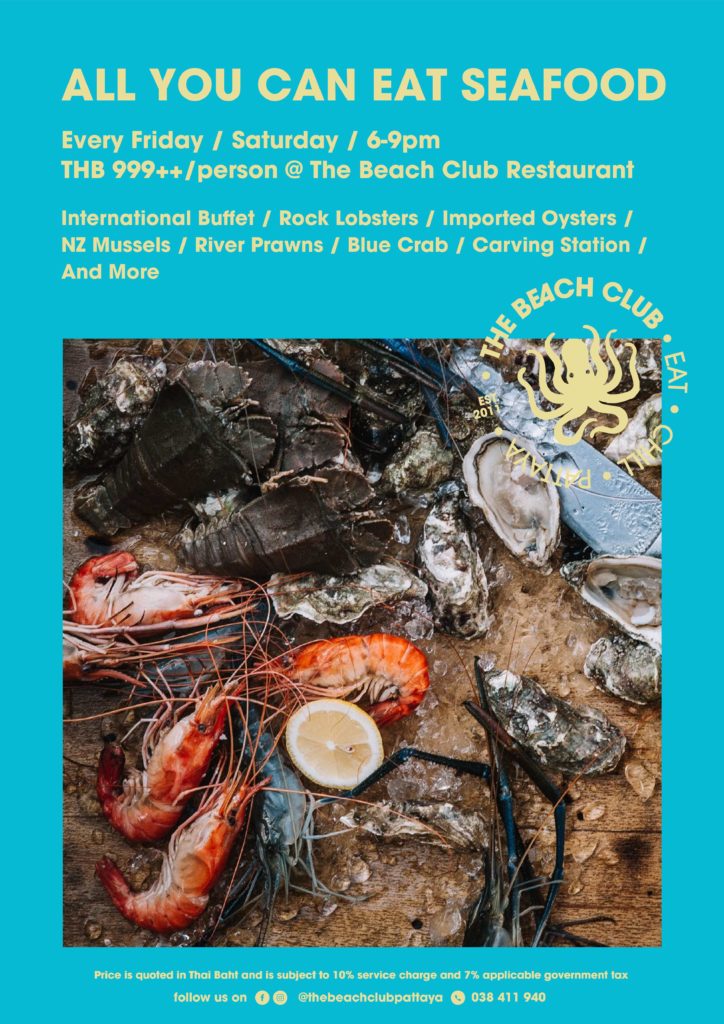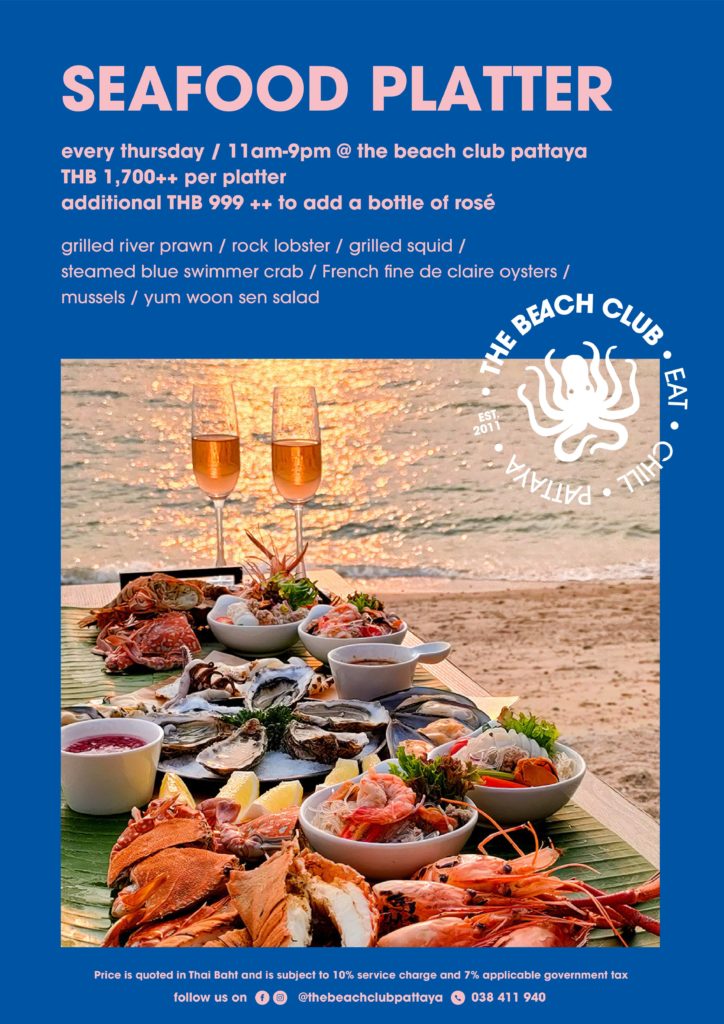 1. 𝙎𝙪𝙢𝙥𝙩𝙪𝙤𝙪𝙨 𝙎𝙚𝙖𝙛𝙤𝙤𝙙 𝙋𝙡𝙖𝙩𝙩𝙚𝙧
Graze on a delectable Seafood Platter with beachfront views from The Beach Club every Thursday. Featuring quality seafood that's perfect to share, for just THB 1,700++ per platter look forward to:
Grilled River Prawns
Rock Lobster
Grilled Squid
Steamed Blue Swimmer Crab
French Fine de Claire Oysters
Mussels
Yum Woon Sen Salad
And for the perfect pairing, add a selected bottle for just THB 999++.
The Beach Club's Seafood Platter is available every Thursday from 11am-9pm.
Offers page: https://www.hotels-g.com/pattaya/offers/seafood-platter/
2. International and Seafood Buffet every Friday – Saturday from 6 – 9 pm
on July will be available for two extra days during on the 13th -14th
Our International Seafood Buffet has no shortage of choices for seafood lovers,
and for only THB 999++ per person,
look forward to:
• Fresh and grilled seafood, including oysters, mussels, prawns, and crab
• Sashimi & sushi live station
• House-baked pizza
• Live Noodle Station
• French cheese, cold cuts & salads
• Range of international dishes
• Delectable dessert station
3. HOUSE DJ EVERY Friday & Saturday
Dance and vibe tunes by the House DJ. We've also got refreshing drinks and savoury bites from The Beach Club Pattaya for you to enjoy!
Hours: Every Friday and Saturday in July
From 5.30pm – 8.30pm.
Where: Beachfront @ The Beach Club Pattaya.
Offers page: https://www.hotels-g.com/pattaya/offers/havana-nights-in-pattaya/
Terms and Conditions
– Advance booking is required on Monday to Thursday and are on first come first serve basis on Friday to Sunday, and on Public Holidays.
– Bookings are subject to availability.
The Beach Club Pattaya is open daily from 11am – 9pm. and will be serving food and alcoholic beverages.
Please note that alcohol sales is permitted between 11:00 A.M. to 2:00 P.M. and from 5:00 P.M. to 9:00 P.M.
Please see a la carte menu here
https://www.randblab.com/assets/menu/BEACH_CLUB_PATTAYA/TheBeachClubPattaya_Menu2022.pdf

For more information, please contact:
Tel: 038 411 940