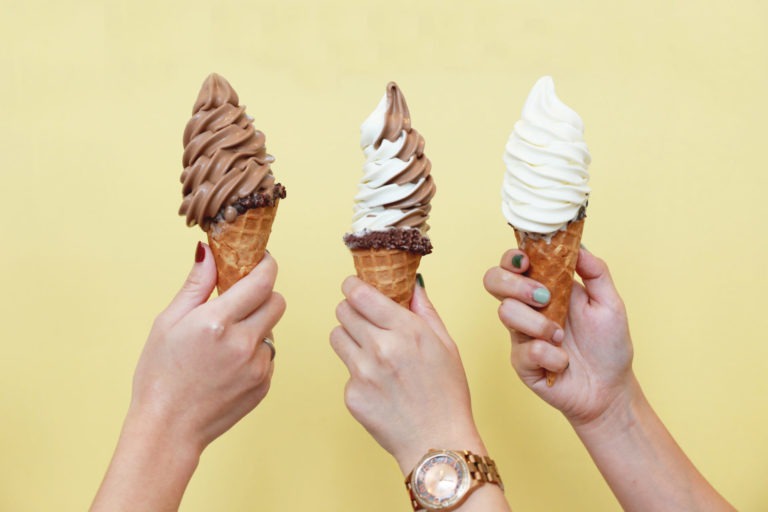 In the midst of Bangkok's humid and hot summer months, what could be better than grabbing a refreshing cone of ice cream to cool down?
Well, how about that exact same ice cream, but served soft and creamy (and we're not talking about it melting…)
Now, you can grab a soft serve cone at Zing Bakery, right in the heart of the city on the ground floor of Centara Grand at CentralWorld.
Our ice cream is made fresh using premium French cream infused with luxurious chocolate.
3 flavors to choose from include:
"Signature Blend" – Velvety, pure & intense taste of cocoa
Guayaquil 64% & Alunga 41%
Origin: Ivory Coast
"Zephyr" – Milky flavour with a smooth texture
White Chocolate 34%
Origin: West Africa
"Two Tone" – A delicate mix of our Signature Blend & Zephyr
Pick up a cone (or two) for THB 150 from 07.00 – 19.00 hrs. daily.
We also run our Happy Hour from 18:00 – 19:00 every day from where it's Buy 1 Get 1 Free on all cakes and pastries.
With every food order, we guarantee that the chef, who prepared the food, is in perfect health. Additionally, we just received the "Amazing Thailand Safety and Health Administration: SHA" certification for meeting hygiene, health, and safety standards issued by the Tourism Authority of Thailand (TAT).
Should you have any questions or require additional information, please call 02-100-6255 or email [email protected].
Website: www.centarahotelsresorts.com/centaragrand/cgcw
Facebook: Centara Grand & Bangkok Convention Centre at CentralWorld
Instagram: Centaragrand_Centralworld