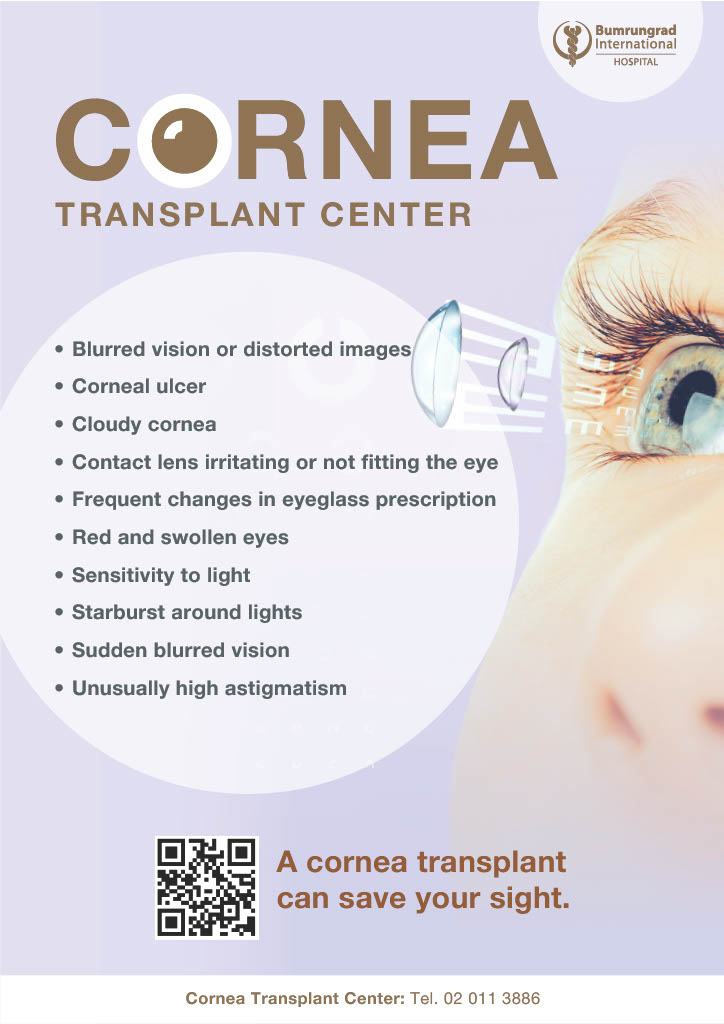 According to a 2014 survey of visual impairment and blindness:
0.6% of Thai people are blind
12.6% are visually-impaired
➜ Over 92% of blindness cases could have been prevented.
➜ More than 76.8% could have been treated.
.
HOW TO DETECT A CORNEAL PROBLEM?
Blurred or warped vision
Cloudy cornea
Contact lens irritating and not fitting the eyes
Corneal ulcer
Frequent changes in eyeglass prescriptions
Red and swollen eyes
Sensitivity to light
Starbursts around lights
Sudden poor vision
Unusually high astigmatism
.
WHAT TO DO IF YOU EXPERIENCE SYMPTOMS?
See an eye doctor before the symptoms become so severe, leading to blindness.
Corneal transplant is a treatment method used to restore vision to those with a cornea condition or a damaged cornea.
WHERE TO GET TREATED?
Bumrungrad's Corneal Transplant Center:
Comprehensive range of treatment and care services for corneal diseases especially complex ones.
Team of experienced ophthalmologists with advanced expertise.
Modern medical technology and equipment.
For more information about the services offered or to make an appointment, click here .
Corneal Transplant Center: 02 011 3886
App Bumrungrad Anywhere: