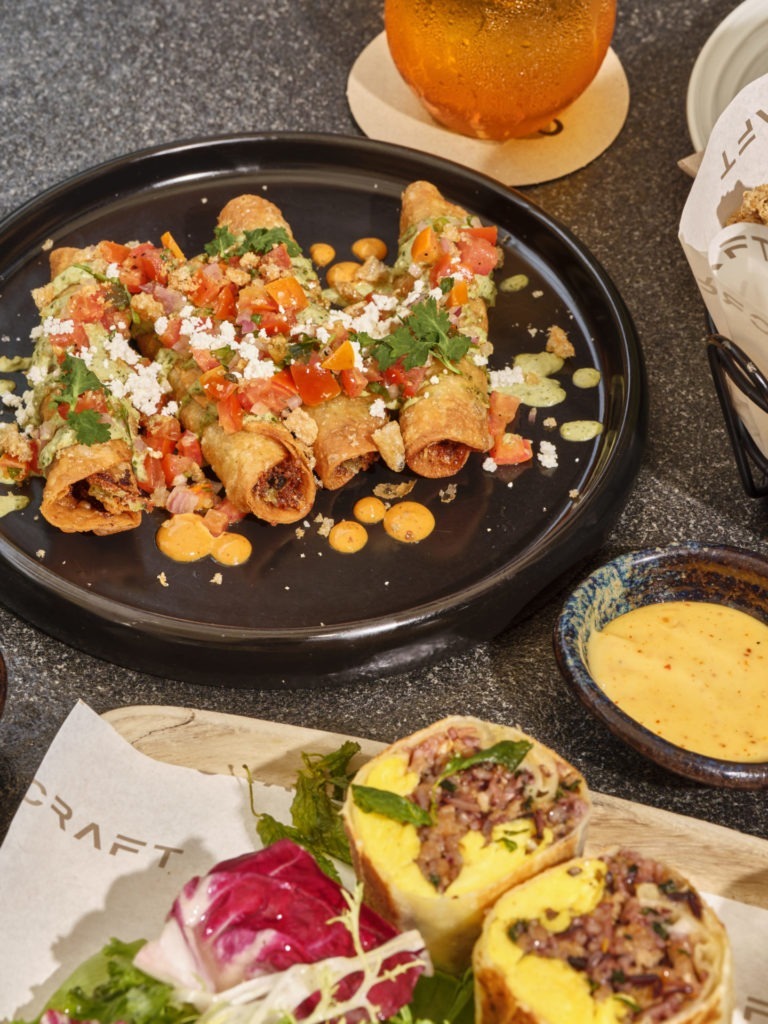 CRAFT, the casual pet-friendly dining magnet serving bespoke crafted brews and bites, adds new international favourites and healthy vegan options to its menu, putting diversity at the forefront for all patrons. On top of that, explore the new and refreshing, tropical beverages to beat the heat with special 'CRAFTY CREATIONS'.
Led by Kimpton Maa-Lai Bangkok's Chef "Gun" Patinya Srithong, CRAFT's Sous-chef, CRAFT debuts all-new additions to the ever-evolving culinary experience. The carefully curated new selection of dishes to CRAFT's beloved all-day breakfast, healthy salads, burgers, wraps, and sharing bites in a variety of flavours and textures from different parts of the world, including Thailand, Vietnam, Japan, Korea, China, Indonesia, Turkey, France, Mexico and the Mediterranean.
CRAFT's new menu highlights and certainly not to be missed, includes heavy-weight line-up such as the scrumptious Four Cheese Egg-White Omelette with halloumi, brie, parmesan, and feta, Burbur Ayam, Indonesian rice porridge and Chef Lamberto's personal comfort dish that can be topped with a poached egg or a salted duck egg to amp up the protein. There's the fiery Breakfast Kaprao Wrap with a cheeky touch of cheddar and mozzarella for the perfect combination in every bite. Other lighter additions are Súp Măng Cua, Vietnamese heartwarming soup made with crab meat and abalone and fresh Tuna Tataki with sesame and ginger dressing. Highlights from the new dishes designed for sharing are Wing Master Wings with finger licking good garlic parmesan or flaming habanero chili sauce. Top it all off with Korean staples, Ojingeo Bokkeum, spicy squid stir-fried served with sides of condiments wrapped in perilla leaf.
For those health enthusiasts, CRAFT now features a wide range of mouth-watering vegan options that do not sacrifice any flavour. Opt for colourful and ridiculously nutritious Roasted Vegetables & Buckwheat Salad, homemade long-life Cold Noodles with hijiki broth, cucumber and seaweed or Vegan Pops, not your regular, every day, plant-based chicken pops made of tofu that is crunchy on the outside and oh-so-juicy on the inside.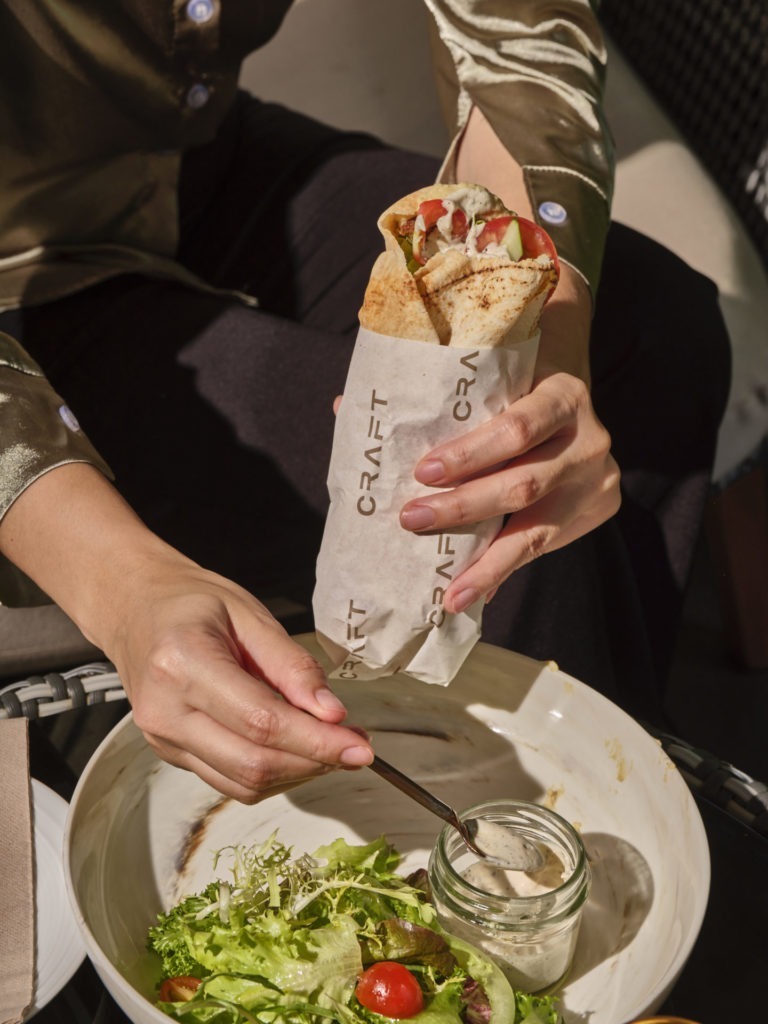 Vegetarian dishes also just got a whole lot more tempting at CRAFT with signatures like the indulgent yet healthy Shakshuka, tropical and refreshing Mighty Mighty Power Smoothie Bowl and more!
Apart from that, CRAFT debuts all-new Crafty Creations that guarantee to quench your thirst this summer with five new drinks available until 30 September 2023.
CRAFTY CREATIONS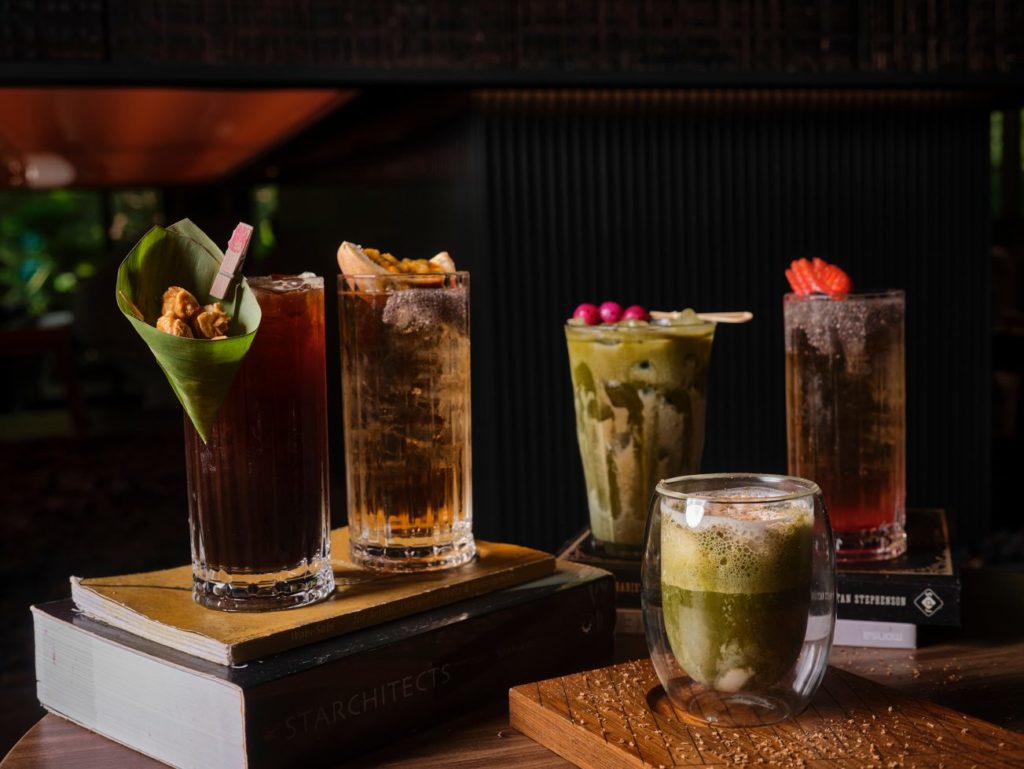 The five CRAFTY CREATIONS flavours are inspired by exotic Thai fruits and will be available for THB 280 per glass. The tropical bursts of flavours include
MATCHAFFAGATO with vanilla ice cream and matcha topped with longan foam
CRAFTY ICED TEA with Maa-Lai peach tea, zesty passion fruit and chia seeds
CRAFTY PARADISE with strawberry cordial, coconut nectar and pineapple juice
KOMBUCHA SPLASH with Three Goats Brewery 10,000 Miles Hops Kombucha and mango sticky rice syrup
AGAVE BOOST with agave nectar, matcha and dragon fruit.
CRAFT is the pet-friendly neighbourhood coffee bar by day and chill lounge by night, connected to the foliage-filled and lush Urban Oasis offering both indoor and outdoor al fresco settings. CRAFT opens daily from 7 a.m. until midnight.
All prices are subject to 7% VAT and 10% service charge.
For more information & Reservation, please contact:
Visit offers page: https://bit.ly/PRCraftMenuEN