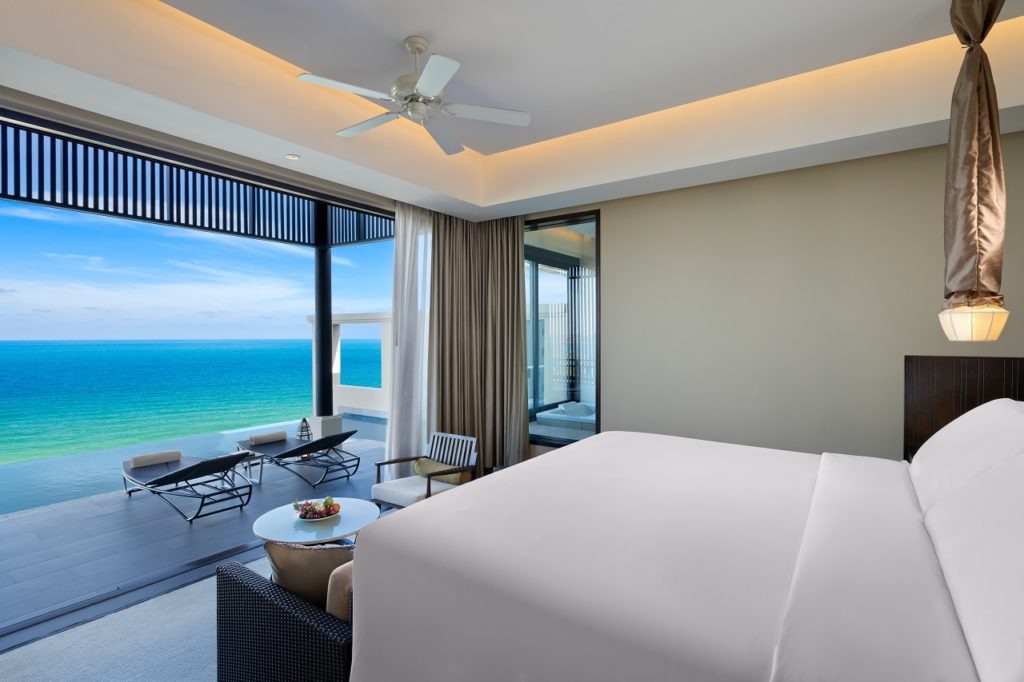 Selling Period: 22 December 2021 – 5 January 2022 at ICON SIAM
Stay Period: Now – 30 June 2022
Enjoy an exclusive rate starting from THB 7,500 net per room per night (room only).
Stay more get more with the exclusive package. The rates are as follows with additional inclusions to compliments your stay.
Jungle One Bedroom Pool Suite
Ocean Pool One Bedroom Suite
Premium Ocean Pool One Bedroom Suite
Grand Ocean View Pool Suite
Tropical Pool Villa
ALL PACKAGES WITH A MINIMUM OF 2 NIGHTS STAY ARE INCLUSIVE OF:
ULTIMATE DAILY BREAKFAST UPTO 2 PERSONS
AIRPORT ROUNDTRIP TRANSFER (SAMUI INT' AIRPORT – VANA BELLE)
GUARANTEE COMPLIMENTARY ROOM UPGRADE TO NEXT CATEGORY
DAILY RESORT CREDIT THB 500 NET FOR JUNGLE & OCEAN POOL ONE BEDROOM SUITE
DAILY RESORT CREDIT THB 700 NET FOR PREMIUM OCEAN POOL ONE BEDROOM SUITE OR ABOVE
SPECIAL BONUS FOR 2 NIGHTS PACKAGE:
EXTRA RESORT CREDIT THB 500 NET PER STAY FOR JUNGLE & OCEAN POOL ONE BEDROOM SUITE
EXTRA RESORT CREDIT THB 700 NET PER STAY FOR PREMIUM OCEAN POOL ONE BEDROOM SUITE AND ABOVE
COMPLIMENTARY EPICUREAN MOMENT ACCORDING TO SCHEDULE FROM THE RESORT
SPECIAL BONUS FOR 3 NIGHTS PACKAGE:
EXTRA RESORT CREDIT THB 700 NET PER STAY FOR JUNGLE & OCEAN POOL ONE BEDROOM SUITE
EXTRA RESORT CREDIT THB 900 NET PER STAY FOR PREMIUM OCEAN POOL ONE BEDROOM SUITE AND ABOVE
COMPLIMENTARY EPICUREAN MOMENT ACCORDING TO SCHEDULE FROM THE RESORT
SPECIAL BONUS FOR 4 NIGHTS PACKAGE:
EXTRA RESORT CREDIT THB 1,000 NET PER STAY FOR JUNGLE & OCEAN POOL ONE BEDROOM SUITE
EXTRA RESORT CREDIT THB 1,500 NET PER STAY FOR PREMIUM OCEAN POOL ONE BEDROOM SUITE AND ABOVE
COMPLIMENTARY EPICUREAN MOMENT ACCORDING TO SCHEDULE FROM THE RESORT
COMPLIMENTARY ONE-TIME "LIFETIME MEMORY VIDEO PRODUCTION"
TERMS & CONDITIONS
MINIMUM OF 7 DAYS ADVANCE RESERVATION AND BASED ON ROOM AVAILABILITY
SPECIAL PROMOTION CANNOT BE USED WITH OTHER SALES PROMOTION OR CASH VOUCHER
ADVANCE RESERVATION AND FULL PRE-PAYMENT IS REQUIRED
THE HOTEL RESERVES ALL RIGHTS FOR ANY CHANGES AND THE CHANGES FROM GOVERNMENT ANNOUCEMENT WITHOUT PRIOR NOTICE
SPECIAL PROMOTION CANNOT BE CANCELLED, REFUNDED, REDEEMED, EXCHANGED INTO CASH OR ANY TERMS ON CREDIT
SURCHARGE AT THB 4,000 NET PER ROOM PER NIGHT FOR STAY DURING 29 DECEMBER 2021 – 3 JANUARY 2022, 28 JANUARY 2022 – 1 FEBRUARY 2022, AND 13 – 17 APRIL 2022
For more information and reservation, please contact;
Phone: 077 – 915 – 555 l Email at R[email protected]