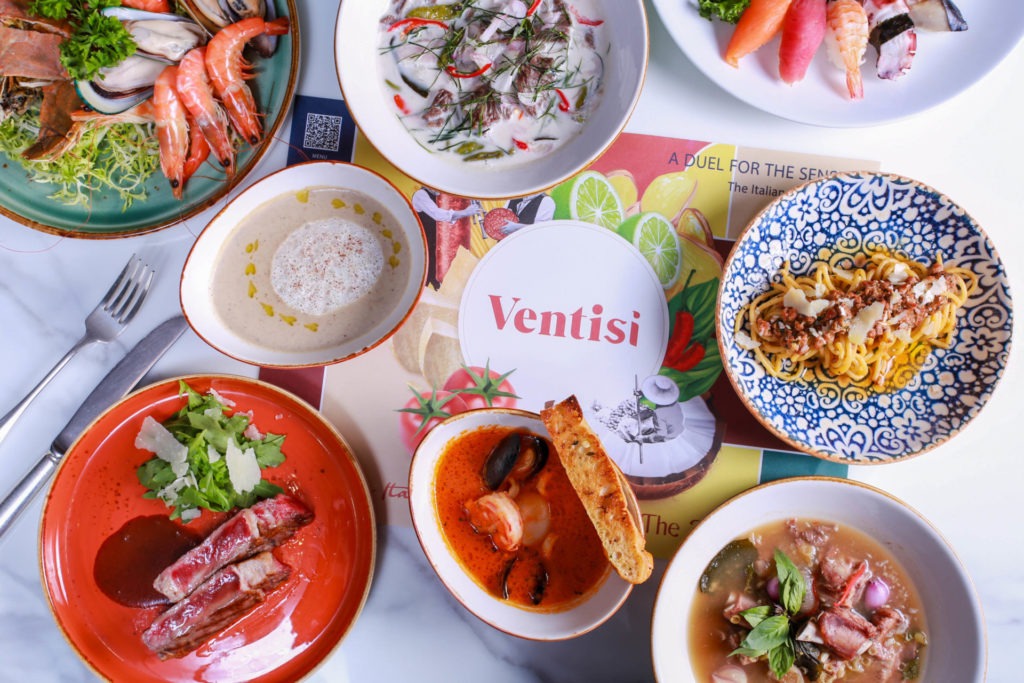 The bright and airy Ventisi restaurant at Centara Grand at CentralWorld is currently running a series of themed buffets to highlight the best regional cuisine from different parts of Thailand and Italy.
Every Thursday, Friday and Saturday evening sees an alternative selection of flavors, with Executive Chef Andrea Montella and his team preparing an range of both modern and classic Thai and Italian dishes from the northernmost parts to the southernmost parts of each country — using only the freshest local and imported ingredients and classic cooking techniques.
Priced at THB 1,980++ per person, Ventisi's themed buffets start with a presentation of Northern Italian and Thai flavors on Thursdays, flavors from the Tuscany and Ayutthaya regions on Fridays and finally a Sicilian and Southern Thai experience on Saturdays.
Take a look below at Ventisi's 3 themed buffets that run from 18.00 – 22.30 (normal a la carte dishes are available as normal, every day from 06.30 hrs. to 22.30).
See the highlights of each themed buffet, with 8 of the below dishes (each night) served per person at the table:
Thursdays: Northern Stars — Italy Meets Thailand!
While Northern Italy sits some 5,000 miles away from Northern Thailand, one thing these pretty parts of the world have in common is that they boast some of the most iconic flavors from their respective countries.
To see (and taste) this fact for yourself, Thursdays are your chance to savor a wide selection of traditional dishes from the Piedmont and Chiang Mai regions, including:
Gnocchi with porcini mushroom
  Fresh tagliolini pasta with truffle cream and parmesan cheese
Crispy short rib with chianti wine sauce
Golden crispy egg with fontina cheese fondue and truffle foam
Northern Thai noodle curry soup "Khao soi"
Northern Thai spicy sausage "Sai Oua"
Hang lay curry
Northern Thai-style mixed curry
Fridays: Tuscany-Ayutthaya Night
For sumptuous flavors imported from the rolling hills of Tuscany combined with Central Thai classics from the Ayutthaya region, head up to [Ventisi] on any Friday this month to discover a buffet lineup like no other.
Ventisi's team of talented chefs, who have worked in top kitchens across both Italy and Thailand, have prepared an assortment of authentic dishes from both regions, including;
Fresh spaghetti with white sausage ragu and truffle
Black truffle cappuccino
Cacciucco livornese seafood soup
Wagyu beef tagliata Tuscan-style with rocket and parmesan cheese
Egg Thread rolls
Grilled river prawn served with Neem and sweet fish sauce
Salted Beef in coconut milk
Fermented shrimp paste soup with young pork spare ribs
Saturdays: Sicilian Classics & Spicy Southern Thai Cuisine
Fan of spicy, fragrant Thai curry? Or perhaps you're craving a more refined taste of Sicily—the largest Mediterranean island famous for its fresh seafood, rich stews and pasta?
For the next month, you can sample the best of both these regions in Thailand and Italy at Ventisi, with the restaurant's expert chefs preparing a Southern-themed buffet spread that includes:
Lightly spicy tuna tartare
        Tagliolini with lobster au gratin
Grilled marinated lamb chop
Linguine with spicy tomato sauce and grilled giant prawn
Southern-style pork stew
Southern Thai spicy rice salad with vegetables
Thai sour fish organ soup
Southern Thai spicy yellow curry
Buffet prices:
Adults: THB 1,980++ per person including Beverages
Children (6-11): THB 990++ per person
For more information or to make reservations, please call 02 100 6255 or email diningcgcw@chr.co.th
Find out more about Ventisi restaurant at Centara Grand at CentralWorld below:
Website: https://www.centarahotelsresorts.com/centaragrand/cgcw/restaurant/ventisi/
Facebook: Centara Grand & Bangkok Convention Centre at CentralWorld
Instagram: Centaragrand_Centralworld