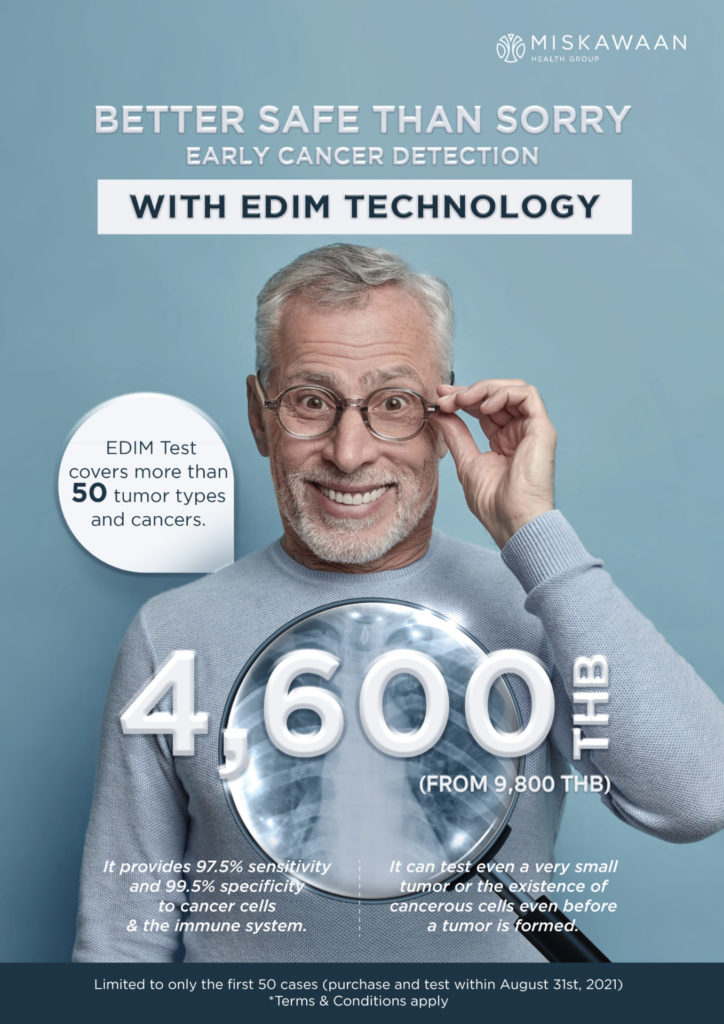 Early cancer detection can significantly increase the success chance in cancer treatment. Wouldn't you like to know if your body is cancer-free before you find the tumor? Only a few people know that there is a simple blood test that can determine with 97% accuracy the existence of cancerous cells floating in our blood system before it progresses into a critical stage.

Miskawaan offers early cancer screening with EDIM technology.
EDIM Test covers more than 50 tumor types and cancers.
It provides 97.5% sensitivity and 99.5% specificity to cancer cells & immune system.
It can test even a very small tumor or the existence of cancerous cells even before tumor is form.
Receive the result within 2 weeks
Special price: 4,600 THB (from 9,800 THB)
Terms & Conditions:
-Limited to only first 50 cases (purchase and test within August 31st, 2021)
-This promotion cannot be extended in any case.
-Client's health should be in normal condition at the time of testing.
-If you are healing from wound, inflammation, using any medication or have any medical condition please consult with our doctor before purchasing this package.
Miskawaan Health Group
Gaysorn Tower, Level 11 Unit D, E & K,
127 Ratchadamri Road, Lumphini, Pathumwan, Bangkok 10330 Thailand
Website: miskawaanhealth.com
Contact us on:
What's app +66 (0) 94-409-1844
Line – @miskawaanhealth
Email – contact@miskawaanhealth.com
or Call +66 (0) 2-086-8888.