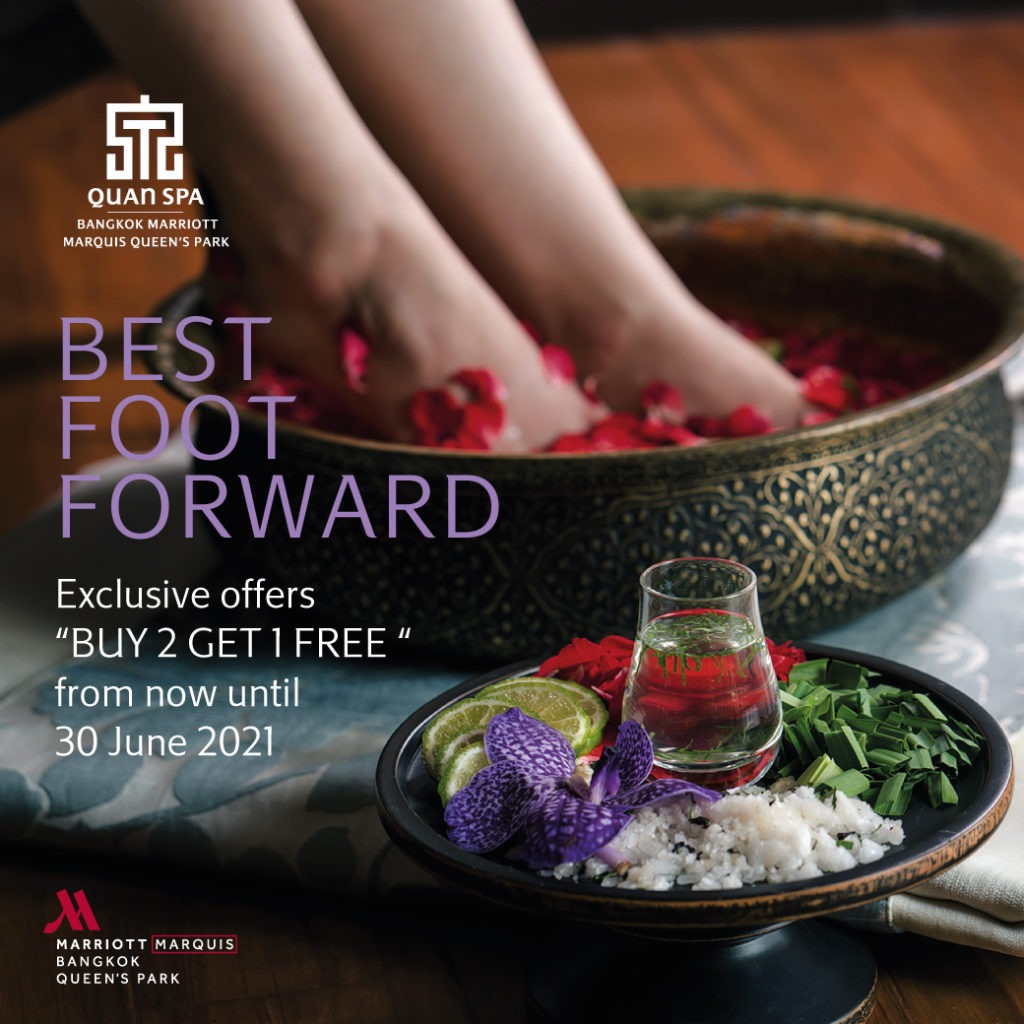 Quan Spa, the serene wellness sanctuary at Bangkok Marriott Marquis Queen's Park, is inviting guests and local residents to take the weight off their feet with a new promotion that features a choice of two fantastic foot massages.
Available from now until 31 July 2021, the "Best Foot Forward" promotion lets guests enjoy a soothing hour-long foot massage. The highly-trained therapists at Quan Spa focus on the main pressure points of the feet to stimulate circulation, restore balance to the body, reduce stress and induce a sense of deep relaxation. This ancient treatment also has proven medical benefits, such as preventing headaches and aiding the digestive system.
The 60-minute Foot Massage is priced at just THB 599 net per person – a significant discount from the usual price of THB 1,765 net. or The 90-minute Foot Massage with Herbal Compress is priced at THB 899 net per person (down from THB 2,825 net) and also includes Quan Spa's signature Organic Vitality Boost – a fresh and healthy welcome drink of organic finger root, honey and lime.
Whichever option they choose, Quan Spa's fully-trained therapists will help to rejuvenate the guest's entire body from the feet up – perfect for executives with busy schedules or simply those who need to alleviate pent-up tension.
Nestled on the ninth floor of Bangkok Marriott Marquis Queen's Park, in the heart of Thailand's vibrant capital city, Quan Spa is a sublime sanctuary for the senses. Within this urban retreat, high above the city streets, guests can unwind and be pampered in an atmosphere of pure tranquility.
Quan Spa is open daily from 11:00 to 21:00 hrs.
For more information and to book the ""Best Foot Forward" please call 02 059 5555 or email mhrs.bkkqp.spa@marriotthotels.com.
Exclusive offers "Buy 2 Get 1 Free "from now until 30 June 2021.
To learn more about Bangkok Marriott Marquis Queen's Park, please visit www.bangkokmarriottmarquisqueenspark.com