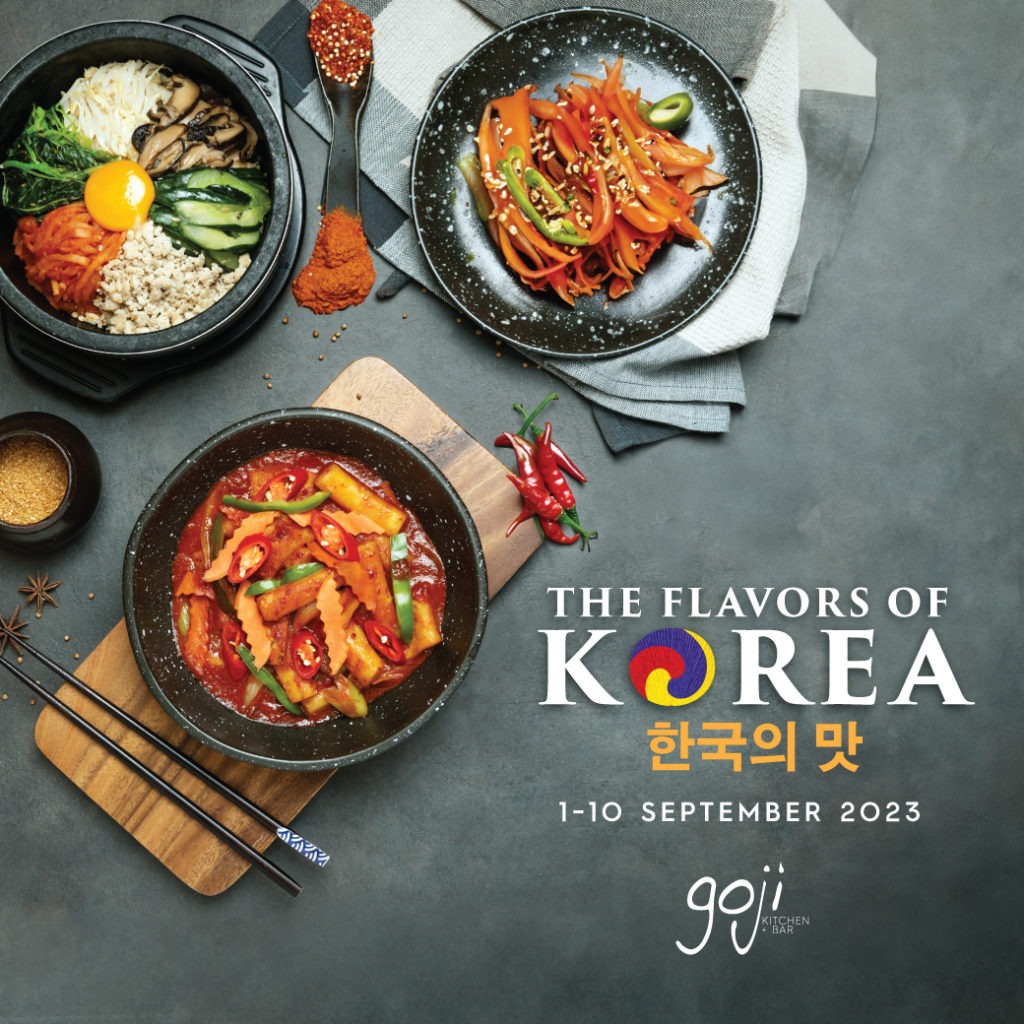 Goji Kitchen + Bar, the international culinary marketplace at Bangkok Marriott Marquis Queen's Park, is inviting hotel guests and local residents to experience the vibrant "Flavors of Korea" this September, with a special 10-day culinary promotion.
From 1st to 10th September 2023, two talented Korean guest chefs will travel to Bangkok to craft a selection of highly authentic dishes, including kalbi, bibimbap, tokpokki and of course, plenty of kimchi, as part of Goji Kitchen + Bar's daily buffet dinners and weekend lunches and brunches.
At the Parilla Grill Station, diners can look forward to mouth-watering L.A. kalbi (seasoned grilled beef short ribs), grilled pork belly with red pepper paste sauce, and beef tenderloin marinated with bulgogi sauce, while the Soup Station will feature healthy chicken ginseng soup and kimchi soup with tofu & sliced pork belly.
Other exclusive dishes will include tokpokki (stir-fried rice cakes) fish & quail's egg in red pepper sauce, beef & buckwheat noodle soup (served cold) with marinated radish, cucumber and boiled egg, a selection of sublime seafood pancakes, kimchi pancakes and fried dumplings with onion pickle, marinated with soy sauce, and Korea's famous rice bowl, bibimbap.
Every Korean feast can be perfectly balanced with a selection of 12 sumptuous side dishes, such as japchae (stir-fried noodles), crab marinated with soy sauce, shrimp marinated with soy sauce, sautéed zucchini, nabak-kimchi (kimchi fermented with water), kimchi salad, grilled deodeok (a root of mountain herb), stir-fried anchovies, cucumber kimchi, and a selection of local vegetables, raw, steamed and stewed.
Every meal can end on a sweet note with a light and fragrant Korean dessert of Korean watermelon punch
As part of this exclusive occasion, Marriott Bonvoy Moments will also host a special Kimchi and Bibimbap Workshop. Led by two leading Korean chefs, Chef Youngran Baek and Chef Sohee Lee, this money-can't-buy experience will let Marriott Bonvoy members learn the art of Korean cuisine's most legendary dishes, kimchi and bibimbap, followed by a buffet dinner at Goji Kitchen + Bar. Guests will also be able to enjoy a one-night stay in a luxurious MSuite at Bangkok Marriott Marquis Queen's Park, including breakfast for two people.
Marriott Bonvoy members can now bid for this exclusive package, which will take place on 1st September 2023. Bids start from just 65,000 points! Place your bid now at Marriott Bonvoy Moments™ | Home (bidding closes on 30th August 2023).
For more information, please visit moments.marriottbonvoy.com.
The "Flavors of Korea" will be presented as part of Goji Kitchen + Bar's popular buffets and brunches, alongside an amazing array of flavors from around the world. Come and embark on this exciting culinary journey from 1-10 September 2023
• Monday – Thursday Dinner 17.30 – 22.00 hrs. THB 1,698++ per person
• Friday – Sunday Dinner 17.30 – 22.00 hrs. THB 2,299++ per person
• Saturday Lunch 12.00 – 14.30 hrs. THB 2,299++ per person
• Sunday Brunch 12.00 – 14.30 hrs. THB 2,600++ per person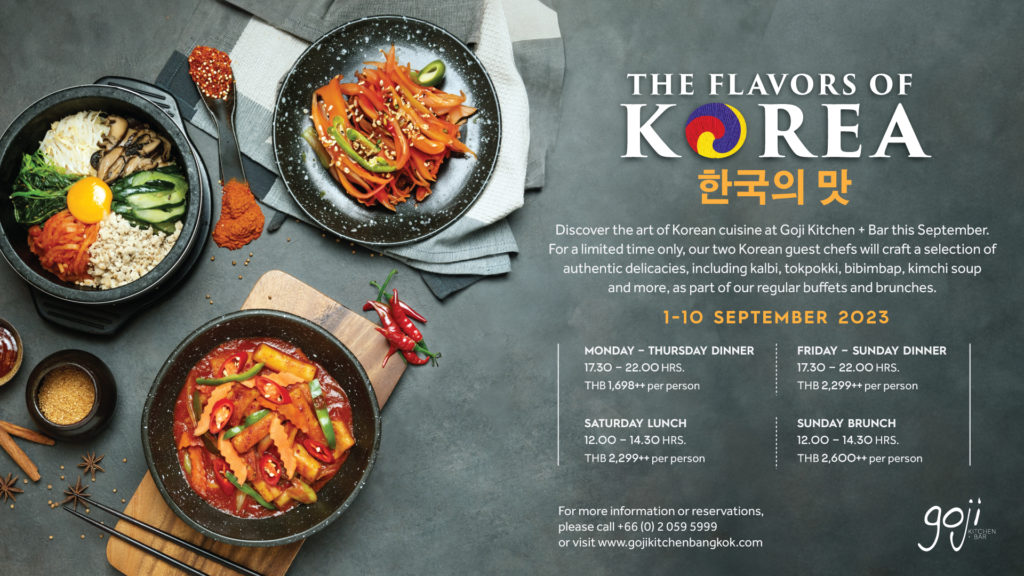 For more information and reservations, please call +66 (0) 2 059 5999 or book via http://sevn.ly/x0c3sa8q
Or connect with us via these channels:
Website: https://www.gojikitchenbangkok.com/th/
Facebook: https://www.facebook.com/GojiKitchenAndBar/
Line: @gojikitchenbar
Email: [email protected]