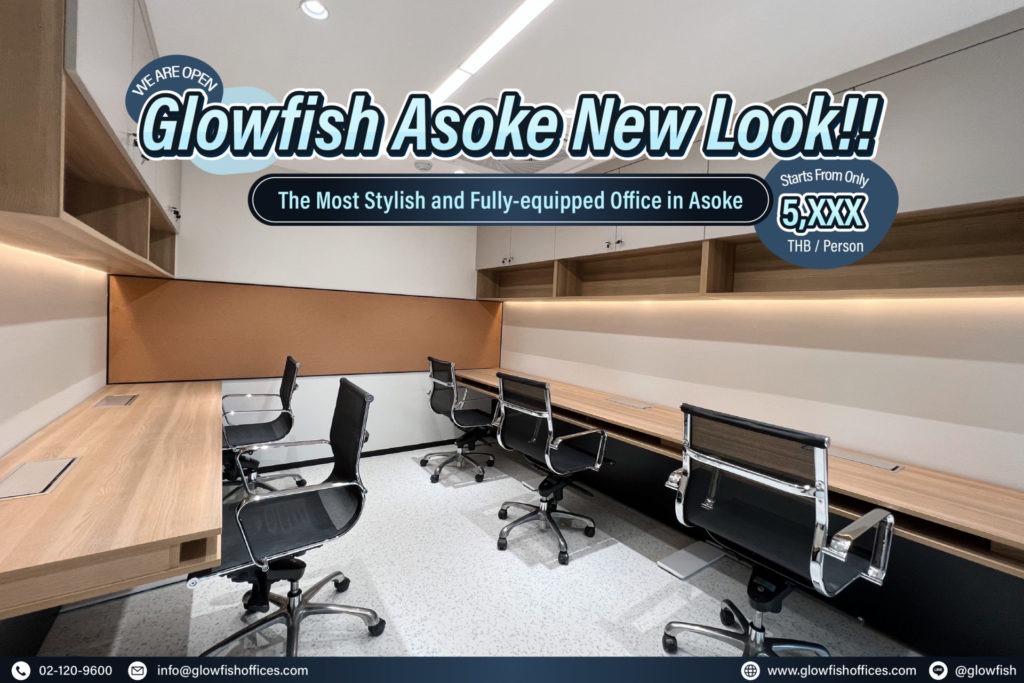 Glowfish Asoke is re-opened with a totally new look!
Discover the most stylish office renting space in Asoke. Glowfish Asoke offers you with the spacious serviced offices with fully-furnished and variety sizes starting from THB 5,xxx per person per month only!
Glowfish is located at the heart of the Asoke area, in the Asoke Tower building, second and third floor. The location is easily accessible by MRT and BTS within minutes walk.
Serviced offices are available for rent with a variety of expert services and full facilities to make your working day as convenient as possible.
– 24-hour key card access with securities and CCTV
– Separated electricity and air-conditioning system with 24-hour usability.
– Separated Internet connection.
– Private phone booth
– Complimentary 6 hours usage of meeting rooms per month and special discount for event space and extra meeting hours
– Professional receptionists and cleaning services.
– Complimentary documentation service for company registration.
– Complimentary all-day coffee and tea.
For more information please contact our staff during Monday – Friday from 08:30 – 17:30 hrs.
Tel: +66 (0)2 120 9600
Email: [email protected]
Or visit website: https://www.glowfishoffices.com