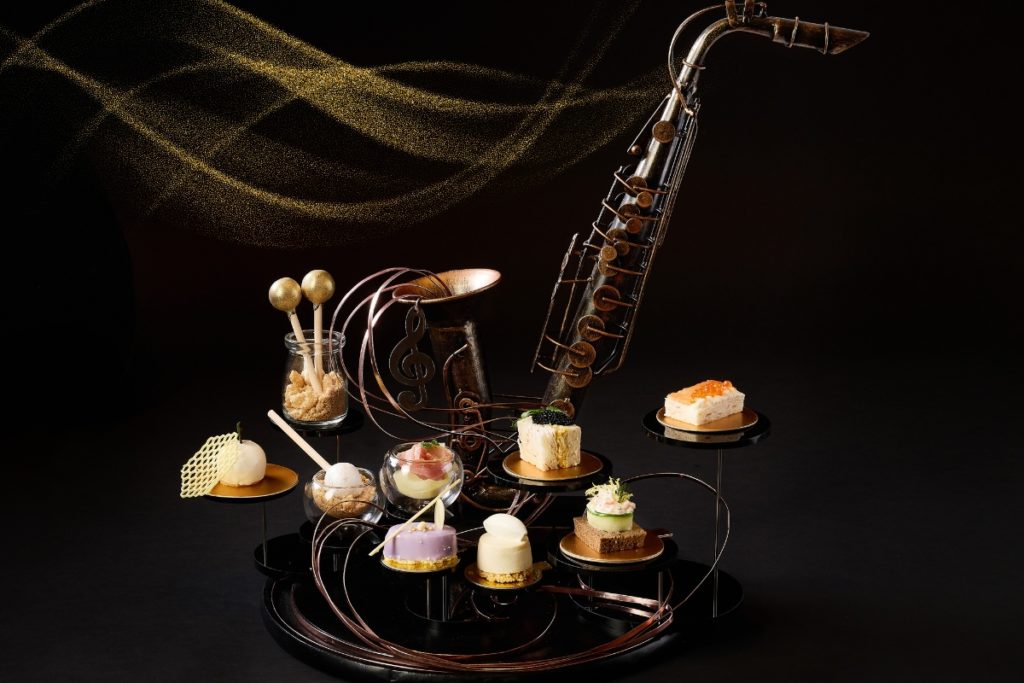 Bangkok, Thailand – The Living Room at the Sheraton Grande Sukhumvit, a Luxury Collection Hotel, Bangkok's premier destination for live jazz music, is proud to announce the launch of its all-new Jazz Afternoon Tea experience on 26 August 2023. Renowned for hosting some of the finest musicians on the jazz scene, including multiple Grammy Award winners, the venue is now poised to elevate your afternoon tea experience with a live duo jazz band accompaniment.
"Our commitment has always been to offer unparalleled experiences to our guests," said Mr. Andras Borocz, Director of Food and Beverage, reflecting on the ethos of The Living Room. "Throughout our journey, we've constantly sought to elevate the sensory experiences of our patrons. With the Jazz Afternoon Tea, we are setting a new benchmark. We believe in evoking emotions, and what better way than by blending the elegance of our afternoon tea with the raw, soulful power of live jazz? Our Jazz Afternoon Tea isn't just a meal; it's a crescendo of senses, a serenade for the soul." Behind this innovative experience lies the synthesis of two arts ¬– culinary finesse that goes into each bite served and the enchanting melodies of live jazz — music that moves, that tells stories, that resonates deep within the soul.
The Jazz Afternoon Tea presents a selection of savouries and sweets on a unique tea stand, artfully crafted from classic wind instruments like the French horn, saxophone, and trumpet. This stand, with its elevated tiers for treats, seamlessly merges the culinary and musical worlds. Begin with an indulgent selection of savoury treats, from the refined Iberico ham paired with refreshing mint and compressed melon, to the rich smoked salmon on rye bread, enhanced with horseradish crème and ikura. For those with an affinity for traditional flavours, the Skagen toast – a classic Swedish shrimp masterpiece – and the decadent watercress and egg sandwich topped with truffle caviar are sure to captivate. As you transition to the sweeter side of the menu, freshly baked classic scones await, perfectly paired with clotted cream and strawberry jam. Dive deeper into a world of desserts with enticing strawberry truffles, salted caramel lollipops enrobed in sumptuous chocolate, fragrant lavender and white chocolate mousse, tart green apple mousse, and a lavish honey & lemon cheesecake. Enhance your afternoon indulgence with a handpicked selection of TWG teas or a hearty Segafredo coffee. For an added touch of luxury, guests can elevate their experience with a sparkling glass of prosecco. The pricing for this opulent affair is THB 1,200++ per person, or THB 1,400++ should you choose to include the prosecco. The afternoon tea is offered every Saturday from 14:00 – 17:00 hrs.
Elevating the afternoon tea experience is the jazz duo, featuring the vocalist – Naritha Ari (Pim) and Jirayu Wantanabode (Boss) on the piano. Their synergy brings forth a blend of classic jazz standards interspersed with contemporary improvisations; their sonic tapestry complementing the gourmet offerings of the afternoon tea.
The Jazz Afternoon Tea is a testament to The Living Room's dedication to pushing boundaries, constantly innovating, and ensuring every guest walks away with a memory, not just a meal. With a captivating live music schedule that includes piano music and live jazz sets, The Living Room promises an auditory treat for all its patrons.
For more information, please call 02 649 8888 or visit https://sheratongrandesukhumvit.info/dining