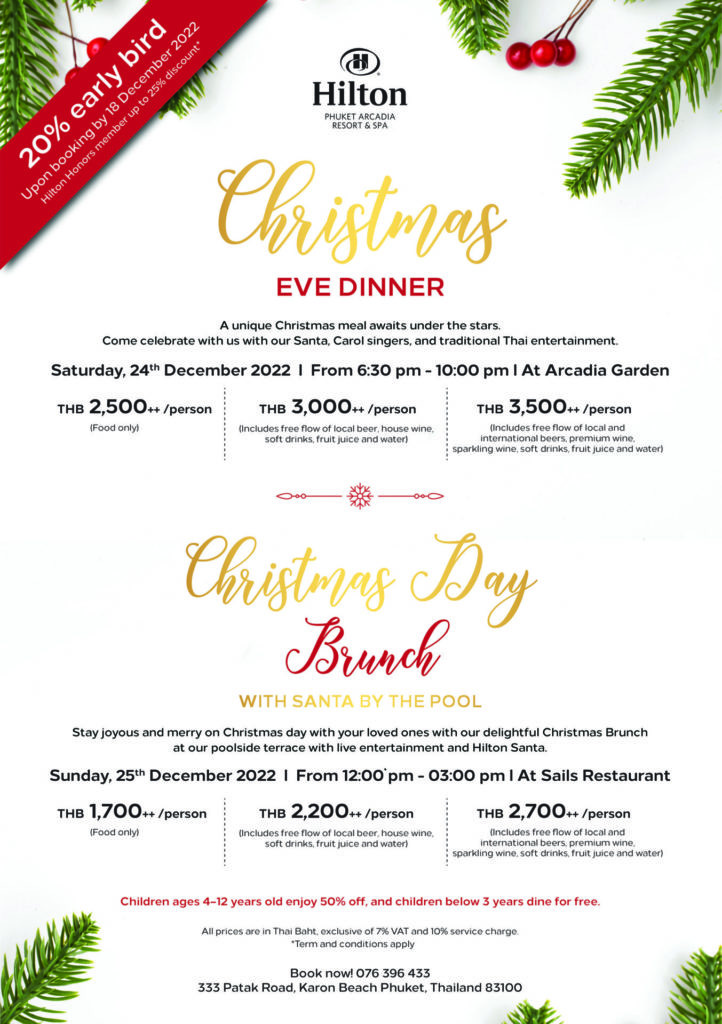 Join us for Festive meals and events that make this season more memorable.
𝗘𝗮𝗿𝗹𝘆 𝗕𝗶𝗿𝗱 𝗢𝗳𝗳𝗲𝗿 𝟮𝟬% 𝗢𝗳𝗳
Christmas Eve Dinner & Christmas Day Brunch book before 18 December 2022 and New Year's Eve Dinner book before 20 December 2022.
Click to view more info & menus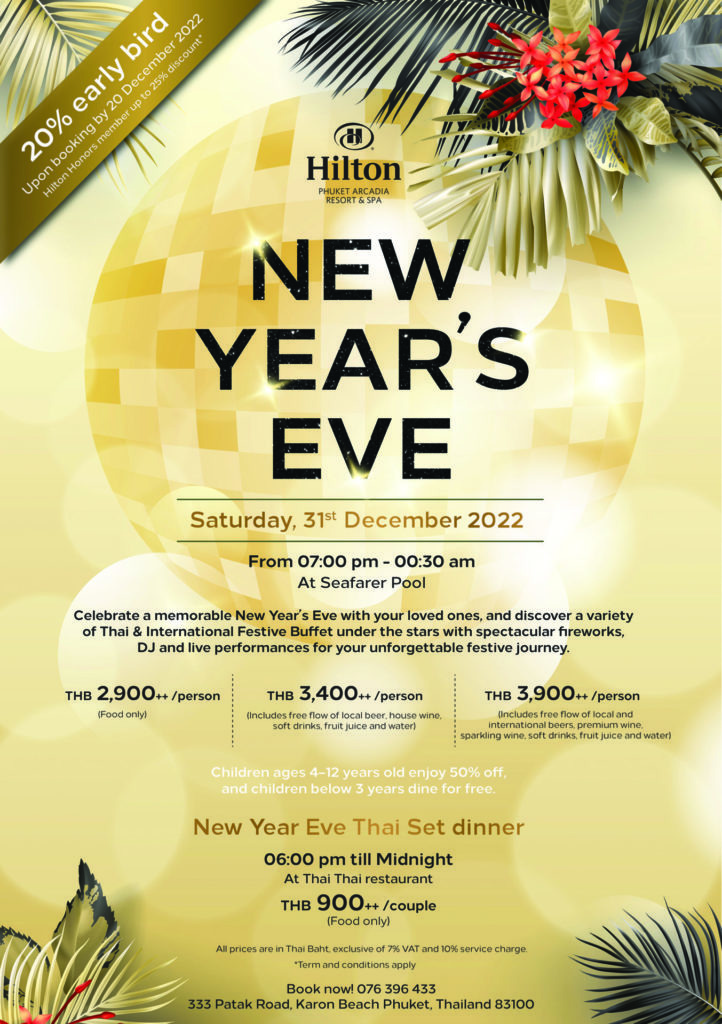 Special Privileges
Children ages 4-12 get a 50% off
Children below 3 dine for free
Hilton Honors members enjoy up to 25% off
*Hotel Term & Conditions Apply
Take part in our joyful celebrations
𝕮𝖍𝖗𝖎𝖘𝖙𝖒𝖆𝖘'𝖘 𝕰𝖛𝖊 𝕯𝖎𝖓𝖓𝖊𝖗
Entertainment: Santa, Carol singers, and traditional Thai entertainment.
Saturday, 24th December 2022
6:30 pm – 10:00 pm I At Arcadia Garden
THB 2,500++ per person (food only)
THB 3,000++ per person (food and beverages*)
THB 3,000++ per person (food and premium beverages**)
𝕮𝖍𝖗𝖎𝖘𝖙𝖒𝖆𝖘 𝕯𝖆𝖞 𝕭𝖗𝖚𝖓𝖈𝖍 with Santa by the pool
Entertainment: Live Entertainment and Hilton Santa.
Sunday, 25th December 2022
12:00 pm – 3:00 pm I At Sails Restaurant
THB 1,700++ per person (food only)
THB 2,200++ per person (food and beverages*)
THB 2,700++ per person (food and premium beverages**)
𝕹𝖊𝖜 𝖄𝖊𝖆𝖗'𝖘 𝕰𝖛𝖊 𝕮𝖊𝖑𝖊𝖇𝖗𝖆𝖙𝖎𝖔𝖓
Entertainment: Spectacular fireworks, DJ and live performances
Saturday, 31st December 2022
07:00 pm – 00:30 am
THB 2,900++ per person (food only)
THB 3,400++ per person (food and beverages*)
THB 3,900++ per person (food and premium beverages**)
*local beers, house wine, soft drinks, fruit juice, water
**local and international beers, premium wine, sparkling wine, soft drinks, fruit juice, water
New Year's Eve Thai Set dinner
Thai Thai restaurant
06:00 pm till Midnight
900++ /couple (food only)
𝗧𝗼 𝗳𝗶𝗻𝗱 𝗼𝘂𝘁 𝗺𝗼𝗿𝗲 𝗮𝗻𝗱 𝘁𝗼 𝗯𝗼𝗼𝗸
📲 +66 (0) 76 396 433 or