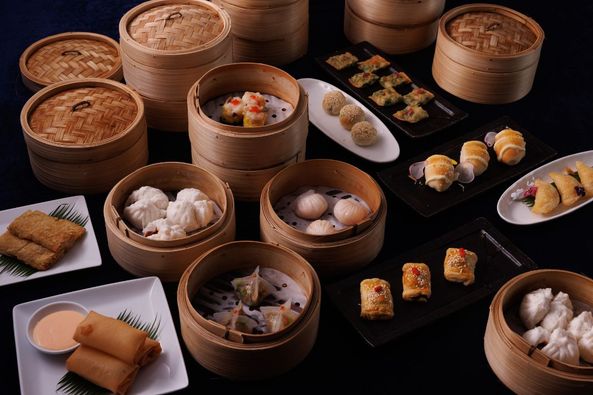 .
Immerse yourself in the epitome of culinary luxury as Executive Chinese 𝐂𝐡𝐞𝐟 𝐘𝐚𝐮 𝐒𝐮𝐢 𝐖𝐢𝐧𝐠, renowned for his Michelin-star expertise from Hong Kong, presents 𝐭𝐡𝐞 𝐟𝐢𝐧𝐞𝐬𝐭 𝐚𝐥𝐥-𝐲𝐨𝐮-𝐜𝐚𝐧-𝐞𝐚𝐭 𝐃𝐢𝐦 𝐒𝐮𝐦 and his new a la carte menu at 𝐒𝐮𝐦𝐦𝐞𝐫 𝐏𝐚𝐥𝐚𝐜𝐞.
.
Get ready to embark on a gastronomic journey that highlights the best of Cantonese cuisine, transporting you to the vibrant streets of Hong Kong.
.
Indulge in an array of exquisite flavours, including:
.
● Siu Mai with shitake mushroom
● Steamed black truffle dumplings with vegetables and fresh mushrooms
● Crispy spring rolls with king crab meat and avocado
● Baked stuffed sesame puffs with onion, Iberico ham and mushrooms
.
Each bite is crafted to perfection, delivering an authentic and unforgettable taste experience.
.
Price:
THB 1,150++ per person.
.
Prices are subject to 10% service charge and applicable government taxes.
.
Available daily at 𝐒𝐮𝐦𝐦𝐞𝐫 𝐏𝐚𝐥𝐚𝐜𝐞 from 11:30 to 14:30 hrs.
𝐒𝐮𝐦𝐦𝐞𝐫 𝐏𝐚𝐥𝐚𝐜𝐞 is located on the mezzanine level of InterContinental Bangkok.
.
For more information:
: +66 (0) 2 656 0444
: [email protected]
LINE: @intercontinentalbk or click bit.ly/icbkk-line