(3 December 2021 – Bangkok, Thailand) – The month of December has more to offer than just holiday preparations. Kimpton Maa-Lai Bangkok is ready to roll-out the red carpet for Kimptonians for best offers from staycation, eat & drinks, wellness retreat and Festive programs. Are you ready?
One of the most popular cafes in town, CRAFT is kicking off the "Oyster Boost" for every Saturday & Sunday (starting off this December 2021) with great selections of your favourite Oysters including some bites to share. Glam up your meal with CRAFT's Gins & Tonics as well as Bubbles of your choice. Also to celebrate the Festive season, our Pastry team is baking all day-and-night for the best X'Mas goodies.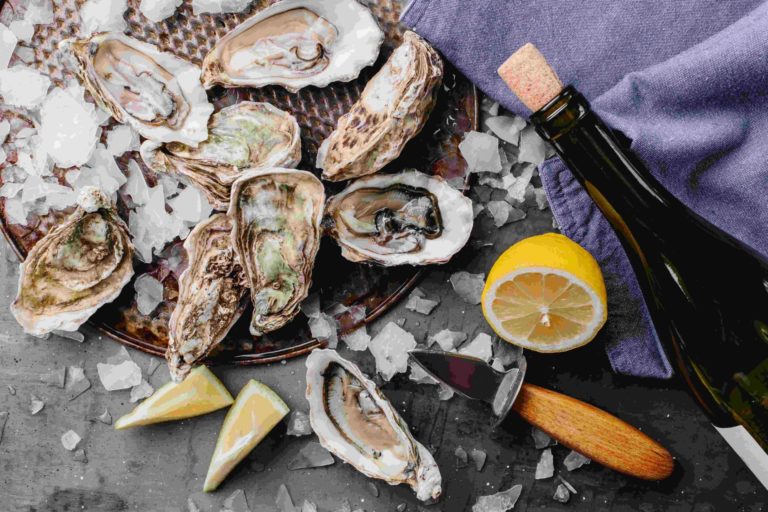 OYSTER BOOST 
Oysters, Gin & Sparkling pairing!
Heaven on a half shell awaits, for a shucking good time. 
Half a Dozen (6) Oysters + 2 glasses of Sparkling at THB 1,188++
A Dozen Oysters (12) + 1 x bottle of Sparkling at THB 2,488++
Two Dozen Oysters (24) + 1 x bottle of Sparkling and 4 x Gin & Tonics at THB 3,888++ 
Pick your favorites from Fine De Claire, Huîtres Marennes, Tsarskaya and Gillardeau oysters.
Oysters come with side sauces; ponzu, spicy seafood, red wine shallots and with a wedge of lemon. There's also plenty of scrumptious snacks to order off the menu from grilled tiger prawn with mango chili salsa, smoked salmon roll, mango gazpacho to antipasto platter from Ms.Jigger.
Oyster Boost is available every Saturday-Sunday, from 5:30pm – 10:00p.m. with live Entertainment.
Start from 4th December 2021.
Table is ready to be reserved from 6:30 p.m. onwards, please call us at 02 056 999 or email us at craft.kimptonmaalai@ihg.com
CRAFT opens daily from 7:00 a.m. – 11:30 p.m. throughout December 2021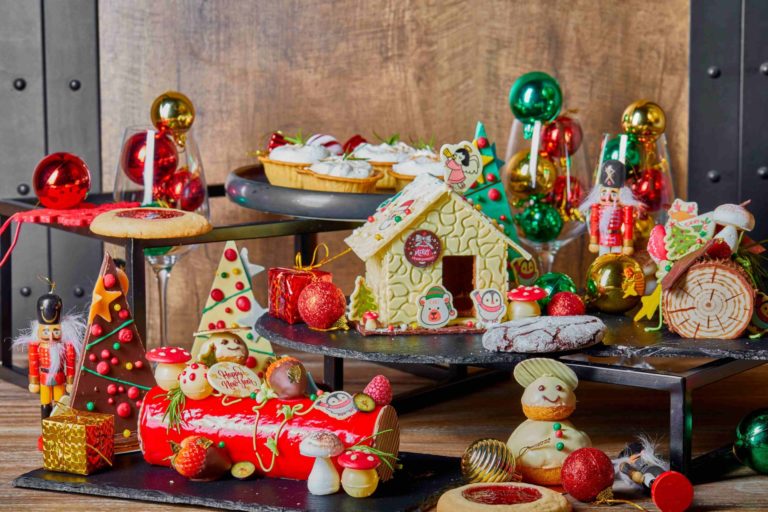 FESTIVE BAKES
This December. Jump into the festive spirit with our pastry selection that's seasonally special in CRAFT. No need to stay hungry and you too can have the belly of the man in the red suit!
The choice is all yours, from Festive chocolate tree, Gingerbread chocolate house, Buche de noel, Linzer torte, Rocky road bark, Christmas crinkle cookies and many more.
Pre-order for all Festive Bakes as well as the pie from November is also available from 1 December 2021 till 31 March 2022. CRAFT is ready to take your Festive pre-order bake at craft.kimptonmaalai@ihg.com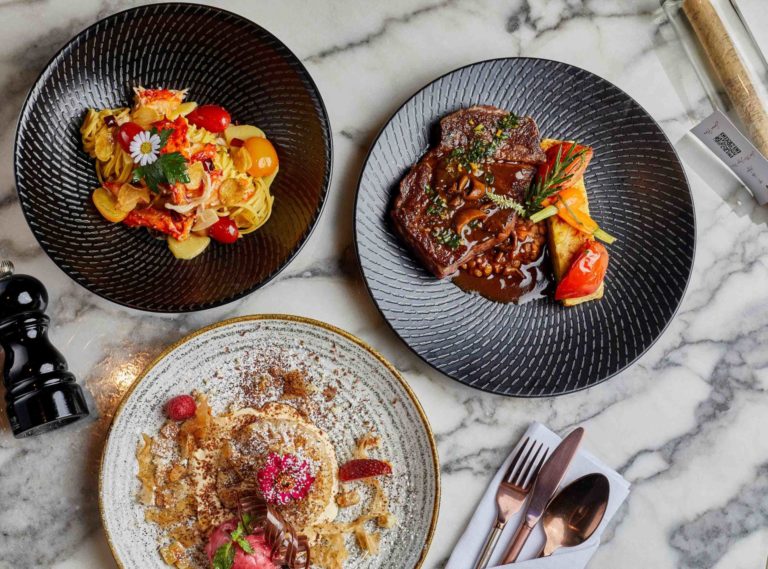 Happy Father's Day!  
Making an unforgettable day for your dad, grandpa or any other important man in your life. 
And if he likes Italian cuisine (and really – who doesn't?), you've come to the right place! 
Chef Danilo Aissa, the one-and-only Chef de cuisine at Ms.Jigger is ready to wow every Father's with his specialty, from Norwegian King Grab, Busyu Wagyu Rib Eye and of course, the Truffles!
Ms.Jigger extends the special treats for the weekend long for all Fathers from 3-6 December 2021.  
Reserve your table for Family gathering at 02 056 9999 or email us at msjigger.kimptonmaalai@ihg.com
Ms.Jigger opens daily for lunch and dinner
Weekdays from 11:30 a.m. – 2:30 p.m. and 5:30 p.m. – 11:00 p.m.
Weekends from 11:30 a.m. – 11:00 p.m.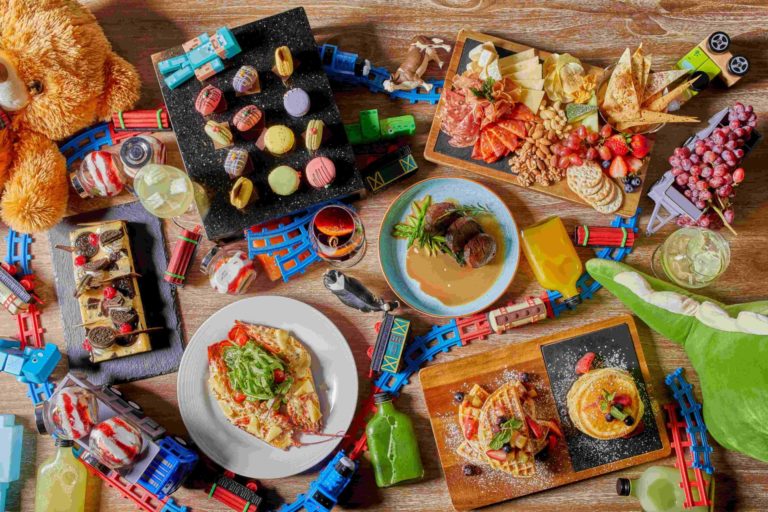 SUNDAY BRUNCH "WELCOME TO THE PLAYGROUND"
For the brunch, Stock.Room will be transformed into a foodie delight with its "Welcome to the Playground' theme. Playground goers can expect to mingle with like-minded folk, as they weave their way through the extensive assisted buffet, complete with multiple live cooking stations. Those joining with children can be rest assured that there's a kids' play area with babysitters and safe recreational activities for the little ones. Adults are welcome to indulge their brunch with a few different beverage package options. Champagne with lobster caviar egg benedict, Grilled Kobe beef with a glass of exquisite red or a Sangria, perhaps it's the chocolate room that will take you over the edge! Feed your eyes, snap it for the 'gram and feast as much as you possibly can! 
Sunday Brunch, "Welcome to the Playground", is available for every Sunday from 12:00 p.m. to 3:00 p.m., kicking off from Sunday 5th December 2021 onwards with attractive packages;  
THB 1,950++ per adult, including food and soft drinks 
THB 2,800++ to celebrate with a range of free flow of soft and house alcoholic beverages 
THB 4,288++ to top up with a free flow of champagne 
THB 888++ per child age of 6-12, and children under 6 dine for free 
Stock.Room has you're brunch-love covered with a special deal granted – for a group of 10 entitles 20% OFF for any package.  
Reserve your table at 02 056 9999 or email us at stockroom.kimptonmaalai@ihg.com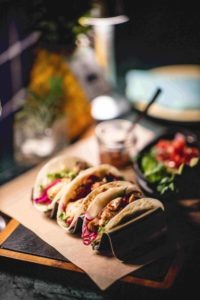 TACO TUESDAY & SUNDAY PAELLA
Bar.Yard is bringing back all the fun to all foodies with favorite offers, Taco Tuesday & Sunday Paella.
Let's taco about how we can make Tuesdays more exciting for you all. Bar.Yard decides to bring you a mouthwatering of our juicy Tacos with a choice of soft-flour tortilla or crispy-corn shells.While the slow-cooked and chili-rubbed pork ribs are simply off-the-bone tender, the 16-hour hickory-smoked beef briskets also burst with robust flavor. For the authentic classics, the crew highlights the carne asada dry-aged angus beef and golden-crisp fried snapper fish tacos. Each taco comes with artisanal sauces made in-house, from zippy chipotle to grilled cactus and pico de gallo salsa. All starts at THB 70++ for one bite. 
Taco Tuesday is available every Tuesday from 4:00 p.m. – midnight. 
Capture your weekend moments, from Happy Daze Afternoon BBQ to the long-await fav dish Paella, every Sunday. Feed your hungry belly with our Paella Sunday menus with a choice of Paella Valenciana or Arroz Negro. We also offer Vegetarian Paella and Dessert to cool down the heat up there. The special Paella Sunday starts from THB 250++ per dish.
Sunday Paella is available every Sunday from 4:00 p.m. – midnight. 
For reservation, give us a call at 02 056 9999 or email baryard.kimptonmaalai@ihg.com