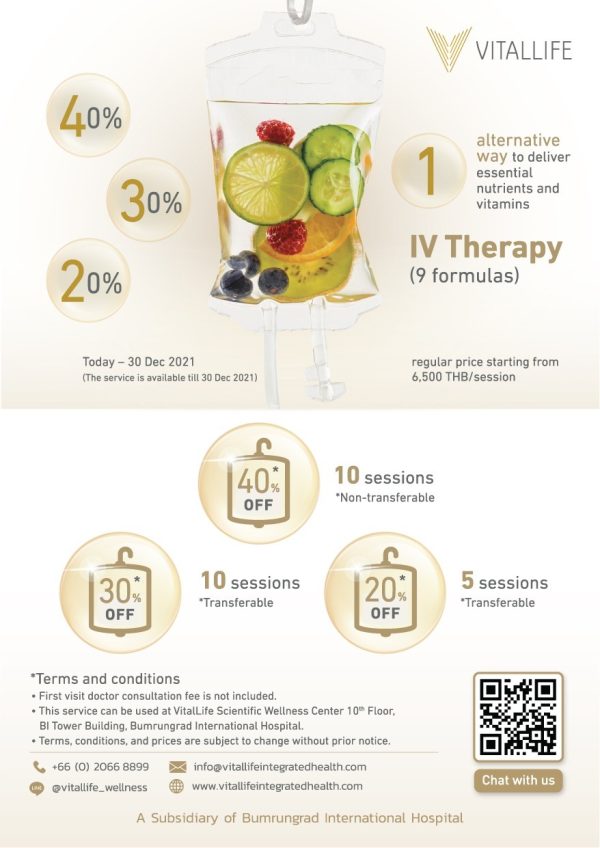 VitalLife Scientific Wellness Center alternative way to deliver essential nutrients and vitamins. Thus these *IV therapy (9 Formulas) helps purge the toxins that accumulate in our tissues and gut, while supplying the vitamins and minerals to help our cells function optimally!
See the recommended IV formula here: >> https://bit.ly/2KuH5yx
*IV therapy, or vitamin therapy, administers essential vitamins, minerals, and nutrients intravenously into the bloodstream.
This enables the body to rapidly absorb vitamins and minerals. A mixture of substances based on an analysis of bodily needs is provided directly into the vein to achieve maximum efficiency of health recovery.
*Terms and conditions apply
For more information please contact:
VitalLife Scientific Wellness Center Bumrungrad International Tower
Email: info@vitallifeintegratedhealth.com
Phone: +66(0) 2066 8899
Line Official: vitallife_wellness
Website: https://lnkd.in/fjUuiRb