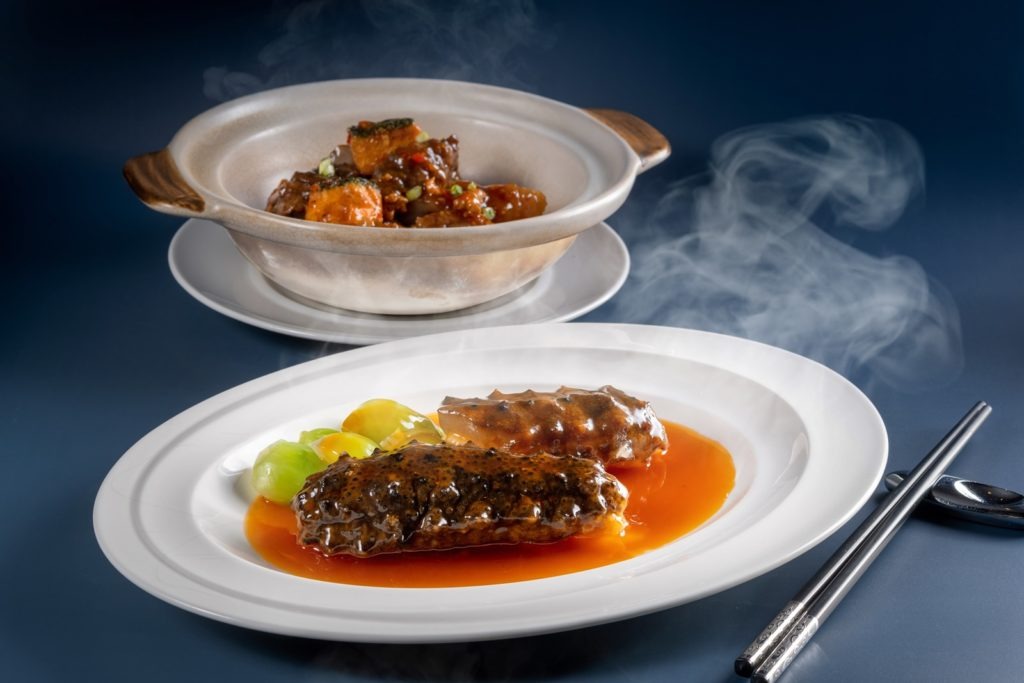 Bangkok, March 2022 Wah Lok Cantonese Restaurant at Carlton Hotel Bangkok Sukhumvit unveils the Korean Spiked Sea Cucumber as Dish of the Month for March and April 2022.
Try something new from South Korea, braised in two distinctive ways;
Braised Korean Spiked Sea Cucumber Stuffed with Minced Shrimp THB 1,100++
Braised Korean Spiked Sea Cucumber with Minced Pork and Homemade Bean Curd in Chilli Sauce THB 780++
Sea cucumbers or haesam in Korean are highly valued in South Korea and beyond. The name haesam means ginseng of the ocean. It is a great source of niacin among a host of other vitamins, minerals and antioxidants.
Wah Lok Cantonese Restaurant
Level 2, Carlton Hotel Bangkok Sukhumvit
Lunch: 11:30 am – 2:30 pm
Dinner: 6:00 pm – 10:30 pm
For more information or reservations, please contact us at 02 090 7888 or email Fbreservations@carltonhotel.co.th
About Carlton Hotel Bangkok Sukhumvit
Carlton Hotel Bangkok Sukhumvit is centrally located on Sukhumvit Road between Asok and Phrom Phong BTS stations with convenient access to luxury shopping, dining, and entertainment. This luxury hotel features 338 guestrooms and suites and a range of dining options including the signature Wah Lok Cantonese Restaurant and Cooling Tower Rooftop Bar. With over 1,200 sqm of meeting and event space, the hotel can cater for boardroom meetings and grand banquets for up to 600 guests. Leisure facilities include a 30 metre outdoor swimming pool, Kids Zone, Let's Relax Spa and a fully equipped Fitness Studio.
Visit www.carltonhotel.co.th for more information.