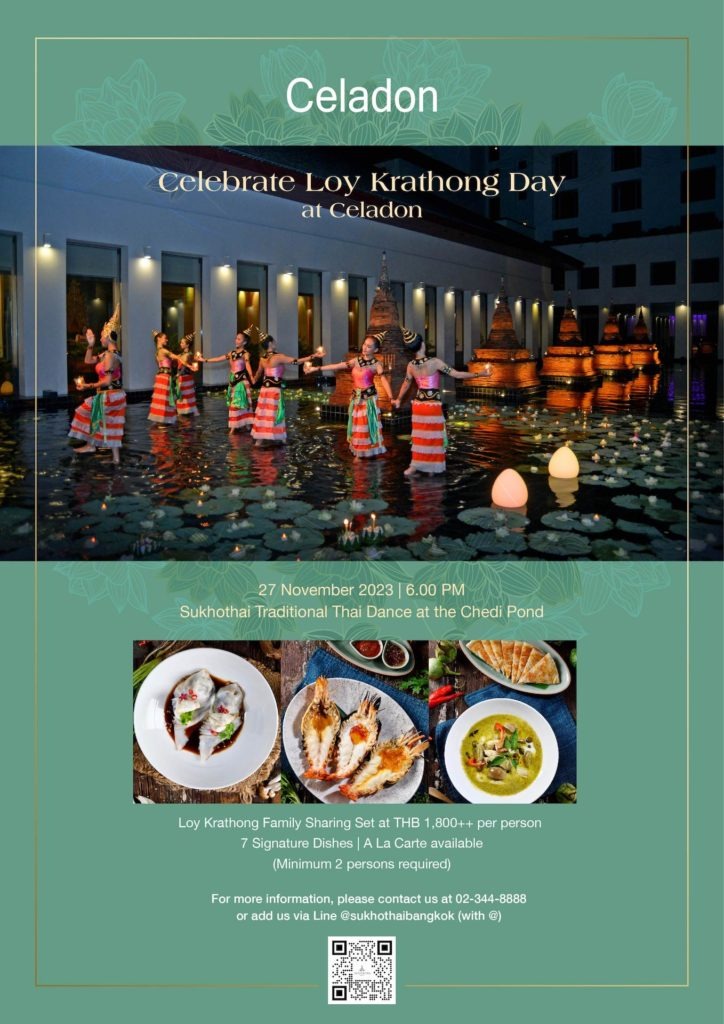 Embark on a Culinary Journey this Loy Krathong at Celadon, The Sukhothai Bangkok.  This Loy Krathong Day, immerse yourself in the vibrant flavors of Thailand with an exclusive Family Thai Set Menu at Celadon, curated by the esteemed Chef Rosarin Sriprathum. Tailored for groups of colleagues, friends, and family, this dining experience is designed to celebrate the richness of Thai cuisine and create lasting memories.
Savor the essence of Thailand through a meticulously crafted 7-course set menu:
CRABMEAT FILLED, STEAMED RICE DUMPLING
GRILLED THAI FREE-RANGE CHICKEN SKEWERS
SOUP OF ASSORTED VEGETABLES, AROMATIC HERBS
GRILLED RIVER PRAWN
GREEN CURRY THAI FREE-RANGE CHICKEN
WOK-FRIED MORNING GLORY
FRIED RICE EGG, PORK OR CHICKEN
Each dish is a masterpiece, carefully prepared to transport your taste buds to the heart of Thailand, offering a delightful journey from savory to sweet.
Price: THB 1,800++ per person, including a complimentary krathong.
Availability: 5:00 PM to 11:00 PM
As part of the festivities, guests can also revel in the captivating Sukhothai Traditional Dance performance at the chedi pond, commencing at 6:00 PM.
For reservations or more information, please contact:
Tel: 02 344 8888
Email: [email protected]
Line: @sukhothaibangkok
Celebrate Loy Krathong with us at Celadon, where each dish tells a story, and every moment becomes a cherished memory.