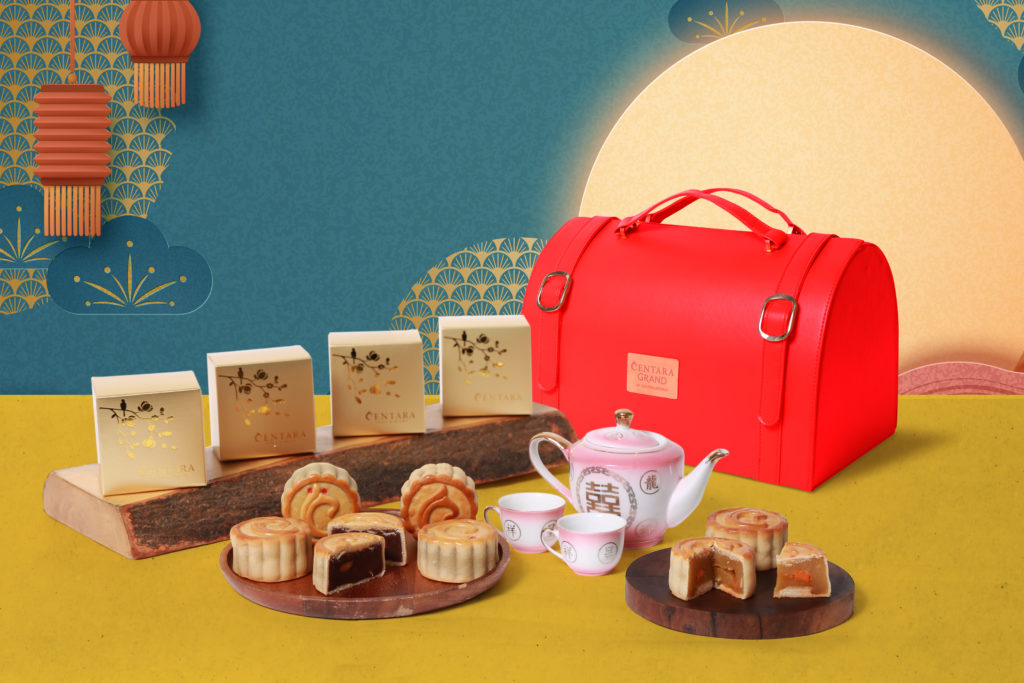 Held on the 15th day of the 8th month of the Chinese calendar – which this year is 10 September – the annual Mid-Autumn Festival is celebrated across China, as well as across Thailand, Japan, Korea, Vietnam, and Southeast Asian countries.
Better known as the Moon or Mooncake Festival, this is the time of year when ethnic Chinese communities traditionally come together to appreciate successful harvests close to the Autumn Equinox (when the sun is exactly above the equator) and the symbolism of the full moon on this special night.
Thus – the arrival of mooncakes – a rich pastry traditionally packed with sweet bean, or lotus seed paste, as well as a host of other more inventive ingredients depending on where you pick up yours! Their shape reflects the importance of worshiping the moon at this time of year, as well as symbolizing family reunion and harmony.
This year, you can grab a box to share with loved ones at Dynasty restaurant or Zing Bakery at Centara Grand at CentralWorld. Our range of delicious flavors to choose from includes Monthong Durian with Salted Egg, Lotus Seeds Salted Egg, Jujube Salted Egg, Mixed Nuts Fruits Salted Egg, Black Bean Green Tea, and Purple Sweet Potatoes Salted Egg.
Pre-order your mooncake box now at Dynasty or Zing Bakery, with the price list below:
Little Gold Moon Box 1 piece box set (Any Flavor) = THB 128 net
Luxurious Red Moon Box 4-piece box set (Any Flavors) = THB 1,188 net
Pre-order from Now and sales starting from 10th August at Zing Bakery on the ground floor of Centara Grand at CentralWorld pick up daily from 07.00 to 19.00 hrs.
Mooncake boxes are also available at Tops at CentralWorld, Central Chidlom and Central Bangna from 17th August to 10th September 2022
Mooncakes are available from 10th August to 10th September 2022 at Zing Bakery on the Ground floor of Centara Grand at CentralWorld
For more information, please contact Dining Reservations at Centara Grand at CentralWorld by emailing [email protected] or calling 02-1006255.
To find out more about Centara Grand at CentralWorld, visit us below:
Website: www.centarahotelsresorts.com/centaragrand/cgcw
Facebook: Centara Grand & Bangkok Convention Centre at CentralWorld
Instagram: Centaragrand_Centralworld