Once again with the masterminds of Khun Phisit Jongnarangsin & Khun Saxit Pisalasupongs (the duo designers of the renowned Tube Gallery) at the helm of this year's Christmas tree at Kimpton Maa-Lai Bangkok, 'The Butterfly Effect' will be the conversation piece you needed this festive season.
The tree, in-line with the Enchanted Forest theme of the hotel's festive program, will feature 600 hand-made flowers, 200 metres of hand-sewn ruffles and comprised of 500hrs of construction to bring together the finished piece.
'The butterfly effect is a change in our path than can create a big impact,' said Mr Patrick Both, Cluster General Manager of Kimpton Maa-Lai Bangkok and Sindhorn Midtown Hotel Bangkok hotels in Langsuan.
'In many ways it is like the opening of the Kimpton Maa-Lai Bangkok; a change in perception of what luxury can be, and a different perspective of what it looks like through 'that' lense (luxury).'
Kimpton Maa-Lai Bangkok burst onto the Bangkok Luxury Hotel scene in October 2020, with design-led innuendo and embracing the Kimpton Hotels and Restaurants Hallmarks of: collaboration, diversity and inclusion, robust food and beverage programming, design in every sense of the term as well as the famed pet programming by Kimpton worldwide.
The much-photographed and critically acclaimed robes in every room, were a collaboration between Thailand's Tube Gallery and the artist, Christian Develter, and the partnership continues with The Butterfly Effect, the incredible Christmas tree, is both thought evoking, but also a paramour of serenity.
'The flowers have been purposefully selected,' said Khun Saksit Pisalasupongs, one half of the Tube Gallery power duo design team behind the creation. 'We wanted to show love, so we created roses. Lilies presented the notion of a new beginning,' he said.
'On top of that, butterfly wings and their symmetry embody peace, purity and innocence which is why we also included daisies and poppies in the design elements, the whole tree basically a nod to new and lively new year ahead of us,' remarked Khun Phisit Jongnarangsin on the tree as a symbol of hope.
The extraordinary tree features 700 hand-made, life-size butterflies – truly owning the space as the Butterfly Effect #flutter.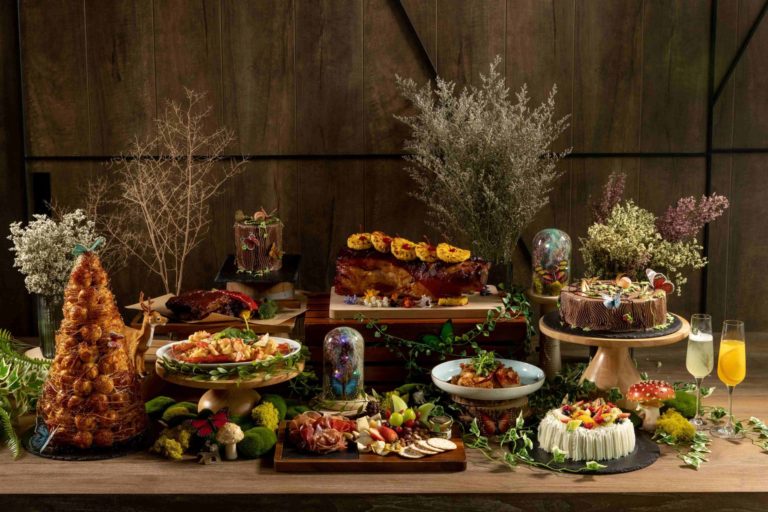 THE 2021 FESTIVE "ENCHANTED FOREST" THEME
Kimpton Maa-Lai Bangkok transforms into an Enchanted Forest playground for this Festive season.
As the December days countdown to Christmas and New Year, Kimpton Maa-Lai Bangkok is ready to let loose our holiday joy. Thoughtful surprises await in every room, from CRAFT, Ms.Jigger, Stock.Room and Bar.Yard.
CRAFT creates gifts for sweet and savoury tooths with holiday favourites such as traditional gingerbread, Buche de noel, log cake, as well as more playful takes on the yuletide.
Forest of Faces Glows at Jigger welcome all diners to special 5-course dinner with cocktail pairing on 24 & 31 December 2021
Butterfly Party in Room opens for Dinner on 24 & 31 December 2021 and Brunch on 25 December 2021 and 1 January 2022
Yard's New Year Eve Countdown party with a lot to offer on 31 December 2021.
And do not miss, if you are our big fans, to grab the limited edition Kimpton Retro Hamper vintage case with all ready-to-travel goodies at THB 3,530- per set.
Check out the full Festive program at  https://bit.ly/PRFestiveEN
Any pre-paid booking entitles 20% discount to ensure you have great #KimptonMoments with us for this Festive season.