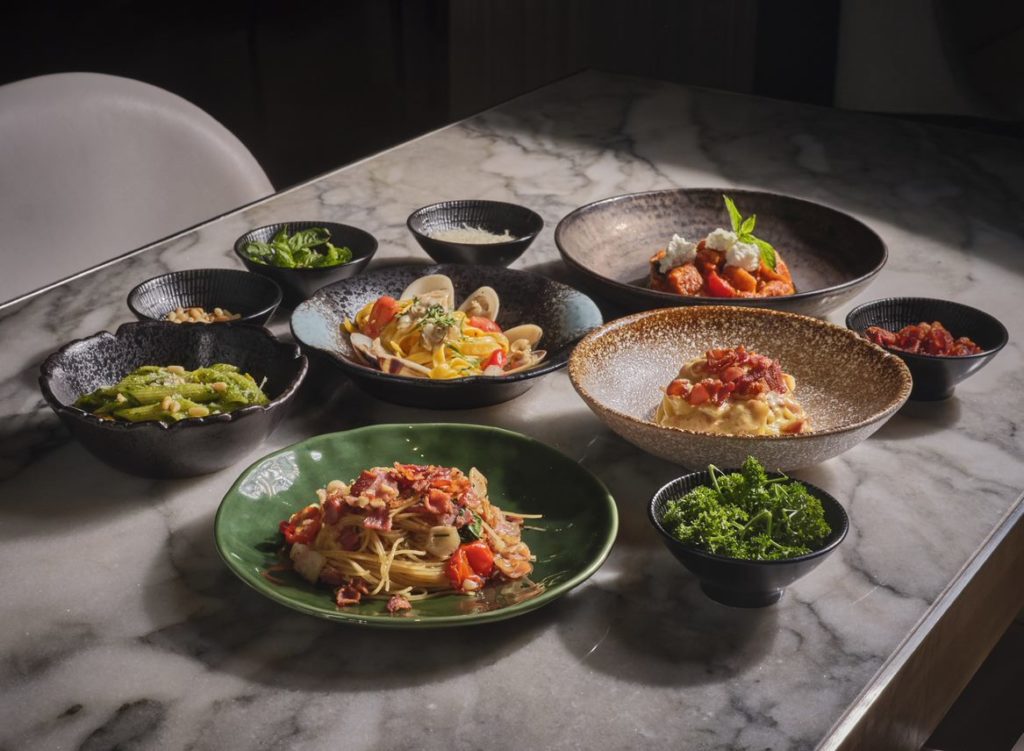 Kimpton Maa-Lai Bangkok's stylish, signature Italian restaurant, Ms.Jigger, debuts "A Tutta Pasta", a 90-minute, all-you-can-eat pasta galore lunch for THB 699 starting from 28 June 2023.  Diners even get to curate their own pasta and sauce combos; all versions are guaranteed to ignite their pasta passions to the new high. 
A Tutta Pasta literally means "let's have a lot of pasta!" and that's exactly what Italian noodle-lovers can expect at this pasta treasure trove. Chef Davide Calò invites guests to enjoy homemade fresh pasta with authentic Italian sauces right from his nonna's repertoire, for up to 90 minutes per seating.
Diners pick from al dente tagliatelle, soft and pillowy gnocchi, angel-hair capellini, classic spaghetti or penne, then pair it with their choice from the myriad of lip-smacking sauces on offer, such as rich carbonara, seafood pescatora, spicy arrabbiata, classic aglio olio with pancetta, pesto, cacio e pepe and more.
Each individual pasta plate is the perfect portion for one and guests can sequentially order as many, and in any varieties, as they like throughout their A Tutta Pasta feast.
"A Tutta Pasta" lunch is available daily from 11:30 a.m. to 2:30 p.m. for THB 699 per person including a choice of one soft drink, coffee or tea. Reservations may be made by calling 02 056 9999 or emailing [email protected]. 
Ms.Jigger is a cozy contemporary Italian lounge and eatery that features a curated cocktail experience paired with Italian fare. Chef Davide Calò is the Italian chef de cuisine at the helm of Ms.Jigger and serves up inspired dishes from his roots in the south of Italy.
All prices are subject to a 10% service charge and 7% government tax.
For more information and reservation, please visit:
Website: https://www.kimptonmaalaibangkok.com/   
Facebook: https://www.facebook.com/kimptonmaalaibangkok/     
Instagram: https://www.instagram.com/kimptonmaalaibangkok/