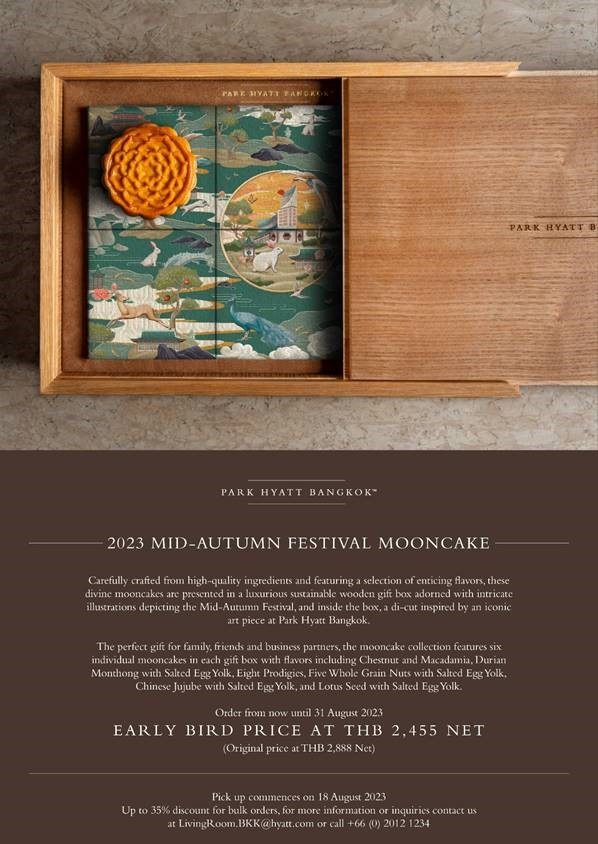 .
A Lunar New Year 2023 is coming and to Celebrate the Mid-Autumn Festival with a taste of pure sweetness, we are delighted to present Park Hyatt Bangkok's Mooncake Collection and is available to order now until 31 August 2023 with an Early Bird offer at THB 2,455 Net (original price THB 2,888 net) per box of six pieces.
Park Hyatt Bangkok proudly unveils its mid-autumn festival mooncake ,we carefully crafted from high-quality ingredients and featuring a selection of enticing flavors, these divine mooncakes are presented in a luxurious sustainable wooden gift box adorned with intricate illustrations depicting the Mid-Autumn Festival, and inside the box, a di-cut inspired by an iconic art piece at Park Hyatt Bangkok.
The perfect gift for family, friends and business partners, the mooncake collection features six individual mooncakes in each gift box with enticing flavors including Chestnut and Macadamia, Durian Monthong with Salted Egg Yolk, Eight Prodigies, Five Whole Grain Nuts with Salted Egg Yolk, Chinese Jujube with Salted Egg Yolk, and Lotus Seed with Salted Egg Yolk. These traditional flavors blend health benefits and has good meaning to be acknowledged throughout the coming year.
There are 6 mooncakes in each artisanal gift box and each mooncake is stamped with a Lotus flower print to symbolize purity, prosperity and spiritual enlightenment; three central themes woven into the Mid-Autumn Festival.
Park Hyatt Bangkok's luxurious sustainable wooden gift boxes are reusable and can be converted into a jewelry box once all of the mooncakes have been enjoyed.
Up to 35% discount for bulk orders, for more information or inquiries please contact us at [email protected] or call +66 (0) 2012 1234.