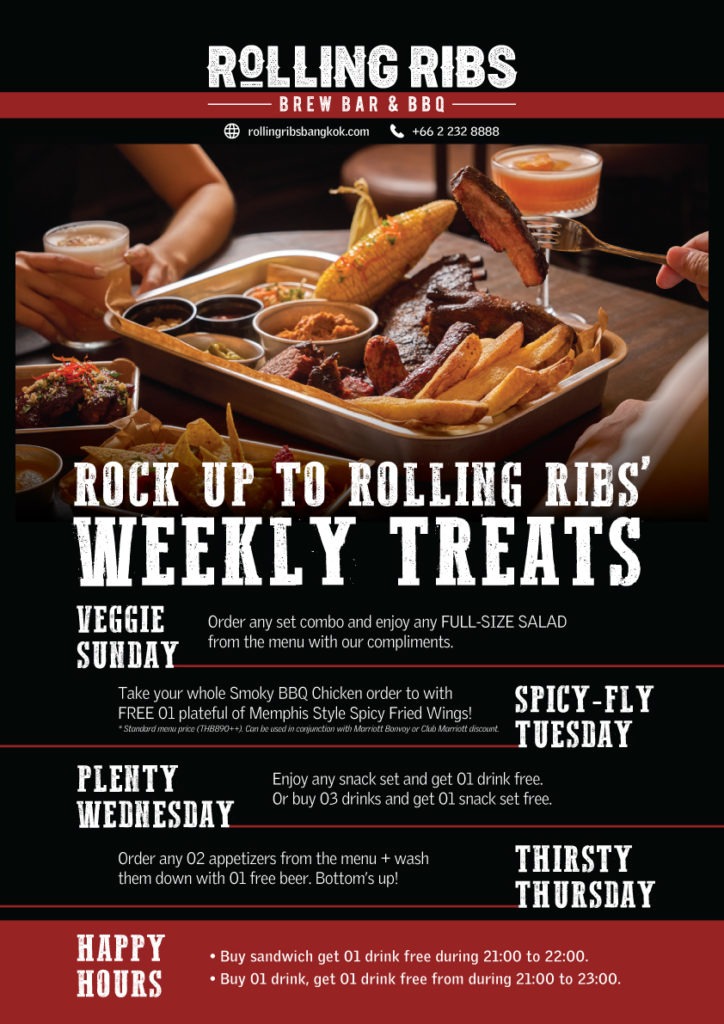 Swing by "Rolling Ribs" Brew Bar & Memphis-style BBQ spilling into Surawong, saddle up at a high table beneath the artsy frieze of ceiling fans and tuck into toothsome rib slabs, tasty sides and crafty beers, just for starters.
Take advantage of exceptionally appetizing Sunday, Tuesday, Wednesday and Thursday specials + two styles of happy hours from Tuesday to Sunday.
"Veggie Sunday" – On a delicious nutrition mission. Munch on a healthy salad with your succulent Memphis smokiness selection for free. Order any set combo and enjoy any full-size salad from the menu with our compliments.
"Spicy-Fly Tuesday" – Take your whole Smoky Beer-Coffee Brined Organic BBQ Chicken order to the next level with a plateful of Memphis Style Spicy Fried Wings on the house.
"Plenty Wednesday" – Indulge in abundance. Savour any snack set and get 01 drink free. Or buy 03 drinks and get 01 snack set free. Treat your taste buds to sausage, glazed chicken wings, deep-fried mac 'n cheese balls or BBQ pop-corn + wash it down with your choice of selected beverages.
"Thirsty Thursday" – The suds are on the house! Order any 02 appetizers from the menu + pair them with 01 free effervescent adult beverage.
"Happy Hour Double Dip" Join us for Happy Hour every Tuesday to Sunday. From 21:00 to 22:00 get 01 selected drink free with any sandwich you buy. From 21:00 to 23:00 buy 01 drink get 01 drink free.
One of the four predominant regional styles of barbecue in the US, Rolling Ribs' Memphis-style prime pork BBQ is dry rubbed with a secret recipe of salt + spices, slow smoked authentically over hickory and served with a choice of sauce or just as they come. Equally irresistible side dishes complement the experience.
Choice American blues & rock cuts ride rodeo on the sound waves amid the industrial chic semi-open street-side ambience etched in red brick and black steel. Meanwhile, Christian Caluwaert, the Thai-born Chef De Cuisine with extensive European experience including Michelin star restaurants in Belgium and France, ensures every rib is evenly smoked.
Rustic yet modern, where better to huddle with friends, colleagues or loved ones and sample the real Memphis BBQ deal?
Promotion period: Now – 31 March 2022
Opening from: 17:00 – 23:00
Rolling Ribs Brew Bar & BBQ
Operation Hours 17:00 – 23:00 (closed on Monday)
For more information, please contact 02 232 8888 or service.lmbkk@lemeridien.com
Website: https://www.rollingribsbangkok.com/
Facebook: https://www.facebook.com/rollingribsbangkok