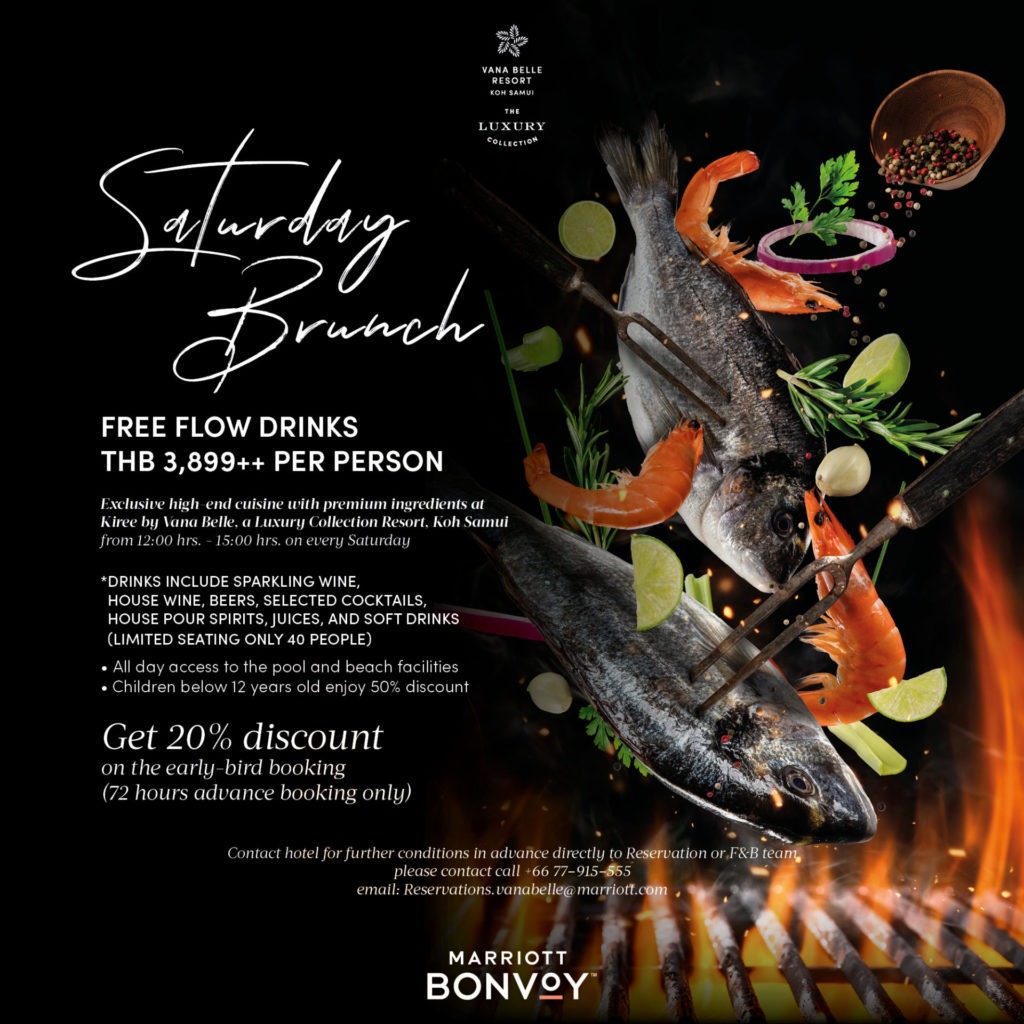 Our 𝑺𝒂𝒕𝒖𝒓𝒅𝒂𝒚 𝑩𝒓𝒖𝒏𝒄𝒉 includes free flow drinks and is only 𝐓𝐇𝐁 𝟑,𝟖𝟗𝟗++ 𝐩𝐞𝐫 𝐩𝐞𝐫𝐬𝐨𝐧
Premium ingredients prepared to classic recipes together with free flow sparkling wine, cocktails, wines, beers and spirits are served at Kiree, the Bistro from 12:00 hrs. to 15:00 hrs. every Saturday throughout the month of April 2022.
𝑯𝒆𝒓𝒆 𝒂𝒓𝒆 𝒔𝒐𝒎𝒆 𝒉𝒊𝒈𝒉𝒍𝒊𝒈𝒉𝒕𝒔 𝒕𝒉𝒂𝒕 𝒄𝒂𝒏 𝒃𝒆 𝒆𝒏𝒋𝒐𝒚𝒆𝒅 𝒅𝒖𝒓𝒊𝒏𝒈 𝒂 𝒍𝒐𝒏𝒈 𝒂𝒏𝒅 𝒍𝒆𝒊𝒔𝒖𝒓𝒆𝒍𝒚 𝒃𝒓𝒖𝒏𝒄𝒉𝒕𝒊𝒎𝒆.
Egg Selection
– Three-egg scramble filled with buttered lobster
– Foie gras omelet served with sauté strawberry and rocket salad
A La Carte Dishes
– Sole meunière with fresh fish, butter, lemon and parsley
– Grilled lamb rack served with arugula salad
Salad in Glass Jar
– Cold curry crabmeat salad with salmon roe
Buffet Station
– Seafood on ice with Maine lobster, Alaska king crab, tiger prawn and oyster
– Sushi and sashimi
Cheese Board
– A spread of imported cheeses
Bread Station
– Guacamole, pico de gallo, eggplant and cream cheese dip
Live Station
– Tomahawk steak with black truffle sauce, mint sauce, pepper sauce
– BBQ pork ribs
Free-flow sparkling wine, house wine, beers, selected cocktails, house pour spirits, juices, and soft drinks
**𝑮𝒆𝒕 20% 𝒅𝒊𝒔𝒄𝒐𝒖𝒏𝒕 𝒐𝒏 𝒕𝒉𝒆 𝒆𝒂𝒓𝒍𝒚-𝒃𝒊𝒓𝒅 𝒃𝒐𝒐𝒌𝒊𝒏𝒈 (72 𝒉𝒐𝒖𝒓𝒔 𝒂𝒅𝒗𝒂𝒏𝒄𝒆 𝒃𝒐𝒐𝒌𝒊𝒏𝒈 𝒐𝒏𝒍𝒚) **
All day access to the pool and beach facilities
Children below 12 years old enjoy 50% discount
Contact details:
Contact hotel for further conditions in advance directly to Reservation or F&B team
Tel: 077 915 555