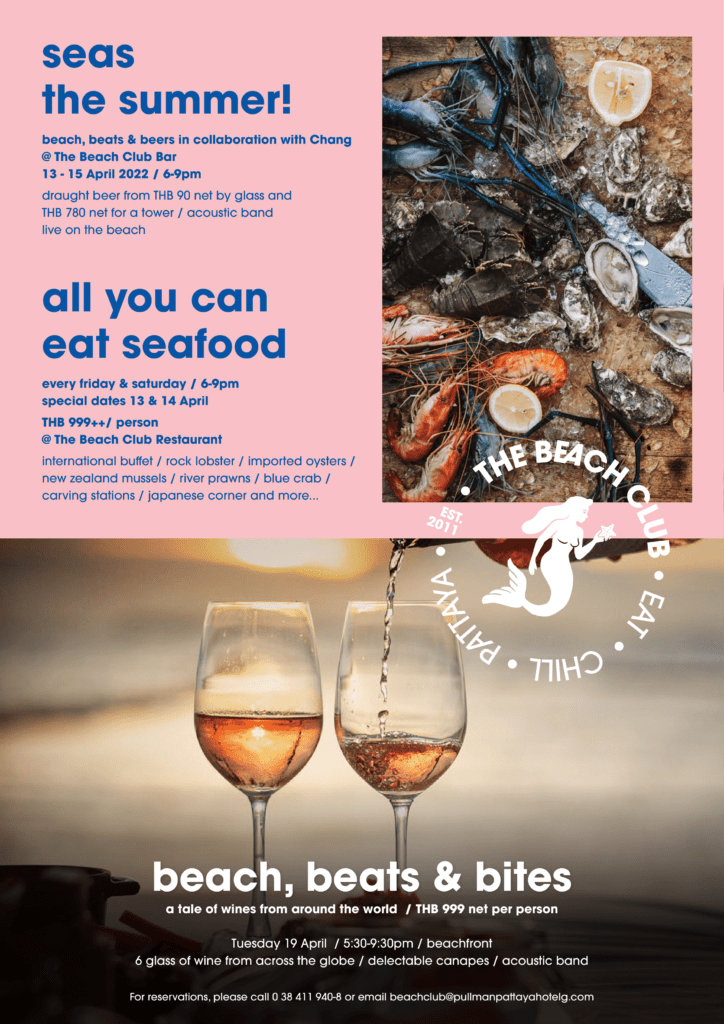 1. Seas the summer! Songkran inspired festivities beach front @ The Beach Club Pattaya
WHEN: 13 – 15 April 2022 6-9pm
Highlights includes: Draught brew starting from THB 90 net for a glass and THB 780 net for a tower / acoustic band live on the sand
2.International and Seafood Buffet every Friday – Saturday from 6 – 9 pm
Our International Seafood Buffet has no shortage of choices for seafood lovers,
and for only THB 999++ per person,
SONGKRAN SEAFOOD FEAST will be available for three extra days during Songkran specially on the 13th -14th
look forward to:
• Fresh and grilled seafood, including oysters, mussels, prawns, and crab
• Sashimi & sushi live station
• Roast meat carving station
• House-baked pizza
• Live Noodle Station
• French cheese, cold cuts & salads
• Range of international dishes
• Delectable dessert station
3. BEACH, BEATS & BITES
Nosh and sip your way around the world at this year's edition of Beach, Beats & Bites at The Beach Club Pattaya!
•Happening on 19th April 2022, 5.30pm – 9.30pm.
•THB 999 net per person, to savour the sparkle of Australia, the French "la vie en rose" and the deep flavours of Argentina – all while enjoying our live Acoustic band!3. 25 Degrees pop-up by the beach (11am –9pm)
4.HAVANA NIGHTS IN PATTAYA
This April, experience the balmy summer mood of Havana Nights during your seaside getaway at Pullman Pattaya Hotel G.
Dance and vibe to Cuban-inspired tunes by DJ Toffy and DJ Ona*. We've also got refreshing drinks and savoury bites from The Beach Club Pattaya for you to enjoy!
WHEN: Every Friday and Saturday in April. From 5.30pm – 8.30pm.
WHERE: Beachfront @ The Beach Club Pattaya.
*DJ only available on Saturday during Songkran. Ts & Cs apply.
The Beach Club Pattaya is open daily from 11am – 9pm. and will be serving food and alcoholic beverages.
Please note that alcohol sales is permitted between 11:00 A.M. to 2:00 P.M. and from 5:00 P.M. to 9:00 P.M.
Please see a la carte menu here https://www.randblab.com/assets/menu/BEACH_CLUB_PATTAYA/TheBeachClubPattaya_Menu2022.pdf